September 30, 2004 Sauer-Danfoss (SHS)
Hello Friends! I am so glad you stopped by. I hope that what I write is meaningful to you. If you have any comments on how you use this information, please email me at bobsadviceforstocks@lycos.com so that I may post a few of these comments on the website...matter of fact, I may do that anyhow! Please remember that I am an AMATEUR investor, so please consult with your professional investment advisors and do your own investigation on all stocks discussed on this website to make sure the investments are timely, appropriate, and likely to be profitable for you!

Looking through the NYSE
list of top % gainers
, I came across Sauer-Danfoss (SHS), a stock that I had honestly NEVER heard of before, and that I do NOT own any shares or options. SHS had a nice day today, closing at $17.08, up $.74 or 4.53% on a day where the DJIA closed down 55.47, with the NASDAQ up only 2.90. According to the
Yahoo "Profile"
, SHS "...is a global manufacturer of components and integrated hydraulic, electric and electronic systems that generate, transmit and control power in mobile equipment."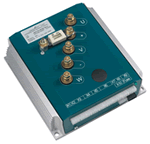 On August 4, 2004, SHS
reported 2nd quarter 2004 results
. Net sales for the quarter increased 23% to $379.1 million, compared to sales of $308.5 million the prior year. Even excluding currency effects, sales were still up 18% year-over-year. Net income for the quarter came in at $21.6 million, or $.46/share compared with second quarter 2003 results of net income of $11.3 million or $.24/share. This is almost a 100% increase in earnings! This was a solid report, with company raising guidance stating "...we are increasing our earnings expectations for the full year to $.70 to $.80 per share. The most recent earnings expectation, from May 3, 2004, was $.60 to $.75 per share." It is SO important, imho, to see earnings guidance RAISED. It is the icing on the cake of a good earnings report!
In another "bullish" move, the company, on September 23, 2004,
announced
an increase in its quarterly dividend by 43% to $.10/share from $.07/share. While dividends aren't absolutely required for a great stock, if you can get them, they only help, and a company that RAISES its dividend is sending another bullish signal to the investment community!
How about longer-term? If we look at the
Morningstar.com "5-Yr Restated" financials
, we can see that revenue has grown steadily from $0.5 billion in 1999 to $1.3 billion in the trailing twelve months (TTM).
Earnings have been positive but erratic, dropping from $.67/share in 1999 to $.09 in 2001, but have improved to $.48/share in the TTM.
Free cash flow has also been improving recently with $(2) million reported in free cash flow in 2001, improving steadily to $41 million in the TTM.
Looking at the balance sheet, we find what I would call a solid if not spectacular balance sheet (in my humble opinion), with $15.8 million in cash and $478.8 million in other current assets vs. $479.3 million in current liabilities and $237.1 million in long-term liabilities.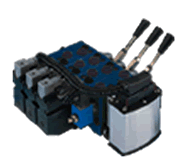 How about "valuation"? Checking
"Key Statistics" from Yahoo
, we can see that this is a mid-cap stock with a market capitalization of $810.38 million. No trailing p/e, or PEG is reported but the forward p/e (fye 31-Dec-05) is quite reasonable at 14.98.
Yahoo reports 47.45 million shares outstanding with only 10.00 million shares that float. There are only 123,000 shares out short as of 9/8/04, however, with the low average trading volume this still works out to a ratio of 4.393 days. Sort of significant (?).
The stock currently yields $.40/share or 2.45%. No stock dividends are reported on Yahoo.
How about "technicals?" If we look at
Stockcharts.com
for SHS we can see: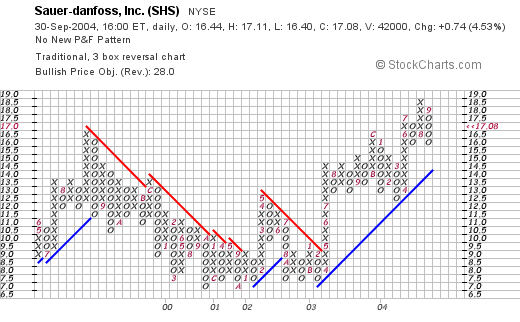 this stock had been trading lower between August, 1999, and bottomed several times around $7.00 between October 2000, and February, 2003. Since that time, it has been trading higher along a new support line closing today at $17.08. The graph looks nice to me!

So what do I think? The latest earnings report is solid. The five year record is good, except for a bit erratic record of earnings. The free cash flow is growing, the balance sheet is solid, valuation is reasonable, and the stock even pays a dividend, which has been recently increased! Technically, the chart looks great and doesn't appear over-extended.

I don't know much about the products directly, but the rest of the numbers look nice. Now, if I just had some money to be buying! LOL, but I am waiting for a buy signal...meaning a sale of one of my remaining positions at a sale target price. Otherwise, once again, I stay sitting on my hands!

Thanks so much for stopping by! If you have any questions, comments or words of encouragement, please feel free to email me at bobsadviceforstocks@lycos.com .

Bob