A Reader Writes "What are your current thoughts on the 2005 stock pick SGMS"
Hello Friends! Thanks so much for stopping by and visiting my blog,
Stock Picks Bob's Advice
. As always, please remember that I am an amateur investor and that you must check with your professional investment advisors prior to acting on any information on this website!
It is Sunday and I thought for sure that would be it for writing (or should I say blogging) this weekend. But I was pleased to find that I had a nice email from RC who wrote:
Bob, I just began reading your blog about a week ago and I find it quite
useful. You seem to "put your kneck on the line" substantially more than most
other financial blogs, which I admire. I was hoping though you could
also post
about potential setups and stocks your are watching, in addition to
your "check-
ups" on past buys.

I was wondering what your current thoughts were on your 2005 stock pick SGMS.
I bought it last year at 18.79 and sold on 1/5 this year at 22.44.
Honestly, I
haven't really been following it since then, as it seems a bit expensive.
However, I continue to believe that lottery stocks are good picks in the long
run.

Thanks
RC
Thanks RC! I always really enjoy receiving emails from readers. It really does make it all worthwhile. And your kind words are especially appreciated.
Getting to what you wrote, I write all the time about "potential setups"...if I know what you mean. Most of my posts on stocks are not about stocks that I actually own. In retrospect, I wish I
had
purchased some of my picks! I even wrote up TASR several splits ago. Also, most of my "check-ups" are things like the weekend review which are not about stocks that I have purchased. The review looks at all of the stocks discussed on the blog, with about a trailing stop of about a year.
Finally, you inquired about SGMS (Scientific Games). I actually do not own any shares and have never owned any shares of that stock. It is not that I didn't 'like' the stock, it is just that I cannot own everything I write about :). However, generally, when my portfolio indicates that a purchase is possible (when I have sold a portion of a holding at a gain), I generally buy a stock from the same group that I am discussing.
I
first posted SGMS on Stock Picks on 9/12/03
when it was trading at $11.55. As you correctly noted, I
again
posted Scientific Games (SGMS) on 1/14/05
when it was trading at $25.87...a HUGE appreciation from the original posting level! Too bad I didn't buy any shares!
SGMS closed on 4/22/05 at $22.50, so it certainly hasn't moved higher since my latest post, and is actually down $3.37, or about 13% from that date.
As far as my current view, reviewing again some of the important information on this stock, that latest earnings report,
the 4th quarter 2004 report
, was reported on 2/23/05. Revenues were $182.6 million, up slightly from the $176.8 million in the fourth quarter of 2003. Net income was $4.4 million or $.05/diluted share
down
from the $15 million or $.17/diluted share reported the prior year.
With this drop in earnings on a very small increase in earnings, I would be unable to suggest a purchase at this time. And in fact, the stock has done nothing since the time of that earnings report.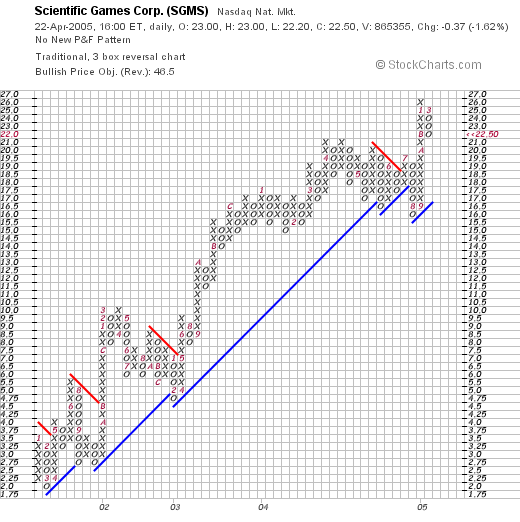 Actually, the chart looks intact, with the stock trading higher than the latest quarterly report. However, the stock did break through previous support levels first in June, 2004, and then again in July, 2004, before trading higher.

Basically, my problem with this stock is the latest quarterly result. I am sure the Morningstar.com report is still intact. I like the industry, gaming, which probably has further to run. It is just that my particular trading rules force me to stay away from stocks that have down quarters :(. I am sure I miss lots of great investments that way but there are just plenty that have great quarters to choose from.

I hope that discussion is helpful! If you or anyone else have additional questions or comments, please feel free to post them right here on the blog, or email me at bobsadviceforstocks@lycos.com.

Bob