"Weekend Trading Portfolio Analysis" American Medical Systems (AMMD)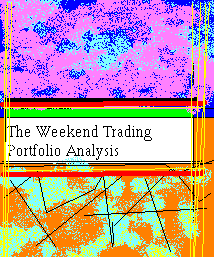 Hello Friends! Thanks so much for stopping by and visiting my blog,
Stock Picks Bob's Advice
. As always, please remember that I am an amateur investor, so please remember to consult with your professional investment advisors prior to making any investment decisions based on information on this website.
A few weeks ago, I decided to start reviewing the actual stocks in my
Current Trading Portfolio
. On this website, I discuss many different stocks that I view as potential investments based on my own perspective on evaluating stocks that I have discussed elsewhere. Of these stocks, I have purchased 25 different companies (the maximum # of positions in my trading portfolio) and whenever I trade a stock, I try as soon as possible to post an entry called "Trading Transparency". In this way, I can share with you my actual trading decisions along with many other stock investment candidates.

Going alphabetically through my portfolio, I am still in the 'A's', and am up to American Medical Systems (AMMD). I first
posted American Medical Systems (AMMD) on Stock Picks
on January 9, 2004 when it was trading at $25.96. Shortly after writing the entry, I
posted again
and reported my purchase of 200 shares at $25.78. AMMD had a 2:1 stock split on 3/5/05 so my effective stock purchase price was $12.89.
On June 24, 2004, I made my first partial sale at $32.08 for a gain of $6.30 or 24.5%. That was 1/4 of my holdings, leaving 150 shares. My next sale was on December 21, 2004, when I sold 35 shares (approximately 1/4 of my 150 share position) at $40.92, for a gain of $15.17/share or 58.8%. That left 115 shares, which subsequently split 2:1 giving me my current 230 share position.
AMMD closed at $18.79 on 9/16/05, which represents a gain of $5.88 (post-split), over my cost basis of $12.91/share (including transaction costs). This is a 45.5% appreciation over the stock purchase. The stock
has
retraced some of its gain since the last partial sale. If the stock continues to decline, I shall be selling all remaining shares when it reaches a 30% gain (approximately $16.78/share), or selling another 1/4 position at a 90% gain (approximately $24.53/share).
On July 28, 2005, AMMD
reported 2nd quarter 2005 results
. Sales for the quarter ended July 2, 2005, grew 34% to $65.6 million, up from $49.1 million in the same quarter in 2004. Net income for the quarter was $12.0 million, up 42% from the prior year's $8.4 million, or $.17/share, up from $.12/share last year. All-in-all a solid performance for AMMD!
What about the chart? Taking a look at the
"Point & Figure" chart for AMMD from Stockcharts.com
: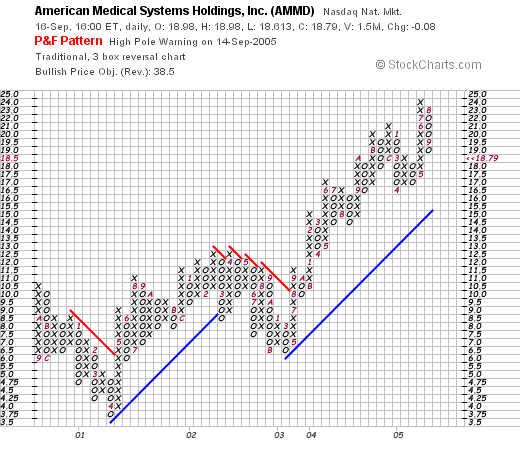 We can see that the chart looks quite strong with the price moving higher just above the blue "support line".

American Medical Systems (AMMD) appears to be a solid part of my 25 stock trading portfolio! My future action on this stock will depend on the price movement. If you have any comments or questions, please feel free to leave them right here on the blog or email me at bobsadviceforstocks@lycos.com.

Bob