Some thoughts on a Sunday evening!
This is a
reproduction
of a Coignard painting "Perturbation"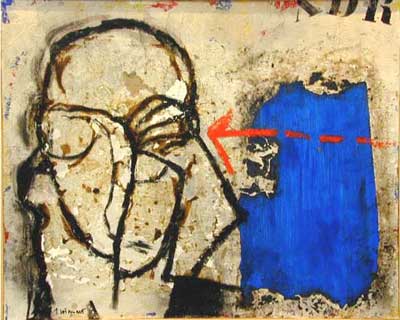 I wanted to share some thoughts with you this evening on investing. This is not about any particular stock but about the whole process of selecting stocks, making decisions, and reducing the tremendous stress in the process.
Needless to add, as I always like to do, I am an amateur investor, so please consult with your professional investment advisors before making any investment decisions based on information on this website!
I chose this picture tonight because I want to comment about the thinking process that goes into decisions. After many years of guessing about what stock is likely to rise and what stock may fall, and when to sell, and when to add more, I have decided that the best approach is to 'put your ear to the ground' and listen to what the market is telling you.
I have many friends who dabble in the market. They give it a great deal of thought and try to anticipate the next big move. Sometimes they are right, and I wish them well. But after years of doing the same thing, I stop "trying" to make decisions. I let the decisions come to me.
I have written before about this "Zen" approach to investing. And I believe it is a very important part of a successful investor. Avoiding the anticipation but being in touch with investment sentiment.
Some years back I read a book by Edwin Lefevre, called
Reminiscences of a Stock Operator
, and I would like to share with you an excerpt on "watching the tape":
"That is how I first came to take an interest in the message of the tape. The fluctuations were from the first associated in my mind with upward or downward movements. Of course there is always a reason for fluctuations, but the tape does not concern itself with the why and wherefore. It doesn't go into explanations. I didn't ask the tape why when I was fourteen, and I don't ask it to-day, at forty. The reason for what a certain stock does to-day may not be known for two or three days, or weeks, or months. But what the dickens does that matter? Your business with the tape is now--not to-morrow. The reason can wait. But you must act instantly or be left."
What this book tells us is that studying the market entails observation. It doesn't make you less smart that I am not asking you to anticipate. I think it is enough that we learn to observe. To "read the tape" so to speak.
It is that reason why I start with the % gainers looking for the stocks on the move. I don't always know why they are moving, but I start there and try to sort through them to find the ones that have fundamentals that might warrant continued strength.
I believe it is a good approach.
That doesn't mean there aren't better ways to pick stocks. You could study market trends and be an astute technician, but I don't think that is necessary. Just being a good observer is strong medicine. After starting there, pitch in your intellect and sort through the candidates to find the stocks that are working.
In the same way, it is wise to listen to your own portfolio talking to you! When stocks begin to be sold on bad news, sit on your hands, don't re-invest, avoid compounding your losses. But as stocks do well and hit sales on good news, it is wise once again to expand your exposure to equities and add positions to your portfolio.
Just some thoughts on investing tonight that I wanted to put down on paper and share with you the reader. Listen to your fellow investors, they will tell you about the next sure thing, the investment that will rocket higher, and consider that this might not be the rational approach to investing. Instead, sit yourself down and observe, watch the market, see what stocks are moving higher, and selectively pick from among those!
Have a great week investing everyone! And to all of the victims of Rita and Katrina, and I include my own family and friends among them, my thoughts are with you.
Bob