A Reader Writes 'Still a positive opinin on Cohesant? (COHT)'
Hello Friends! Thanks so much for stopping by and visiting my blog,
Stock Picks Bob's Advice
. As always please remember that I am an amateur investor, so please remember to consult with your professional investment advisors prior to making any investment decisions based on information on this website.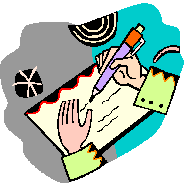 I received a nice email from a professional in the industry about Cohesant Technologies (COHT). He apparently has a large position in the company; I do not own any shares of this stock. And requested I take another look. He wrote:
"Bob, I read your opinion of Cohesant Technologies from a few years back and wondered if you still have a positive opinion. I like the way you think, and have a huge position in the stock (about 20,000 shares of my own, 40,000 for my clients). I like the management strengths and continuity, the high GM, the high ROE%, the lack of debt, the consistent performance over the last decade. Just wanted to see if you still held a positive opinion of the company. I manage a great deal of money in the water sector, and see this equity as the great nascent player in the water infrastructure business. The only problem is that is is not followed by analysts, not held my mutual funds, and I sometimes wonder why it is that it looks so great to me but day in and day out, the only shares traded in the stock are ones I traded (bought, actually.... I have never sold a share).

A tip for you--You might look at the high quality credentials brought over by the new CEO at SWWC.... look at the website for his previous company... SWWC has not lost money for shareholders in any year in the pat 10, according to Morningstar. That company is going to shine bringhtly in the coming years.

Thanks for any counsel you can offer. Best regards"
Thank you so much for writing . I would be happy to take another look at Cohesant (COHT). As you pointed out, I
posted Cohesant Technologies (COHT) on Stock Picks Bob's Advice
on June 24, 2004, almost two year ago when it was trading at $10.06. COHT closed at $11.00 on 4/21/06, giving me a gain of $.94 or a gain of 9.3% since posting.
As you probably know, I have a rather simple approach to looking at stocks. I would be happy to run through some of these same 'screens' and see what happens today.

Let's take an updated look at this company.
1. What does the company do?
According to the
Yahoo "Profile" on Cohesant
, the company
"...through its subsidiaries, engages in the design, development, manufacture, and sale of dispense equipment systems, replacement parts, and supplies. The company also offers specialty coating and grout products. It designs and manufactures dispense equipment systems, which are used to dispense multicomponent formulations, such as fiberglass reinforced plastics, polyurea and polyurethane coatings, and polyurethane foam."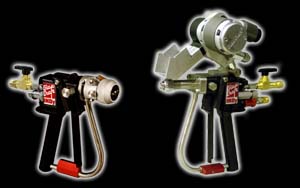 2. What about the latest quarter?
On March 24, 2006, Cohesant
reported 1st quarter 2006 results
. For the quarter ended February 28, 2006, 'consolidated net sales' increased 51.7% to $6.47 million from $4.26 million the prior year. Consolidated net income came in at $379,672, a 59.8% increase over the $237,635 reported in the same period the prior year. On a per share basis this worked out to net income of $.12/diluted share, up 33% from $.09/diluted share the prior year. So far so good :). This certainly was a strong quarter.
3. What about longer-term results?
Reviewing the
"5-Yr Restated" financials on COHT from Morningstar.com
, we can see that while this is a very small company, the company has been experiencing fairly steady revenue growth from $16 million in 2001 to $22 million in 2005 and $24 million in the trailing twelve months (TTM).
As is often my observation in these smaller companies, the earnings growth is not quite as steady, with $.44/share reported in 2001, increasing to $.67/share in 2004. This did drop to $.57/share in 2005, but has rebounded to $.60/share in the TTM. An added plus is the fact that the company initiated a dividend of $.25/share in 2003 and increased it to $.26 in 2004 and again to $.27/share in 2005. While a dividend is not essential for an investment, it adds an extra element for many investors. Also nicely, the company which had 2 million shares in 2001, increased to 3 million in 2002, and has kept that 3 million shares in 2005 and in the TTM.
Free cash flow is positive at $2 million in 2003, $3 million in 2005, and $2 million in the TTM.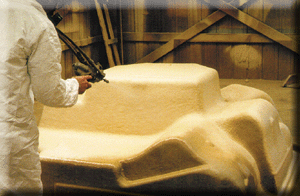 The balance sheet appears solid with $1.2 million in cash and $9.1 million in other current assets, giving us a current ratio of 2.86 when compared to the current liabilities of $3.6 million. In addition, the company has negligible long-term liabilities, recorded as $.2 million on Morningstar.
4. What about some valuation statistics?
Taking a look at
Yahoo "Key Statistics" on Cohesant (COHT)
, we can see how
small
this company is! Recorded as a market cap as $34.75 million, this is what I refer to as a micro-cap stock (under $100 million in market capitalization). The trailing p/e is a reasonable 18.68. There is not forward p/e (probably no analysts that follow), and thus no PEG is possible.
According to the
Fidelity.com eresearch website
, Cohesant is in the "Diversified Machinery" industrial group. Within this group, Cohesant is reasonably priced with a Price/Sales ratio of only 1.5. Leading this group is Shufflemaster (SHFL) with a ratio of 10.5, followed by Roper Industries (ROP) at 3, Illinois Tool Works (ITW) at 2.3, then Cohesant at 1.5, Ingersoll-Rand (IR) at 1.4, and Eaton Corp. (ETN) at 1.1. Thus, at least by this parameter, the stock is relatively inexpensive.
Finishing up with Yahoo, we find that there are only 3.16 million shares outstanding with 1.11 million that float. Currently there are 1,860 shares out short as of 3/10/06, giving us a short ratio of only 0.8. This is only 0.1% of the float. So this isn't much of a factor.
5. What does the chart look like?
If we take a look at the
"Point & Figure" chart on COHT from StockCharts.com
, we can see that the stock was climbing strongly from March, 2001, when it was as low as $1.75/share, to a peak of $14.50 in December, 2004, however, the stock broke down after that, dropping to the $7.00 level. Since December, 2005, the stock has been moving strongly higher, breaking through resistance at
$10.50 in March, 2006. Thus, short-term, the upward momentum appears to has been possibly re-established. I probably would feel more comfortable to see the chart moving past the prior highs at the $14.50 level, before being convinced that the technicals were solid. Probably with another solid quarter which appears likely, we shall see this stock move higher.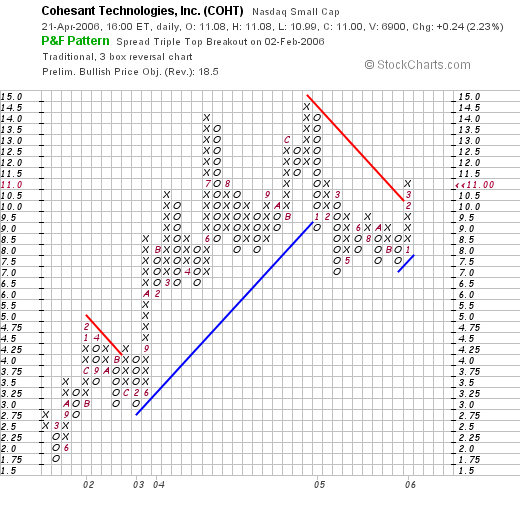 6. So what do I think?

This is certainly an interesting, if tiny company. The stock appears to be trading at least short-term positively. I think future appreciation will depend and result from continued positive earnings reports. The last quarter was great, the Morningstar.com report looks nice except for a bit of short-term earnings weakness the past couple of years. I like the increasing dividend, the stability in the number of shares, the free cash flow, and the solid balance sheet. Companies with small float always make me a bit cautious due to what I perceive as the magnified volatility inherent in these stocks.

Good-luck with your investment! I hope that was helpful for you. The company still looks interesting and you may well be on to something big for you and your clients.

If you have any comments or questions, please feel free to leave them on the blog or email me at bobsadviceforstocks@lycos.com and be sure to come and visit my Stock Picks Bob's Advice Podcast Site.

Bob