August 14, 2006 Sonic Corp. (SONC)
Hello Friends! Thanks so much for stopping by and visiting my blog, Stock Picks Bob's Advice! As always, please remember that I am an amateur investor, so please remember to consult with your professional investment advisors prior to making any investment decisions based on information on this website.
The market is up strongly today on news that the cease-fire in the middle east appears to be holding. As I write, the Dow is up 97.89 at 11,185.92, and the NASDAQ is at 2087.35, up 29.64. Hopefull the move towards a peaceful resolution will hold, and oil prices will continue to pull back.
I was looking through the list of top % gainers on the NASDAQ earlier today and came across Sonic Corp. (SONC) which is currently trading at $21.75, up $2.02 or 10.24% on the day. I do not own any shares of Sonic nor do I have any options on this stock.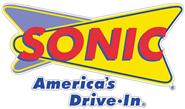 What appears to be driving the stock higher today was the announcement on Friday of a potential 'buy-back' of up to 30% of the outstanding shares by the company. I found this news story that explains some of the reasons why companies buy back their shares. This article points our the three main reasons why a company buy-back is helpful in boosting share prices of its stock: 1) with less shares outstanding, earnings per share are boosted numerically, 2) the buy-back is in itself a form of purchasing support for the price...the old supply and demand principle, driving stock prices higher, and 3) the buy-back demonstrates management confidence in the value of the stock price itself. In any case, the market liked the news, and the stock price is moving strongly higher today.

What exactly does this company do?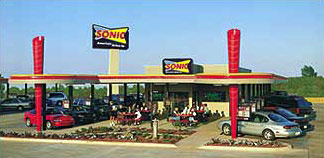 According to the Yahoo "Profile" on SONC, Sonic
"...engages in the operation and franchising of a chain of quick-service drive-ins in the United States and Mexico. The company, through its subsidiary, Sonic Industries, Inc., serves as the franchiser of the Sonic restaurant chain. It's another subsidiary, Sonic Restaurants, Inc., develops and operates the company-owned restaurants. As of August 31, 2005, Sonic Corp. had 3,039 Sonic Drive-Ins, including 574 Partner Drive-Ins and 2,465 Franchise Drive-Ins."
How did Sonic do in the latest reported quarterly result?
On June 20, 2006, Sonic reported 3rd quarter 2006 results. For the quarter ending in May, 2006, sales grew 11% to $186.5 million from $167.7 million last year. Net income came in at $23.8 million, or $.27/share, up from $21.3 million or $.23/share in the same period in 2005. According to the news story, analysts per Thomson Financial had forecast earnings of $.26/share on revenue of $189.7 million. Thus, the company beat expectations on the earnings side and under-performed on revenue growth. Same-store sales increased 4.3% during the quarter. Providing some guidance, Sonic forecast profit of $.28 to $.29/share in the upcoming 4th quarter. This was a little ahead of the $.28/share which had been the consensus of analysts. Thus the company raised guidance.
How about longer-term financial results?
When we review the Morningstar.com "5-Yr Restated" financials on SONC, we can see a very nice picture of steady revenue growth with $331 million reported in 2001, steadily increasing to $623 million in 2005 and $676 million in the trailing twelve months (TTM).
Earnings have also been steadily improving with $.41/share reported in 2001 increasing to $.81/share in 2005 and $.89/share in the TTM.
The number of shares outstanding, which will apparently be decreasing, has been steady with 89 million in 2001, 90 million shares in 2005 and 85 million in the TTM.
Free cash flow is also impressive, with $36 million in 2003, increasing to $46 million in 2005 and $52 million in the TTM.
SONC's balance sheet is the only area of question on this page imho. The company has $25.4 million in cash and $29.5 million in other current assets. This is not in itself enough to cover the $80.7 million in current liabilities, and the resultant 'current ratio' works out to an anemic .68. Generally, a ratio of 1.5 is considered healthy as this review points out. In light of the healthy and growing free cash flow, this doesn't appear to be a big problem for Sonic, but it is something we shouldn't ignore either.
What about some Valuation Numbers for this stock?
Reviewing Yahoo "Key Statistics" on Sonic, we can see that this company is a mid-cap stock with a market capitalization of $1.86 billion. The trailing p/e is a moderate 24.29, with a forward p/e (fye 31-Aug-07) estimated at an even more reasonable 21.31. The PEG ratio is estimated by Yahoo at 1.28 (5 yr expected results). Generally, PEG ratios between 1.0 and 1.5 are "reasonable", under 1.0 are great, and over 1.5 are less attractive. This is a brief review of this ratio.
Using information from the Fidelity.com eresearch site on SONC, we can see that Sonic is in the "Restaurants" industrial group. Within this group, as measured by the Price/Sales ratio, Sonic is richly valued, leading the group with a ratio of 2.6, this is followed by McDonald's (MCD) at 2, Applebee's (APPB) at 1.1, Darding Restaurants (DRI) at 0.9, Brinker (EAT) at 0.7, and OSI Restaurant Partners (OSI) at 0.6.
Insofar as profitability is concerned, if we look at the Return on Equity (ROE) figures, we find that Sonic fortunately is one of the more profitable restaurants with an ROE of 21.1%. This is exceeded by Darden at 27.1% and following Sonic is Applebee's at 20%, McDonald's at 18.5%, Brinker at 18.2% and OSI at 10%.
Finishing up the Yahoo numbers, we see that there are 85.4 million shares outstanding with 81.93 million that float. Currently, there are 6.25 million shares (7/11/06) out short, representing 7.70% of the float or 7.2 trading days of volume. This short ratio over 3, is in my opinion, significant. Thus, with the stock moving higher today on an announcement of a stock buy back, these traders who have already sold shares and are looking to buy cheaper, might well be "squeezed" by the buying pressure.
No cash dividend is reported on Yahoo and the last stock split was a 3:2 split, just happening, on May 1, 2006.
And what does the chart look like?
If we review the "Point & Figure" chart on Sonic from StockCharts.com, we see what appears to me to be a strong graph, which, after some mild weakness in 2002, when the stock fell from $14.50 in June to a low of $8.50 in November, the stock has been trading steadily higher, currently approaching but under its high of $24.00 hit in March, 2005. The chart looks just fine to me.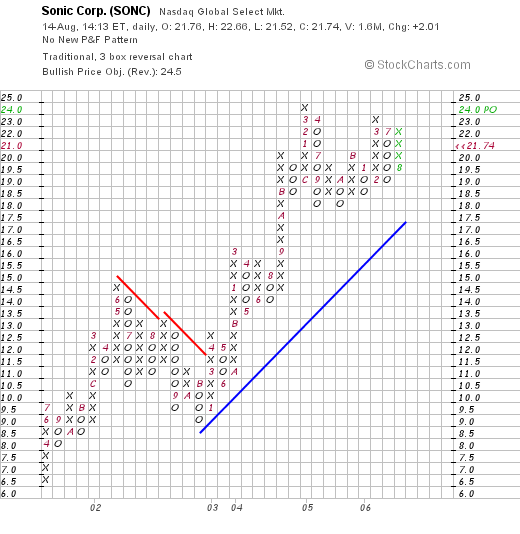 Summary: So what do I think of this stock?
Let's review some of the above discussion. First of all the stock is moving higher on a nice announcement of a big stock buy-back from management. Less shares outstanding should mean better results, and the buying pressure in itself could help push this stock higher. Next, the latest quarter was reasonably strong with earnings exceeding expectations but revenue coming in a little light. The Morningstar.com shows steady revenue and earnings growth and nice free cash flow improvement. However, the balance sheet leaves a little to be desired with a current ratio under 1.0 and a significant level of long-term liabilities as well.
Valuation is ok with a rich Price/sales but a nice return on equity figure. Another attractive point is the high level of the short interest which may well be continued to be "squeezed" by the stock buy back. Finally, the chart looks quite nice to me.
These are the reasons I thought the stock deserved to be on the blog. I am not buying any shares, but I have now added this company to my "investing vocabulary"...those stocks that may well be 'investable' given the appropriate portfolio management signals that might lead to me adding a new position!
Thanks so much for visiting! If you have any comments or questions, please feel free to leave them on the blog or email me at bobsadviceforstocks@lycos.com. Please give my Stock Picks Podcast a listen as well!
Bob