Coach (COH) "Weekend Trading Portfolio Analysis"

Hello Friends! Thanks so much for stopping by and visiting my blog, Stock Picks Bob's Advice! As always, please remember that I am an amateur investor, so please remember to consult with your professional investment advisors prior to making any investment decisions based on information on this website.
Thank goodness for weekends! They give us all a chance to unwind a little and catch up with the things we put off all week long. Lord knows I have a huge list of things I need to be doing! On this blog, I have used the weekend to basically provide two types of discussions. First of all, I like to look back about a year (I am thinking of looking back three years now that I have had the blog up over that long!), and also review my actual holdings in my own trading portfolio.
I believe that both of these reviews are helpful. One, a theoretical look at stocks discussed here, and the second, a real review of my actual holdings in my own trading account. I do have other investments in managed accounts and also manage a couple of small accounts for my children. Whenever I discuss stocks I try very hard to remember to let you know whether I own any stocks or if any accounts that I have control over own those equities. I also have some retirement accounts that are managed independently of my own input. I do not always know or remember what stocks are owned in those accounts.
Currently, I own 11 stocks in my Trading Account. If you can recall my discussions elsewhere, I will own anywhere from 6 stocks (my minimum number) to 25 stocks (my maximum). I use the actual performance of my own holdings to determine whether I should be adding new positions (in the event of a partial sale on good news) or sitting on my hands, so to speak, in the even of a sale of a holding on bad news or poor stock price performance. I have been using this system for several years as my own trading barometer for investing.
About every two weeks, I have been trying to review one of my holdings, which would work to about once every 6 months with the current size of the portfolio. Two weeks ago, on November 25, 2006, I reviewed my holding of Wolverine Worldwide. Going alphabetically, I am back to the start of my list, and would like to share with you my most successful investment story of my portfolio, my purchase of Coach (COH).

Currently in my trading portfolio, I own 85 shares of Coach (COH) which were purchased February 25, 2003, at a cost basis of $8.33. COH closed at $43.13 on December 8, 2006, for an unrealized gain of $34.80 or 417% since my purchase.
I first discussed Coach on Stock Picks Bob's Advice only three weeks after I started the blog when the stock was trading at $51.53 on June 2, 2003. Adjusted for two subsequent 2:1 stock splits this works out to a "pick price" of $12.88. I "revisited" Coach on June 1, 2005 on Stock Picks when the stock was trading at $30.67.

As is my strategy with all of my purchases, I try to sell portions of my holdings, currently 1/6th of remaining shares at targeted appreciation points. I use appreciation levels of 30, 60, 90, and 120%, then 180, 240, 300, and 360%, (then by 90% intervals): 450, 540, 630, and 720% appreciation levels. I plan on continuing to increase intervals by 30% each group of four sales if I ever get there :). In any case, I have now sold portions of my Coach holding eight times! (Please review the chart below for details.)
With eight sales, when would my next sale happen? Having sold at 30, 60, 90, 120, 180, 240, 300, and 360%, my next sale would be at a gain of 450%, or calculated, works out to 5.50 x $8.33 = $45.82. At that point, I would be selling 1/6th of my 85 shares or 14 shares. On the downside, half of the top sale would be at a 180% gain or 2.80 x $8.33 = $23.32. If Coach declines to that level, I plan on selling all of my shares. With all of my partial sales have extracted my purchase price and more, I shall try to exercise the appropriate discipline and let the stock price determine my trading action!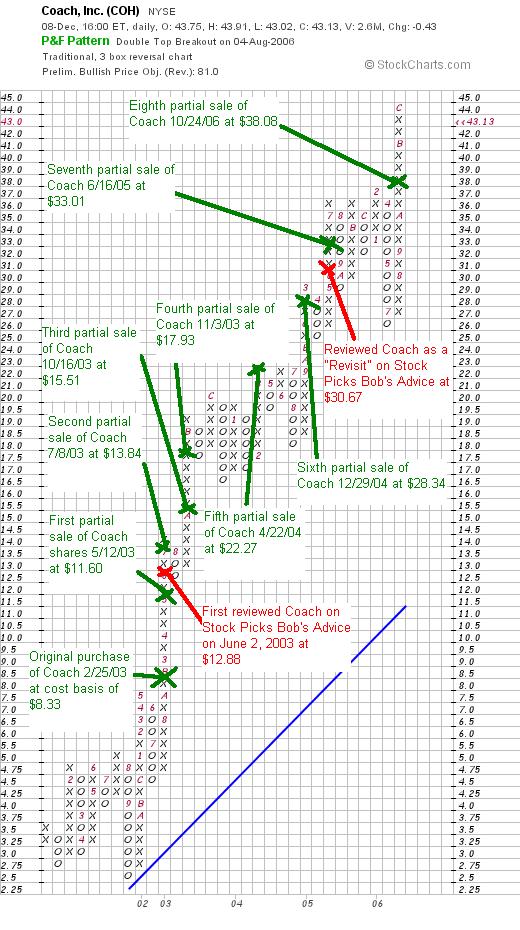 Let's take another look at this stock and see if it still deserves a spot on this blog.
What does the company do?
According to the Yahoo "Profile" on Coach, the company


"...engages in the design and marketing of handbags and accessories in North America and internationally. Its primary product offerings include handbags; women's and men's accessories, such as money pieces, wristlets, cosmetic cases, key fobs, belts, electronic accessories, wallets, and other leather accessories; outerwear, gloves, hats, and scarves; men's computer bags, messenger-style bags, and totes; and luggage and travel accessories. The company's product offerings also comprise watches, footwear, and eyewear. Its products are sold through direct-to-consumer channels, including company-operated retail and factory stores in North America and Japan; and its online store and catalogs."
How did they do in the latest quarter?
On October 24, 2006, COH reported 1st quarter 2007 results. Net sales came in at $554 million, up from $449 million in the same quarter last year. Net income grew 34% to $126 million or $.34/share, up from $94 million or $.24/share. Analysts had been expecting $.31/share, and the company actually exceeded its own guidance of $.30/share. Comparable store sales in the United States grew at 21.4% inthe quarter. Comparable store sales in Japan grew at a "mid-single-digit" rate for the quarter. The company also raised guidance for the upcoming quarter to $.56 shares ahead of analysts' expectations of $.55. For fiscal year 2007, the company raised guidance to sales of $2.55 billion, and earnings per diluted share of at least $1.63. This is ahead of the analysts who apparently have been expecting $1.58 for 2007.

This really was a terrific report with solid same store sales reported, beating expectations AND raising guidance. This is what I would generally refer to as a "trifecta-plus"!
What about longer-term results?
If we look at the Morningstar.com "5-Yr Restated" financials on Coach, you can see a BEAUTIFUL picture which I believe explains the phenomenal performance of this stock. Revenue growth works out to $719 million in 2002, increasing steadily to $2.11 billion in 2006 and $2.22 billion in the trailing twelve months (TTM). Earnings have also steadily increased, and dramatically at that, from $.21/share in 2002 to $1.27/share in 2006 and $1.37/share in the TTM. No dividends are paid. The number of shares outstanding has been quite stable at 360 million in 2002 to 380 million in 2006. The company has been apparently buying back shares as Morningstar reports 367 million shares for the TTM.

Free cash flow has been positive and increasing with $286 million in 2004, increasing to $381 million in 2005, $463 million in 2006 and $474 million in the TTM.

The balance sheet, like the rest of the numbers on Coach from this page is also gorgeous. They have $456.3 million in cash and $567.1 million in other current assets. This is a total of $1023.4 million, which when compared to the current liabilities of $394.9 million yields a current ratio of 2.59. The long-term liabilities are a very modest $89.4 million per Morningstar.
What about some valuation numbers?
Looking at Yahoo "Key Statistics" we can see that this is a large cap stock with a market capitalization of $15.85 billion. The trailing p/e is a bit rich at 31.50, but the forward p/e (fye 01-Jul-08) is estimated at a much nicer 21.57. In fact, with the rapid growth in earnings, the PEG still comes in at a reasonable 1.19.

Reviewing the information from the Fidelity.com eresearch website, we find that the Price/Sales for Coach is indeed rich at 7.39 for the TTM, with an industry average of 2.59, placing Coach at the 97th percentile for "richness" in Price/Sales ratio.

Perhaps pertinently, in terms of profitability, Coach is very profitable with a return on equity (ROE) coming in at 40.05% with an industry average of 20.77%. This puts Coach at the 94th percentile for profitability.

Returning to Yahoo, we find that there are 367.48 million shares outstanding with 361.23 million that float. Currently there are 6.49 million shares out short, representing 1.8% of the float or a short ratio of 1.8 trading days. Not too many short-sellers appear willing to speculate against this company!

No dividend is paid, and as noted earlier, the last stock split was a 2:1 split on April 5, 2005.
What about the Chart?
Looking above, we can see the unbelievable strength in this stock ever since it corrected back in September, 2001, when the stock dipped to a split-adjusted price of $2.50/share. Since then the stock has been charging ahead without much of any sign of a correction. In fact, if anything, the stock is overextended, way above the support levels. However, as long as good news is not in short supply, there is no sign that the stock will be pulling back to lower levels imho.
Summary: What do I think?
In a word, this stock has been AMAZING. I believe this stock, and this company, represent the archetypical firm I am looking for. Aren't all of us looking for stocks like this? They have grown their revenue, their earnings, beat expectations and repeatedly raised guidance. WOW. Unfortunately, early on, I was selling 1/4 positions of my holdings and the size of my holding dropped a bit, but overall, I am pleased with my sales which have allowed me to grow my portfolio with other positions.
Thanks so much for stopping by and visiting! If you have any comments or questions, please feel free to leave them on the blog or email me at bobsadviceforstocks@lycos.com. If you get a chance, drop by and visit my Stock Picks Podcast Site. Have a great rest of the weekend!
Bob