Starbucks (SBUX) "Weekend Trading Portfolio Analysis"

Hello Friends! Thanks so much for stopping by and visiting my blog, Stock Picks Bob's Advice! As always, please remember that I am an amateur investor, so please remember to consult with your professional investment advisers prior to making any investment decisions based on information on this website.
One of my weekend topics is my "Trading Portfolio Analysis". This review helps you understand what is actually going on in my own actual portfolio. I continue to do this out of transparency, but also out of my own effort to continually review the stocks I own to make sure that they still belong in my own account. I have been doing review approximately every other weekend, and with 19 positions in the portfolio, it should take me about ten months (considering sometimes it will be three rather than two weeks between posts) and as I move towards my full 25 position portfolio, it should then take approximately a year before a new review is done.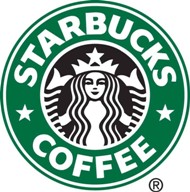 Two weeks ago I reviewed ResMed (RMD) on Stock Picks, going alphabetically, it is time once again to take a look at Starbucks (SBUX), one of my longest-held stocks in my portfolio, and also one of my most successful investments. I say 'once again' because I have reviewed SBUX previously in this same context, as one of my holdings, first on December 25, 2005, then again on September 24, 2006.
On an earlier post I discussed how my new strategy on selling is to sell only 1/7th of my remaining shares at each targeted appreciation point. My experience with SBUX is one of the main reasons why I believe this change is critical. Initially, I was selling 1/4th of my positions, I have moved to 1/6th, and yet my positions still seem to be eroding in size. Thus, I shall move back to 1/7th of my holdings at the same intervals. I believe that it will be helpful for my successful stocks to grow as well as continue to produce small sales of increasing size.
Currently, I own 50 shares of Starbucks (SBUX) in my Trading Portfolio that were acquired 1/24/03, more than 4 years ago, and actually a few months before I even initiated this blog. These shares have a cost basis of $11.40. SBUX closed at $31.40 on 4/5/07, and thus I have an unrealized gain on these shares of $20.00/share or 175.4% on these shares.
I had an excellent comment from an observant reader who suggested I really wasn't as 'brilliant' as I was suggesting to my readers. Seriously, he pointed out how my actual return on my investment, in this case my shares of Starbucks, was much lower as I was selling shares all along the way. In addition, I didn't take into consideration the tax consequences of my actions. I am not really able to take into tax considerations except to say that for me most are at the 15% level, which you will of course face whether you sell the shares now or later (for more on capital gains taxes in the United States and elsewhere you can read here). I will try to reconstruct the actual total cost of my purchase and the total sales and current value to determine some sort of performance number.
On January 29, 2003, my purchase of Starbucks consisted of 100 shares purchased at a price of $22.66/share ($22.80 when the commission is included--I also had a $14.95 commission charge on this purchase). Starbucks split 2:1 on October 24, 2005, making my effective stock purchase price $11.33 or $11.40 when you take into consideration the commission cost.

Since my purchase, I have made six sales. I sold 25 shares (1/4 of my position) on 9/8/03 at a net price of $28.47. This represented a gain of $5.67 or 24.9% on this first sale. My proceeds were $711.71. I had 75 shares remaining.

The second sale was 1/23/04, when I sold 15 shares (1/5th of my 75) at a price of $35.16. This represented a gain of $12.36 or 54.2% (I had not yet firmed up my 30, 60, 90, 120, etc. appreciation points at this time). My proceeds from this sale were $527.47. I now had 60 shares remaining.
The third sale was on 6/18/04, when I sold 15 shares again (1/4 of my holding) at $43.39/share. This was a gain of $20.59 or 90.3% (I was now implementing my 30, 60, 90% sales etc. more closely). This yielded proceeds of $650.78, leaving 45 shares in my account.
My fourth sale was on 12/3/04, and I sold 10 shares of Starbucks at $57.89. This was a gain of $35.09 or 153.9%. In this case, I had waited a bit beyond my 120% sale point for a sale. The sale yielded proceeds of $578.88, and I now had only 35 shares of Starbucks in my Trading account.
My fifth sale of this stock was on 12/5/05. Starbucks had a 2:1 stock split on October 24, 2005, so I was back up to 70 shares. On 12/5/05, I sold 11 shares (1/6th of my position) when SBUX had hit a price of $30.95. With the adjusted cost now down to $11.40, this represented a gain of $19.55 or 171.5%. (This was a bit shy of my 180% targeted gain!). This trade yielded proceeds of $340.48, and I now was back to 59 shares.
My latest sale of Starbucks was on 4/19/06, about a year ago. I sold 9 shares at $37.74. This represented a gain of $26.34 or 231.1%. (A little shy of my 240% gain but likely the sale was actually at the right time....just the commission knocked the gain down a bit). The trade yielded $339.67 in proceeds, and I was back to 50 shares that are currently in my account.
Let's first add up all of the sales of Starbucks to see what % of the original investment I have already withdrawn from my holding. These amounts are: $711.71 + $527.47 + $650.78 + $578.88 + $340.48 + $339.67 = $3148.99. Thus, dividing this by my original cost of $2,280, I have already withdrawn 138.1% of my original investment, and still have 50 shares at $31.40 or $1,570 of SBUX stock still left. Better yet, if we add the $1,570 to the sales of $3148.99, we get $4718.99. Divided by the cost of $2,280, this represents a gain of 107% on this investment. In any case, I have done well with Starbucks!
When would I plan on selling next? If I have sold six times, essentially at the 30, 60, 90, 120, 180, and 240% levels, I would plan on selling on the upside at the 300% appreciation point, selling only 1/7th or 7 shares at 4.00 x $11.40 = $45.60. On the downside, if the stock should retrace to 1/2 of its highest appreciation sale or in this case 1/2 or 240% or 120% gain, then I would sell all remaining shares at that level. Or, this words out to 2.20 x $11.40 = $25.08.
Here is a current "Point and Figure" Chart on Starbucks from StockCharts.com: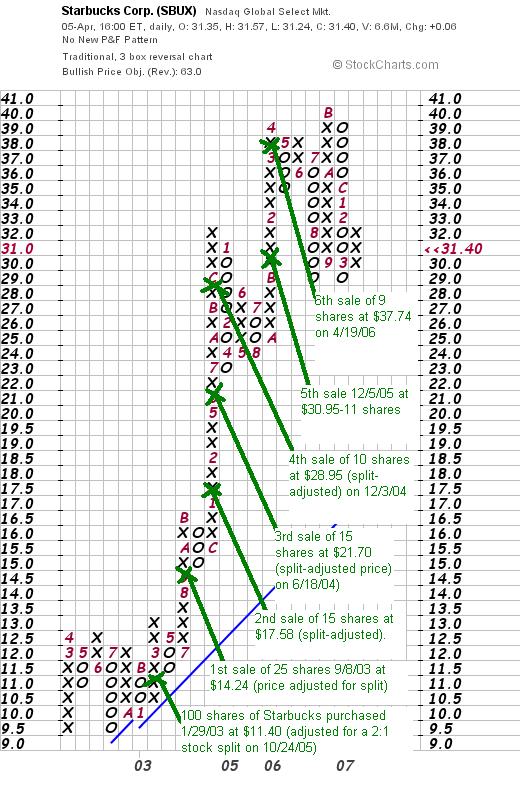 Let's take a closer look at this stock and see if it still deserves a spot in my portfolio!
What exactly does this company do?
According to the Yahoo "Profile" on Starbucks the company
"...engages in the purchase, roasting, and sale of whole bean coffees worldwide. The company offers brewed coffees, espresso beverages, cold blended beverages, various complementary food items, coffee-related accessories and equipment, a selection of premium teas, and a line of compact discs through its retail stores. It also sells coffee and tea products; and licenses its trademark for retail store operations, and grocery and warehouse club stores, as well as to produce and distribute its branded products. In addition, Starbucks produces and sells ready-to-drink beverages, which include bottled coffee drinks, espresso drinks, and a line of ice creams."
How did they do in the latest quarter?
On January 31, 2007, Starbucks (SBUX) reported 1st quarter 2007 results. Net revenues came in at $2.4 billion, up 22% over the prior year. Comparable store sales climbed 6% during the quarter. And net earnings were at $205 million, up 18%, with earnings per share coming in at $.26/share, up 18% over the prior year's $.22/share.

This was very much in line with analysts expectations of $.26/share on revenue of $2.35 billion.
How about longer-term results?
Reviewing the Morningstar.com "5-Yr Restated" financials on Starbucks, we can see the perfectly steady growth in revenue from $3.3 billion in 2002 to $7.8 billion in 2006 and $8.2 billion in the trailing twelve months (TTM).

Earnings have also perfectly increased from $.26/share in 2002 to $.71/share in 2006 and $.75/share in the TTM.

Starbucks has actually been decreasing its number of shares outstanding as this progression notes: 794 million in 2004, 785 million in 2005, 763 million in 2006 and 751 million in the TTM.

Free cash flow has been solidly positive if not really increasing recently with $446 million in 2004, $280 million in 2005, $360 million in 2006 and $307 million in the TTM. Operating cash flow has been increasing but the company has continued to expand its capital spending as well.

The weak spot of this Morningstar.com report is the balance sheet. The company is reported to have $436.5 million in cash and $993.1 million in other current assets. This total of $1,429 million in current assets, when compared against the current liabilities of $1,804.2 yields a current ratio under 1.0, or .79.

I do not think this is a problem for Starbucks as they are generating a lot of free cash flow, but these kind of numbers could make one wonder whether they will need to be adding to their long-term borrowing or adding to the number of shares outstanding to cover their debts that require attention. Since everything else is apparently terrific, but the debt picture is a small dark cloud for me, I...
RATE STARBUCKS AS A HOLD
even though I own shares, I am not prepared to sell at this time, but would probably seek other companies that meet the profile I am looking for, which includes a solid balance sheet, before adding funds to this stock.
What about some valuation numbers?
Reviewing Yahoo "Key Statistics", the company is a large cap stock with a market capitalization of $23.58 billion. The trailing p/e is 41.70, the forward p/e (fye 01-Oct-08) is estimated at 29.07, and with the steady growth, the PEG (5 yr expected) is estimated at 1.52, just a bit higher than my 1.0 to 1.5 PEG I like.

Looking at a few valuation numbers from Fidelity.com eresearch website, we can see that the Price/Sales (TTM) isn't bad at 2.92, compared to the industry average of 3.64.

Also, the company is quite profitable, with a Return on Equity (TTM) of 25.54%, compared to the industry average of (.36)%.

Finishing up with Yahoo, we can see that there are 750.96 million shares outstanding with 734.74 million that float. Currently there are 26.24 million shares out short representing 2.4 days of trading or 3.5% of the float. This doesn't appear to be significant. No dividend is paid, and the last stock split was the 2:1 split mentioned above in 10/05.
Summary: What do I think?
Well, I like Starbucks a lot. I like their coffee, I like their earnings record, I like their presence in China. But I cannot give it a full endorsement, even though I own shares, because of the debt picture which is a bit heavy on the current liabilities. I am not an accountant. I don't believe this is a problem, but when I started this blog I determined to stick to my own basic rules about screening through stocks and while almost everything gives me a green light, this one little bit of data is of concern to me. I don't know if anyone else is bothered by it. I hope the stock continues to appreciate for me. But I wouldn't mind seeing them start paying down some debt and slow down their share buy-back and expansion plans to pace themselves a bit better. Why, even a small dividend wouldn't be such a bad idea would it?
Thanks so much for stopping by and visiting! If you have any comments or questions, please feel free to leave them on the blog or email me at bobsadviceforstocks@lycos.com.
Bob