Research in Motion (RIMM) "Revisiting a Stock Pick"
CLICK HERE FOR MY PODCAST ON RESEARCH IN MOTION (RIMM)
Hello Friends! Thanks so much for stopping by and visiting my blog, Stock Picks Bob's Advice! As always, please remember that I am an amateur investor, so please remember to consult with your professional investment advisers prior to making any investment decisions based on information on this website.

Earlier tonight I did a podcast on RIMM before I had written it up. (I think it shows since I usually have the entry written first which gives me more structure as I am 'casting!)
Let me try to briefly (if at all possible) go over a few of the things I discussed on the podcast and why I thought Research in Motion deserved a spot on this website.
RESEARCH IN MOTION (RIMM) IS RATED A BUY
First of all, RIMM made the list of the top % gainers Friday, closing at $220.52, up $22.50 or 11.36% on the day.
I say "revisit" RIMM, because I first posted RIMM early in the history of this website, writing up Research in Motion (RIMM) on September 26, 2003, when the stock was trading at $38.24/share. The stock split 2:1 on June 7, 2004, making my effective stock pick price even lower at $19.12. Thus, this stock has appreciated a WHOPPING $201.40 or 1,053.3% since posting! (Too bad I didn't buy any shares back then and I don't have any shares now!)
On June 28, 2007, RIMM reported 1st quarter 2008 results for the quarter ended June 2, 2007. Revenue for the quarter was $1.082 billion, up 16.3%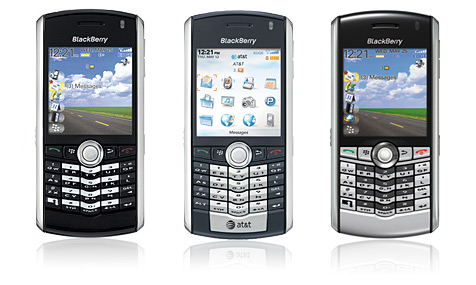 from $930.4 million in the same quarter the prior year. GAAP net income was $223.2 million or $1.17/diluted share, up from $187.4 million or $.98/diluted shre last year.
These results exceeded expectations as analysts had been expecting earnings of $1.06 on revenue of $1.05 billion. In another expression of confidence in the company, the board announced a 3 for 1 stock split which will be payable August 20th (tomorrow!).
Longer-term, examining the "5-Yr Restated" financials n RIMM from Morningstar.com, we can see the steady revenue growth from $307 million in 2003 to $3.03 billion in 2007. Earnings have also steadily improved from a loss of $(1.00)/share in 2003 to $.30/share in 2004, and all the way to $3.30/share in 2007. During this period, outstanding shares have been stable with 155 million shares outstanding in 2003, increasing to 185 million in 2007. This approximately 30% increase in shares was accompanied by a 700% increase in revenue and a 1000% increase in earnings!
Free cash flow has been a bit erratic, but was $42 million in 2004, increasing to $169 million in 2005, dropping to a negative $(29) million in 2006 and back positive at $482 million in 2007.
The balance sheet is solid with $677 million in cash, enough to cover both the $546.6 million in current liabilities and the $58.9 million in long-term liabilities combined. The company has an additional $1.2 billion in other current assets making its current ratio somewhere north of 3.0.
Checking Yahoo "Key Statistics" on RIMM, we can see that this is a large cap stock with a market capitalization of $123 billion. The trailing p/e is a rich 173.36, with a forward p/e (fye 03-Mar-09) estimated at a more reasonable 27.74. Thus, the PEG ratio, a good valuation of the relative richness of the p/e is a more reasonable 1.38. (1.0 to 1.5 is satisfactory imho).
In terms of valuation, RIMM has a Price/Sales ratio (TTM) of 11.66, well ahead of the industry average of 4.00 according the Fidelity.com eresearch website. The company does better in the 'profitability department' with a Return on Equity (TTM) reported at 30.23%, ahead of the industry average of 24.57%.
There are 558.00 million shares outstanding with 485.4 million that float. Of these, as of 7/10/07, there were 9.31 million shares out short representing 1.1 trading days of volume (the short ratio). This does not appear to be a significant short interest at least relative to my own '3 day rule' for short interest.
No dividend is paid and the last stock split was a 2:1 stock split June 7, 2004.
Let's take a look at the incredible 'point & figure' chart on RIMM from StockCharts.com: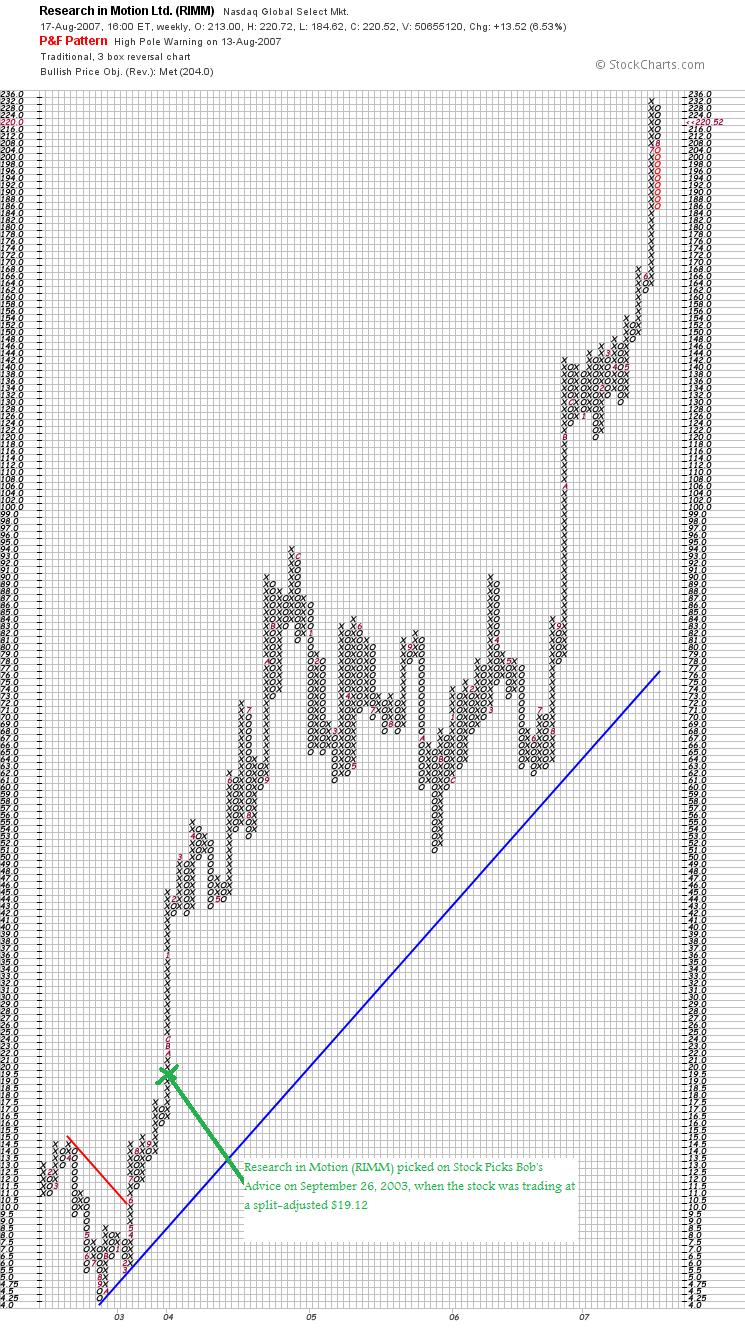 The chart shows such a meteoric increase since 2003 that it is difficult to display on the blog! The chart still looks strong but certainly the continued strength of this stock is dependent (from my perspective) on the continued performance on a fundamental basis of this company.
Thus, RIMM stock had a great day Friday. Shows an unbelievable increase from the posting back in 2003. Earnings are still strong and beating expectations and the Morningstar.com report looks solid.
Thanks again for visiting my blog! If you have any comments or questions, please fee free to leave them on the blog or email me at bobsadviceforstocks@lycos.com. If you get a chance, be sure and visit my Stock Picks Podcast Page where you can review an download all of my podcasts (including this one on RIMM), visit my Covestor Page where my actual trading portfolio is reviewed and evaluated, and take a look at my Social Picks Page where that website works to evaluate the success and usefulness of my writing.
Regards to all of my friends and readers. Hopefully, we shall see more of the same from Friday tomorrow and the rest of the week!
Bob