I Stand With Susan Hessel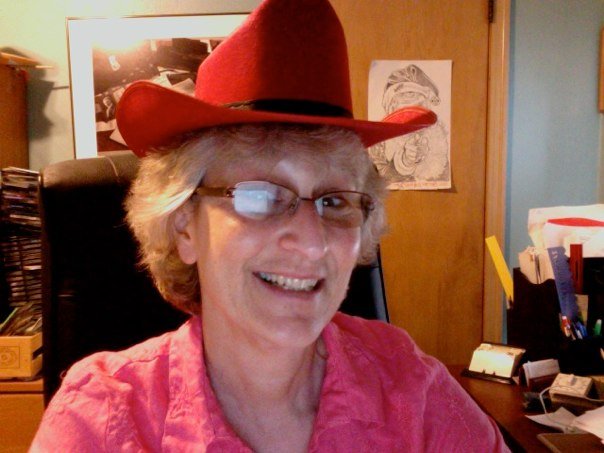 My good friend Susan Hessel is recovering from surgery today for breast cancer. Last week, to explain to her friends, she wrote a piece about her own experience with this disease. Always smiling, always optimistic about what life was handing her, I asked her if she would kindly allow me to share with my own readers her words that are far more eloquent and informative than anything I could write here about this disease that strikes so many women today. She consented to me blogging her words; she herself is a wonderful writer and author of books---here is a list of books from Amazon that she has been involved in---and has a sense of humor that allows her to redefine even the notion of cheese-head as you can see from her Facebook page.
Without any further words from me, this is what Susan had to say in her email to me and to many of her friends:
I Stand With Tevye

Susan T. Hessel

Do you remember that scene in the musical Fiddler on the Roof when Tevye looks up at the sky and says to G-d, "I know, I know. We are Your chosen people. But, once in a while, can't You choose someone else?"


It's a joke among Jews that we really didn't need to be chosen in so many ways that we are. Now I get to add breast cancer to that list. Or do I?


It's certainly how I felt when my doctor called me a few weeks back and told me that she and the breast radiologist had been talking and thought that because of my "ethnicity" they should go one step further and I should have a breast MRI.


"My ethnicity?" I asked.


"Yes, didn't you know that Ashkenazic Jewish women are at greater risk for breast cancer?"


"I'll convert," I told my doctor, maybe only a quarter kidding at that moment. (And yes, I did tell my rabbi I said that. He laughed.)


"I don't think that will work," my doctor said to my suggestion of conversion. "It's hereditary."


"Ahh," I said, "I'll blame my parents."


Of course, to blame my parents, who are no longer with me, would be tacky and inappropriate. It would open me to similar feelings from my kids. They chose lousy parents heredity wise, but that's another story.
I am of Ashkenazic – Central/Eastern European Jewish descent. And yes, I do have breast cancer and am about to have a mastectomy. But who knows if it is genetic or something related to the environment or simply the flying fickle finger of fate (think Laugh-In television show in the 1960s).


I have talked with other Jewish women who didn't know about this connection either. I decided to do some research. This summary is from the National Human Genome Research Institution:


In 1995 and 1996, studies of DNA samples revealed that Ashkenazi (Eastern European) Jews are 10 times more likely to have mutations in BRCA1 and BRCA 2 genes than the general population. Approximately 2.65 percent of the Ashkenazi Jewish population has a mutation in these genes, while only 0.2 percent of the general population carries these mutations.
Further research showed that three specific mutations in these genes accounted for 90 percent of the BRCA1 and BRCA2 variants within this ethnic group. This contrasts with hundreds of unique mutations of these two genes within the general population. However, despite the relatively high prevalence of these genetic mutations in Ashkenazi Jews, only seven percent of breast cancers in Ashkenazi women are caused by alterations in BRCA1 and BRCA2.

I really, really, didn't know about that Ashkenazic Jews were at higher risk. And, I have done more than my fair share of medical writing. It was probably information that I needed to know but wished I didn't know.


However, it's not all that clear cut. Science Daily reported in 2006 on a study in the American Journal of Public Health that challenged "This population-based approach, warning that disparities in access to care and other unintended consequences for specific ethnic groups can result, and may have already occurred."


"The science of breast cancer genetics has been marked by methodological inconsistency in how researchers defined 'Ashkenazi Jew,'" said study coauthor Sherry Brandt-Rauf, J.D., associate research scholar at the Center. Most scientists relied on study participants' self-identification. Ashkenazi Jews are descended from Jews who lived in central and Eastern Europe, but a complex history of migrations, and multiple cultural and religious meanings of Ashkenazi, makes self-identification problematic."


At any rate, I was talking with a woman who had breast cancer several years ago and she only discovered after genetic testing that she was Jewish. (The geneticist wishes her a Happy Passover." Her family had decided to become Christians after coming to this country at the turn of the 20th century. But it was funny, this woman remembered hearing Yiddish many years ago and understanding what the women were saying. At the time she thought she was clairvoyant.


The Chicago Center for Jewish Genetics Disorders also discusses the issue. Here is its Summary of BRCA1 and BRCA2 Facts:


• Certain ethnic groups are at increased risk for having BRCA1 and BRCA2 mutations; three particular mutations are more common among Ashkenazi Jews.
• Women with mutations in BRCA1 or BRCA2 are more likely to develop breast or ovarian cancer but are not guaranteed to do so.
• A BRCA1 or BRCA2 mutation is more likely to be found in an individual with a family history of particular cancers.
• Women with BRCA1 or BRCA2 mutations are more likely to get cancer at a younger age than the general population.
• Men can also have BRCA1 or BRCA2 mutations, which puts them at an increased risk for prostate, breast, and some other cancers.
• A BRCA1 or BRCA2 mutation can also be passed down through the father so it is important to consider both sides of the family history.
• The decision to get tested can be very complicated. Talk to your doctor or a genetic counselor if you are interested in testing.


What does this all mean? I guess to those of us who are Jewish women, we should be very vigilant. Get regular mammograms and don't panic. Hey, that also applies to non-Jewish women. I didn't think I had any family history of breast cancer, but my grandmother died of some kind of cancer when I was 3. My friend who had cancer and later discovered she was Jewish suggested there was no way of knowing if whatever cancer my grandmother had was lymphoma as we know it today. Then maybe the cancer was in the lymph and then spread. I'm going to ask for genetic testing.


By the way, there is one Jewish breast cancer link that is confirmed: My certificate of Bat Mitzvah (with four other women at CSOA) from 2001 arrived on the day of my biopsy last week. And that link did not require millions of dollars in research to identify. ☺


My mom and I used to joke about the expression, "Now is not the time to panic." We wondered if they – whoever they are – would send out a memo or appear on TV and radio to announce, "Now is the time to panic." At that point we would run in circles with our hands up in the air screaming.
The good news is with technology, they can send the panic message via email, text, by Twitter and Facebook.


I haven't received it so far. And not that I would want to cause harm to anyone else, but like Tevye asked, "Once in a while, can't you choose someone else?"
Susan came out of surgery today. She wouldn't be awake enough to read her own words on the blog but I am glad to count myself as one of her friends. She is a courageous woman facing a terrible disease; a disease that threatens the lives and well-being of women across America and around the globe.
I stand with Susan T. Hessel. But once in awhile God, couldn't you have chosen someone else?