Informatica Corporation (INFA)
Hello Friends! Thanks so much for stopping by and visiting my blog Stock Picks Bob's Advice! As always, please remember that I am an amateur so please remember to always consult with your professional investment advisers prior to making any investment decisions based on the information on this website.

With the difficult stock market environment that we have experienced recently, you may have observed and I have written about my move towards 'value' rather than 'growth' investing. I have selected stocks for my own portfolio as well as for this blog to discuss that are what I would call investment 'stalwarts' that are reasonably priced, pay good dividends, and can weather the vagaries of the economy. You have seen me discuss stocks such as Coca-Cola (KO), Sysco (SYY) and McDonald's (MCD). These are certainly terrific companies but I want to try with this post to tip-toe back towards the original intent of this blog, to discuss those companies with steady revenue and earnings growth.
Informatica (INFA) closed at $30.43, up $3.38 or 12.5% on the day, enough to make the list of top % gainers on the NASDAQ. I do not own any shares of this stock.
According to the Yahoo "Profile" on Informatica (INFA), the company
"...provides enterprise data integration and data quality software and services in the United States and internationally. Its software handles various enterprise-wide data integration initiatives, including data warehousing, data migration, data consolidation, data synchronization, and data quality, as well as the establishment of data hubs, data services, cross-enterprise data exchange, and integration competency centers."
This is not exactly what I would call a "Peter Lynch" style of investment! Not a stock that my daughter is talking about in the local mall. What is compelling about this stock is the financial results that they have and continue to generate.
On July 22, 2010, Informatic reported 2nd quarter results after the close of trading. Revenue for the quarter came in at $155.7 million, ahead of estimates of $143.7 million and earnings came in at $.25/share, also ahead of estimates of $.23/share.
Reviewing the Morningstar.com '5 Years' financials, we can see that revenue has grown from $267 million in 2005 to $325 million in 2006, $391 million in 2007, $456 million in 2008 and $501 million in 2009. It is not just the growth but the consistency of growth that makes this so impressive.
Net income similarly has grown consistently from $34 million in 2005 to $64 million in 2009. Diluted earnings per share have increased from $.37/share in 2005 to $.66/share in 2009 without missing a beat! Outstanding shares have grown modestly from 92 million shares in 2005 to 103 million shares in 2009.
Free cash flow has increased from $28 million in 2005 to $95 million in 2008 but did slip slightly to $74 million in 2009 according to Morningstar.com.
Looking at the Morningstar balance sheet numbers on Informatica (INFA), the company has, as of December, 2009, $614 million in current assets compared to $256 million in current liabilities, yielding a solid current ratio of 2.4. The company is reported to also have what appears to be a very manageable amount of non-current liabilities totaling $251 million.
Reviewing the Yahoo "Key Statistics" on INFA, we can see that this is a mid cap stock with a market capitalization of $2.79 billion. The trailing p/e is rich at 46.46 but with the rapid growth estimated the forward p/e (fye Dec 31, 2011) is estimated at a bit more reasonable 24.34. However, the PEG still comes in a bit rich as well at 1.63. The stock certainly isn't undiscovered :).
INFA has 91.8 million shares outstanding with 90.86 million that float. As of 6/30/10, there were 6.15 million shares out short representing a short ratio of 3.40, just ahead of my own 3 day rule for significance. The company does not pay a dividend and last split its shares with a 2:1 split back on December 14, 2000.
Reviewing the 'point & figure' chart on Informatica (INFA), we can see that the stock traded in a fairly tight range between March, 2006 and July, 2009, between approximately $10.50 and $19.00. In September, 2009, the stock broke out to the upside to a new range between $23 and $27 where it traded in a configuration known as a 'high tight flag' as I understand technical patterns. The stock with its recent move has broken out into a higher price range on good news.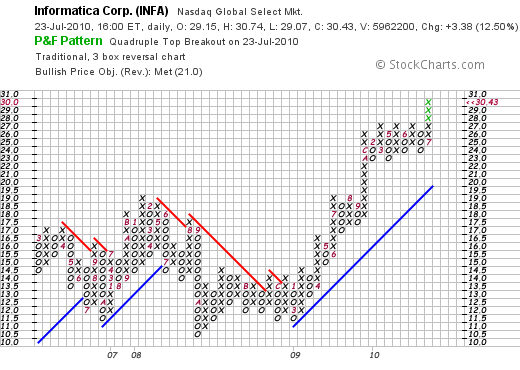 To summarize, Informatica (INFA) had a strong day Friday moving out to new highs on an earnings report that beat expectations. The company has steadily grown its revenue and earnings for the past five years and has a strong balance sheet. However, valuation is a bit rich with a p/e and PEG a big higher than I would like if I were to suggest a 'value' investment. But this represents a terrific tech stock that clearly is capitalizing on the never-ending growth of the information business.
Simply put, it would be a great addition to my own portfolio if I had a signal to be buying a stock!
Thanks again for stopping by and visiting my blog. If you have any comments or questions, please feel free to leave them here on the blog or email me at bobsadviceforstocks@lycos.com.
Yours in investing,
Bob