Fastenal (FAST)
Hello Friends! Thanks so much for stopping by and visiting my blog, Stock Picks Bob's Advice! As always, please remember that I am an amateur investor, so please remember to consult with your professional investment advisers prior to making any investment decisions based on information on this website.

Fastenal (FAST) is a holding of mine in my Covestor 'Buy & Hold Value' model. I own shares with a cost basis of $41.83. Fastenal closed today (1/11/12) at $45.22, up $.21 or .47% on the day.
I most recently wrote up Fastenal (FAST) on April 12, 2007, when the stock was trading at $38.27, which actually works out to $19.14/share, when adjusted for a 2:1 stock split on May 23, 2011.
Let's take a closer look, one could say I suppose let's get down to 'nuts and bolts' on this company!
According to the Yahoo "Profile" on Fastenal, the company
"... Is Engaged As A Wholesaler And Retailer Of Industrial And Construction Supplies. The Industrial And Construction Supplies Were Grouped Into Ten Product Lines: Fasteners, Tools And EquipmeNt, Cutting Tools And Abrasives, Hydraulics, Pneumatics, Plumbing And Hvac, Material Handling, Storage And Packaging, Janitorial Supplies, Chemicals And Paints, Electrical Supplies, Welding Supplies, Safety Supplies And Metals, Alloys And Materials."
On October 13, 2011, Fastenal (FAST) announced 3rd quarter results. Sales for the quarter rose 20% to $726.7 million from $603.8 million the year earlier. Earnings came in at $.33/share, up 29% from the prior year's $.25/share result. The company met expectations as analysts had been expecting earnings of $.33/share according to FactSet. The company beat expectations on revenue as analysts had been expecting $721.6 million in sales.
Longer term, reviewing the Morningstar.com "Financials" on Fastenal, we can see that revenue growth was steady between 2006 and 2008 from $1.8 billion to $2.34 billion. However, sales dipped to $1.93 billion in 2009 before once again turning higher and coming in at $2.27 billion in 2010 and $2.64 billion in the trailing twelve months (TTM).
Earnings, similarly, grew from $.66/share in 2006 to $.94 in 2008 before dipping to $.62 in 2009. Earnings rebounded in 2010 at $.90/share and increased to $1.14/share in the TTM.
Outstanding shares have trended lower with 302 million shares in 2006 and 296 million in the TTM.
Briefly examining the Morningstar.com figures on the Fastenal Balance Sheet, we find that the company has $1.09 billion in current assets and only $162 million in current liabilities yielding a very strong current ratio of 6.7. Per Morningstar, Free Cash Flow has grown from $20 million in 2006 to a peak of $254 million in 2009. During the trailing twelve months, the company reported $145 million in free cash flow.
In terms of valuation, examining the Yahoo "Key Statistics" on Fastenal (FAST), we see that the company is a large cap with a market capitalization of $13.35 billion. The trailing p/e is rich at 40.02 with a forward p/e of 32.07. The PEG ratio of 2.19 confirms the price premium being paid for this stock. Generally I prefer to pay for growth only with ratios between 1.0 and 1.5.
According to Yahoo, there are 295.20 million shares outstanding with 23.54 million shares out short as of 12/15/11. This works out to a short interest ratio of 11.50, well above my own '3 day rule' for significance. Thus, there are a lot of shares already sold by short-sellers who are expecting the stock to decline in price. However, if the company outperforms expectations, and the stock rises, these short-sellers might scramble to cover pushing the stock price higher in a 'squeeze'. Just saying.
The company is paying a $.56/share forward dividend yielding 1.2%. The payout ratio is 63% meaning the company is paying out nearly 2/3 of its earnings in the form of dividends to share-holders. As I noted above, the company last split its shares on May 23, 2011, in the form of a 2:1 stock split.
Reviewing the StockCharts.com 'Point & Figure' chart on Fastenal (FAST), we can see that the stock bottomed in March, 2009, about the same time that financials were bottoming, at about $12.50/share. Since that time, the stock has been very strong climing to a recent price of $45.22.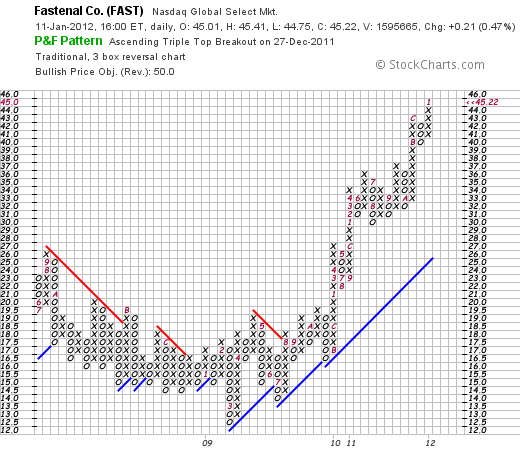 Clearly this has been a very strong stock to own the past several years. And even more so longer-term!
However, the stock is richly priced and one must wonder whether a correction is needed to restore a better balance between earnings, earnings growth, and the stock price. Just today, Bloomberg reported that Fastenal had 21.5 million shares out short as of December 30, 2011, down 1.5 million shares from the December 15th numbers. However, with average trading volume of only 1.5 million shares, this still represents over 6 weeks of volume to cover.
Motley Fool jumped in on the skeptic bandwagon with a recent article listing Fastenal as one of the "5 Great Companies That'll Disappoint Investors" again based on the price/value premium to the market.
However, Zacks last week came out with a "Buy" rating on Fastenal based on the strong price performance and "bullish growth projections". Furthermore, a recent Seeking Alpha article pointed out that at least one insider, a director, made a purchase of about 10,000 shares in December. The Investor's Business Daily explained that with the apparent beginning of a housing rebound in December, housing and construction-related companies might begin to see upturns in their business.
Where do I stand? Well, I own shares of the stock. Valuation is indeed rich, but the track record of this company is hard to beat. Long-term I believe the prospects remain bright for Fastenal (FAST). Shorter-term, I would not be surprised to see increased volatility with profit-taking on perceived bad news as well as short-covering keeping the upward pressure on the stock price.
Thanks so much for stopping by! Please feel free to leave comments or questions right here.
Yours in investing,
Bob