Prestige Brands (PBH)
Hello Friends! Thanks so much for stopping by and visiting my blog Stock Picks Bob's Advice! As always, please remember that I am an amateur investor, so please remember to consult with your professional investment advisers prior to making any investment decisions based on this website.
I don't spend a lot of time talking about how I got interested in investing years ago, but I give credit mostly to my father, the late Lt. Col. Sumner Freedland, who taught me to look at labels, read stock prices, and buy equities. I purchased my first shares 46 years ago this month and have followed the market since.
In his own Peter Lynch style, my father like to invest in things he understood. I remember that his favorite investments were AT&T (T) (way prior to the spin off of all of the 'baby bells'), and Merck (MRK). He used to enjoy showing me all of his stock certificates and the many splits he had received over the years. He convinced me!
Like my father, I occasionally get on what might be called 'health kicks'. I have been convinced of the helpfulness of Vitamin D in the diet and take a supplement, I take some Omega 3's (being aware of recent controversy about Omega 3's and Prostate Cancer), and I use a fiber supplement for those benefits.
I will attest to greater compliance attributable to gummies even as an adult. I am not put off by another pill or two to swallow when given the alternative of a good tasting gummy instead! There are some anecdotal suggestions that compliance in vitamin regimens will be improved as the vitamins are available in a pleasant tasting form.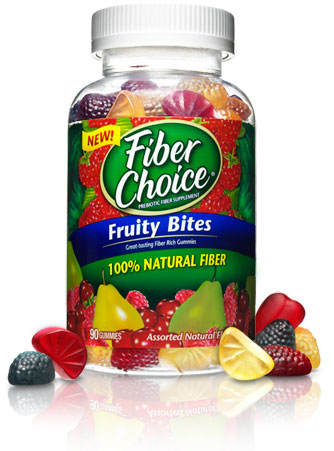 Two of the brand names that I consume include vitafusion for multiple vitamins and Fiber Choice for a fiber supplement. It turns out that vitafusion is produced by Northwest Natural Products which is now owned and produced by another one of my favorite companies, Church & Dwight (CHD). However, Fiber Choice is now owned by Prestige Brands (PBH). In some ways this is a 'revisit' of a stock pick because the original owner of Fiber Choice was a company CNS (CNXS) that I reviewed back in April, 2005.
On October 16, 2005, GlaxoSmithKline (GSK) announced its purchase of CNS, Inc. for $566 million. In December, 2011, GlaxoSmithKline sold 17 over-the-counter medicines to Presige Brands Holdings (PBH) where Fiber Choice ended up today. Thus the circuitous route of this supplement to my medicine cabinet!
I do not currently own any shares of Prestige Brands (PBH) although I briefly held some shares this past month but sold them as the market weakened. Prestige Brands closed at $31.81 on September 6, 2013.
According to the Yahoo "Profile" on PBH, the company
"....through its subsidiaries, engages in the marketing, sale, and distribution of over-the-counter healthcare and household cleaning products in North America and internationally. It operates through two segments, Over-The-Counter Healthcare and Household Cleaning. The Over-The-Counter Healthcare segment offers a portfolio of OTC products under 14 primary OTC brands, including Chloraseptic sore throat remedies, Clear Eyes eye drops, Compound W wart removers, Little Remedies pediatric healthcare products, The Doctor's brand of oral care products, Efferdent and Effergrip denture products, Luden's cough drops, PediaCare pediatric healthcare products, Dramamine motion sickness products, BC and Goody's Analgesic powders, Beano gas prevention, Gaviscon antacids, and Debrox ear drops. The Household Cleaning segment markets household cleaning products, such as Chore Boy scrubbing pads and sponges; Comet abrasive powders, creams, liquids, and non-abrasive sprays; and Spic and Span dilutables, sprays for counter tops, glass cleaners."
On August 1, 2013, Prestige Brands Holdings (PBH) announced 1st quarter 2014 results. Adjusted revenue for the quarter actually dipped 1.9% to $143.0 million from last year's $145.8 million. Net income, however, came in at $20.7 million or $.40/diluted share, up 41.2% from the prior year's result of $14.7 million or $.29/diluted share. Analysts had been expecting $.38/share which the company beat, but they had also expected revenue of $147.1 million below expectations. Altogether, a bit of a mixed quarter.
Reviewing the Morningstar.com financials on Prestige Brands Holding (PBH), we can see that revenue has grown from $313 million in 2009, dipping to $302 million in 2010, then steadily climbing to $624 million in 2013 before the dip to $620 million in the latest twelve months (TTM).
Diluted earnings per share have improved from a loss of $(3.74) in 2009 to $1.27 in 2013 and $1.38 in the TTM. During this period outstanding shares have been fairly constant at 50 million in 2009 increasing to 51 million in 2013 and 52 million in the TTM.
Free cash flow has improved from $66 million in 2009, dipping to $59 million in 2010, and increasing to $127 million in 2013 and $135 million in the TTM.
In terms of a simplified view of the balance sheet, Morningstar reports PBH with $164 million in current assets as of March, 2013, and $97 million in total current liabilities. This results in a healthy current ratio of 1.69.
Looking at the Yahoo "Key Statistics" on Prestige Brands to get a feel for some valuation numbers, we can see that the stock is a small cap stock with a market cap of $1.63 billion. The trailing P/E is moderate at 23.05 with a forward P/E (fye Mar 31, 2015) a little better at 17.29. Still the growth rate is expected to fail to reduce the PEG into what I would consider a reasonable range (under 1.5) with a current PEG reported at 1.95.
Prestige Brands has 51.17 million shares outstanding with 50.81 million that float. Currently there is a modest number of shares out short reported to be 442,730 shares as of August 15, 2013. This results in a similarly modest short interest ratio of 1.60. (Generally I use 3.0 days to cover as suggestive of significance---my own arbitrary cut-off.) The company does not pay a dividend and no stock splits are reported on Yahoo.
Examining the 'point & figure' chart on PBH from StockCharts.com, we can see what appears to be a very strong technical chart with a sharp ascent in stock price from early 2009 when it was trading at around $4.25 to its current level of $31.81. Currently the stock is consolidating but appears (if I may be free to speculate here) that the stock is poised to move higher.
In summary, this stock market idea took a circuitous route from my bathroom medicine cabinet to this blog! Prestige Brands, a little like Church & Dwight (CHD), is putting together a large group of familiar household brands and is doing so without an excessive increase in outstanding shares or excessive debt. In addition, as this Motley Fool article points out, they are generating plenty of free cash flow that can be used for enhancement of shareholder value or perhaps a dividend (?) down the road.

The stock appears to be fairly fully priced but does have a very strong chart as well making it attractive from my perspective. I do not own any shares, but this one certainly is on my horizon and I hope to revisit this as a shareholder in the future.
Thank you again for stopping by and visiting my blog! If you have any comments or questions, please feel free to leave them here and I shall try to respond the best I can.
Yours in investing,
Bob