Cintas (CTAS) "Revisiting a Stock Pick"
Hello Friends! Thanks so much for stopping by and visiting my blog, Stock Picks Bob's Advice! As always, please remember that I am an amateur investor, so please remember to consult with your professional investment advisers prior to making any investment decisions based on information on this website.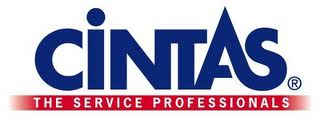 It is often hard to believe that I have been blogging here on this website since May 12, 2003, over 10 years ago, when I wrote up my first entry St Jude Medical. For those of you who have become regular readers here, I thank you and hope that I have in some small way added to your own understanding of looking at stocks. I know that it has been a very useful experience for me giving me the experience of examining literally thousands of stocks right here and developing my own appreciation of 'good' and 'bad' investments. I do not claim to be more than an amateur seriously, but have learned quite a bit through this process.
In fact, I often come back to many of the same names over the years. These are the kind of stocks that I believe that Gene Walden, a favorite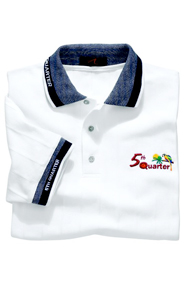 mentor of mine, might think worthy of inclusion in a 100 Best book of his. What these stocks represented were the companies that through wise management were able to offer America a product or service that could grow steadily over a long period of time and along with it, an appreciating stock price that would make holding shares worthwhile.
On July 15, 2005, I first wrote up Cintas (CTAS) when it was trading at $44.00/share. At that time I did not own any shares. On April 9, 2013, I purchased shares of Cintas (CTAS) at $44.49 in my Covestor Growth and Momentum Model which I manage on the Covestor Website. It is an interesting coincidence that I purchased shares years later when the stock was trading at virtually the same price. CTAS had a good day Friday, December 20, 2013, closing at $59.30 on a strong earnings report.
According to the Yahoo "Profile" on Cintas, the company
"...provides corporate identity uniforms and related business services for approximately 1 million businesses primarily in North America, Latin America, Europe, and Asia. The company operates in four segments: Rental Uniforms and Ancillary Products; Uniform Direct Sales; First Aid, Safety and Fire Protection Services; and Document Management Services."
Looking closer at that second quarter 2013 earnings report that I mentioned above, CTAS reported on December 20, 2013, that earnings came in at $.70/share, above the Zacks Estimate at 11.1% improvement over last year's $.63/share result. Revenue grew 7.9% from last year to $1.14 billion, also ahead of Zacks estimates. The company also raised guidance for the lower end of the range on both revenue for 2014 and earnings.
Reviewing longer-term results, the Morningstar 5 Years Financials shows that Cintas has grown its revenue from $3.78 billion in 2009 to $4.31 billion in 2013 and $4.39 billion in the trailing twelve months (TTM). Diluted earnings per share actually dipped from 2009 at $1.48/share to $1.40/share in 2010. However, since then earnings have steadily grown to $2.52 in 2013 and $2.56 in the TTM. Outstanding shares have declined as the company repurchased shares with 153 million shares in 2009 declining to 124 million shares in the TTM.
Morningstar reports the company's balance sheet as of May, 2013, showing $1.63 billion in current assets and $556 million in total current liabilities yielding a current ratio of 2.93. Free cash flow per Morningstar has been positive and steady with $363 million in free cash flow as of 2009 and $354 million in free cash flow in the TTM.
Examining some valuation numbes on Cintas as reported on the Yahoo "Key Statistics", we find that Cintas Corporation (CTAS) is a mid cap stock with a market capitalization of $7.11 billion. The trailing P/E is a moderat 22.71. Forward P/E is better (fye May 31, 2015 estimated) at 19.38. But the PEG ratio still remains somewhat rich at 2.01. Yahoo reports 119.82 million shares outstanding with 99.82 million that float. As of November 9, 2013, there were 6.89 million shares out short. Considering the average daily volume of 557,398 (past 3 months), this works out to a short interest ratio of 18.60. This is well above my own arbitrary '3 day rule' for significance. Thus, this past Friday when the company reported solid earnings (as discussed above), the stock climbed sharply. One can only wonder whether a bit of a 'short squeeze' was in action.
Cintas pays a forward dividend of $.77 with an estimated yield going forward of 1.30%. The company has a payout ratio of 29% suggesting some room for dividend boosts going forward. Cintas last split its stock in the form of a 3:2 stock split on March 8, 2000.
Over the years I have learned that one of the safest stocks to purchase was one in which the chart showed strength, which for me is a chart showing stock price appreciation. Looking at the Point & Figure Chart from StockCharts.com on Cintas, we can see that the stock price dipped after my initial write-up in 2005. In fact looking back at my own comments I wrote:
" I see what looks like a long-term declining trend in stock price from $56, all the way back in May, 2002, to the $44 level where it closed today. What concerns me is what appears to be a series of declining highs, but the recent move breaking through a resistance level is moderately encouraging. Certainly the stock chart is not ahead of itself, and I wouldn't call this one over-extended. Yet the question remains whether this shows any significant upward momentum at all!"
It certainly wasn't a good price entry back in 2008 and the chart looked awful! The chart looks much stronger today! Since dipping to as low of $17 in March, 2009, this stock has been on a tear climbing to its current levle of $59.30.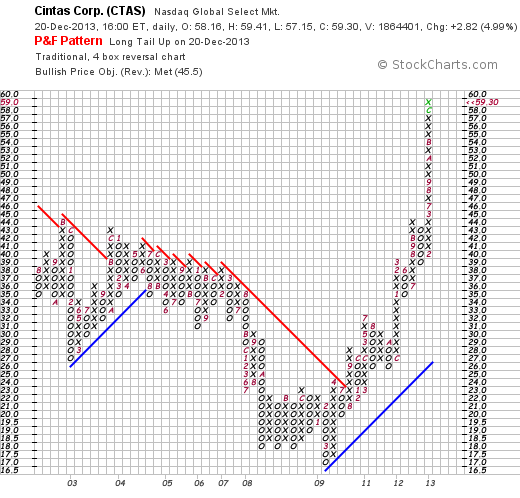 To summarize, Cintas is now a holding in one of my Covestor models, and has been showing price appreciation since purchase six months ago. The company has been steadily growing its uniform and business support enterprise with steady increases in revenue and earnings while gradually decreasing its outstanding shares. The company has a strong balance sheet and continues to generate solid free cash flow. In addition, the company pays a modest dividend.
The company is a bit richly priced based on P/E and PEG values so it may have gotten a little ahead of itself in terms of a new purchase. The chart is quite strong and there are lots of shares out short betting against the stock meaning they will need to be covered if the stock remains strong.
Thank you again for stopping by and a special thank you to the loyal visitors who have stopped by here year after year! Wishing you all the best of health and good fortune in 2014.
Yours in investing,
Bob