AmerisourceBergen (ABC)
Hello Friends! Thanks so much for stopping by and visiting my blog, Stock Picks Bob's Advice! As always, please remember that I am an amateur investor, so please remember to consult with your professional investment advisers prior to making any investment decisions based on information on this website.

On October 10, 2014, I purchased shares of AmerisourceBergen (ABC) in my Covestor Healthcare Model for a cost of $77.70 a share. ABC closed at $86.73 on November 7, 2014 down $(.67) or (.77)% on the day. The stock has performed well since my purchase and I would like to share with you the reasons underlying that performance.
First let's take a look at what this company does. According to the Yahoo "Profile" on AmerisourceBergen, the company
"...sources and distributes pharmaceutical products to healthcare providers, pharmaceutical and biotech manufacturers, and specialty drug patients in the United States and internationally. Its Pharmaceutical Distribution segment distributes brand-name and generic pharmaceuticals, over-the-counter healthcare products, home healthcare supplies and equipment, and related services to various healthcare providers, including acute care hospitals and health systems, independent and chain retail pharmacies, mail order pharmacies, medical clinics, long-term care and other alternate site pharmacies, and other customers."
This company has been 'on a roll' since March, 2013, when they announced an agreement with Walgreen's thought to be worth $400 billion over 10 years. This arrangement also gave Walgreen's and its partner Alliance Boots a 7% stake in ABC with option to increase its ownership up to 23%.
In terms of their financial performance, let's take a look first at their latest quarter just reported on October 30, 2014. ABC reported fourth quarter 2014 results for the period ended September 30, 2014. Earnings for the quarter came in at $1.10/share, beating expectations of $1.05/share according to Zacks Consensus. Revenue increased a strong 29.1% to $31.6 billion well ahead of Zacks Consensus Estimate of $30.6 billion. For the full year the company beat expectations in both revenue and earnings coming in at $119.6 billion in revenue, up 35.9% from fiscal 2013 and ahead of Zacks Estimate of $118.7 billion. Earnings came in at $3.97/share for the year up from $3.21/share in 2013 and again ahead of Zacks which had expected $3.21.
Finishing off this excellent announcement, the company provided strong guidance of $4.36-$4.50/share in 2015, up 10%-13% from 2014 and mostly above of Zacks estimates of $4.37/share for the coming year. I have found it to be a strong indicator of future price appreciation when a company reports results ahead of expectations and then guides strongly into the future!
In terms of longer-term results, reviewing the Morningstar.com '5-year financials', we can see that revenuehas grown steadily from $71.8 billion in 2009 to $112.4 billion in the trailing twelve months (TTM). Diluted earnings per share during this same period have been less consistent and grew from $1.66/share in 2009 until peaking at $2.80/share in 2012 before dipping to $1.84/share in 2013 and to $1.10/share in the TTM. Outstanding shares have declined from 303 million in 2009 to 235 million in the TTM.
Taking a brief look at the balance sheet on Morningstar, we can see that as of September, 2013, AmerisourceBergen had $14.4 billion in current assets as compared to $14.9 billion in current liabilities for a current ratio of just under 1.0.
In terms of free cash flow, ABC reported $1.1 billion in free cash flow in 2012, dipping to $586 million in 2013 and $338 million reported in the TTM.
From all of the above we can see that Amerisource Bergen (ABC) which reported very strong results this past year has until recently been experiencing a decrease in earnings, some stress on its balance sheet, and a reduction in free cash flow. These results need to be monitored going forward.
Technically, the 'point & figure' chart from StockCharts.com on ABC is nothing short of phenomenal. After selling off to a low of $12.50 in November, 2008, the stock has just about been on fire flying to a peack of $89/share this past month. This stock has been very favorably received by investors!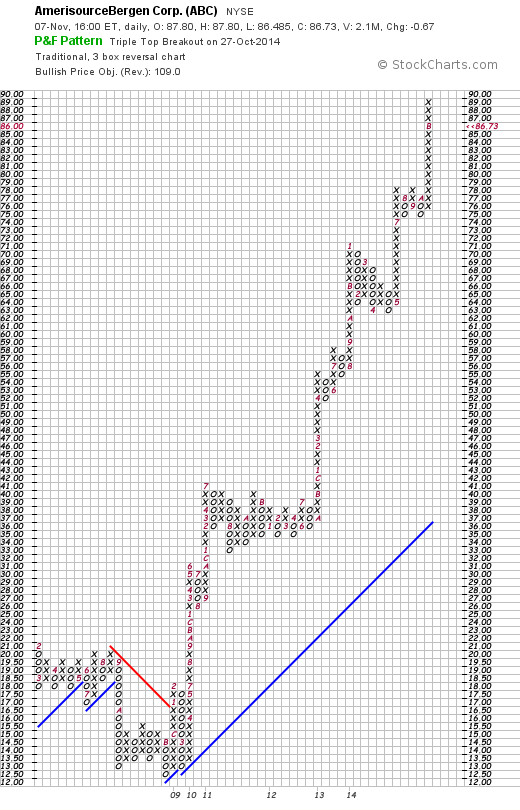 To summarize, AmerisourceBergen (ABC) is a recent addition to my Covestor Healthcare Model. The company distributes medications and healthcare products and recently established a relationship with Walgreen's and Boots that has allowed it to accelerate revenue and earnings growth. The latest quarter was quite strong as the company beat expectations on earnings and revenue results and provided strong guidance. Longer-term, ABC has demonstrated a consistent pattern of revenue growth yet earnings growth has been inconsistent with results improving recently. The balance sheet while acceptable shows a little stress as the company has issued debt to handle its rapid growth. Free cash flow while still strong is also not quite as positive at least as of last year. Technically, the stock is incredibly strong. I like the current prospects of ABC and am a holder of the stock. I expect the other financial numbers to continue to improve with the rapid growth in revenue and earnings its prospects suggest.
Thank you for stopping by and visiting my blog! If you have any comments or questions, please feel free to leave them here on the website.
Yours in investing,
Bob