Avago Technologies (AVGO)
Hello Friends! Thanks so much for stopping by and visiting my blog Stock Picks Bob's Advice. As always, please remember that I am an amateur investor, so please remember to consult with your professional investment advisers prior to making any decisions based on this website.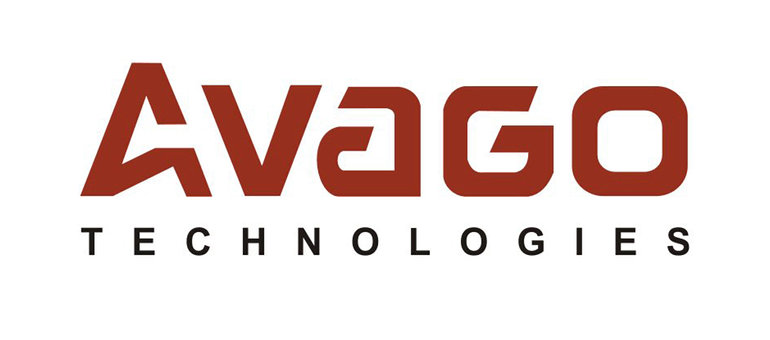 On October 17, 2014, I purchased shares of Avago Technologies (AVGO) for inclusion in my Covestor Growth and Momentum model at a cost of $75.54. AVGO closed at $100.09 on January 2, 2015. Thus far, this has been an absolutely terrific purchase for this Covestor Model. It deserves a closer look here on this blog.
According to the Yahoo "Profile" on Avago Technologies, the company
"... is engaged in the design, development, and supply of analog semiconductor devices with a focus on III-V based products. Its product portfolio comprises RF power amplifiers, RF filters, RF front end modules, ambient light sensors, low noise amplifiers, proximity sensors, multimarket-wave mixers, diodes, fiber optic transceivers, serializer/deserializer ASICs, optical laser and receiver components, motion control encoders and subsystems, optocouplers, LEDs, and industrial fiber optics. The company's products are used in cellular phones, consumer appliances, data networking and telecommunications equipment, enterprise storage and servers, data communications, smart phones, base stations, core routing and transport, in-car infotainment, motor controls, factory automation, displays and lighting, power isolation, power conversion, and renewable energy systems applications."
Avago reported outstanding 4th quarter results on December 4, 2014, with earnings coming in at $1.99 a 124% increase over the prior year with revenue climbing 118% to $1.61 billion. These results easily beat expectations of earnings of $1.69 on $1.55 billion in sales according to analysts as polled by Thomson Reuters.
The company also provided guidance ahead of expectations for first quarter 2015 results with stable to up 4% revenue which works out to $1.61 to $1.67 billion ahead of the $1.51 billion expected.
Avago is benefitting from the phenomenal success of the iPhone 6 launch which carries 50% more Avago chips than the iPhone 5. For perspective, it is estimated that Apple (AAPL) sold 71.5 million iPhone 6 in the 2014 final quarter. That would represent a 40% increase in iPhone sales from the prior year.
In terms of longer-term results, reviewing the Morningstar.com 5 Years Financials on Avago, revenue increased from $2.09 billion in 2010 to $2.36 billion in 2012, then really took off increasing to $2.5 billion in 2013 and $4.27 billion in the trailing twelve months (TTM).
Diluted earnings per share, however, increased from $1.69/share in 2010 to $2.19/share in 2013, but only came in at $.99/share for the TTM. However, this does not appear to reflect the last quarter (above) which was reported at $1.99/share in the 3 month final period of the year. Outstanding shares have increased slightly from 246 million in 2010 to 267 million in the TTM.
A brief look at the Morningstar.com reported Balance Sheet shows that current assets as of 10/14 came in at $3.8 billion, compared to current liabilities of $1.02 billion yielding a current ratio of above 3.0.
Free cash flow has also been impressive with $431 million reported in 2010 increasing to $486 million in 2013 and $766 million in 2014.
In terms of valuation, examining the Yahoo Key Statistics on Avago, the company has a market cap of $25.42 billion, the trailing P/E is reported at 101.31 but with the rapid growth as reported in the fourth quarter (above), the Forward P/E (fye Nov 2, 2016) is only 12.62 resulting in a PEG (5 yr expected) of only 0.44. Personally, I like to see a growth stock with a PEG between 1.0 and 1.5 to consider it a 'good value'. With the PEG of AVGO at 0.44, the stock at least through this perspective is downright cheap.
Yahoo reports that there are 254.0 million shares outstanding with 231.7 million of them that float. Currently (11/28/14) there are 2.89 million shares out short, and considering the average volume of 1.1 million shares traded, this represents a short interest ratio of 1.80 (under the 3.0 level I personally use to consider significant short interest).
The company even pays a dividend with a forward dividend rate of 1.4%. They recently raised the dividend to $.35/share quarterly from $.32/share previously paid---as the trailing dividend rate works out to only 1.3%. While the payout ratio appears to be an unsustainable 115%---with the rapid growth in earnings, this does not appear to be a problem at all.
Looking at the beautiful 'point & figure' chart on Avago Technologies (AVGO) from StockCharts.com, we can see that the stock traded sideways between $36 and $29 between April, 2012, and June, 2013, before literally exploding to the upside to the current $100 level it just closed at last week. I was very fortunate to catch it as it was coming out of a brief correction at the $75 level in mid-October, 2014.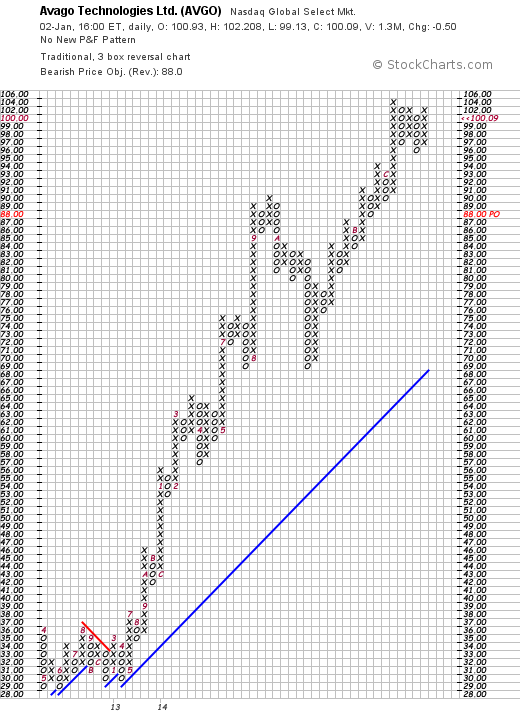 Avago Technologies (AVGO) has been benefiting from the amazing sales results of the iPhone 6 introduced this past year. Another of my holdings NXP Semiconductors (NXPI) is also receiving business from sales of this mobile device. Skyworks Solutions (SWKS) also receives business from the iPhone and is also another holding in this model. In fact, expanding on this investing theme, I have also purchased shares of Apple (AAPL) in another Covestor Model, the Sustained Momentum platform. I suppose one could say I have profited from an excellent iPhone connection. With the Apple Watch on the near-term horizon, the interest in the iPhone and Apple products appears far from over.
Yours in investing,
Bob
Posted by bobsadviceforstocks at 8:41 PM CST |
Post Comment
|
Permalink
Updated: Saturday, 3 January 2015 10:46 PM CST