Masimo (MASI)
Hello Friends! Thanks so much for stopping by and visiting my blog, Stock Picks Bob's Advice. As always, please remember that I am an amateur investor, so please remember to consult with your professional investment advisers prior to making any investment decisions based on information on this website.

On June 11, 2015, I purchased shares of Masimo (MASI) in my Covestor Growth and Momentum model at a price of $36.67. Masimo (MASI) closed at $38.48 down $(.13) today of (.34)% (7/6/15). Let's take a closer look at this company and I shall share with you some of my thoughts about what was behind my decision to buy.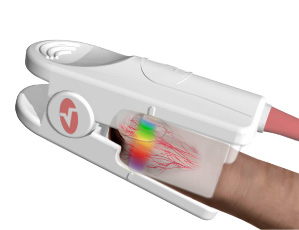 According to the Yahoo "Profile" on MASI, the company
"...develops, manufactures, and markets noninvasive monitoring technologies worldwide."
The company has devices that moitor oximetry, oxygen saturation, pulse rate, perfusion index, respiration rate, and even non invasively measure hemoglobin and EEG signals--among other abilities.
When I first came across this company, I immediately thought of the recent Apple Watch and speculation about non-invasive measurement of health data. In fact, Apple has actually hired some personnel from Masimo for the Apple Watch. I actually am not sure how this helps Masimo to lose one of the medical specialists, but clearly the company is in the right place with the right type products that may well have increasing application.
For the most part, I don't really like story stocks. I like to pick stocks with real earnings, real revenue growth and bullish price charts. (Don't we all?) So let's take a look at the numbers that MASI has recorded.
On May 6, 2015, Masimo reported 1st quarter results. First quarter profits came in at $20.5 million or adjusted earnings of $.41/share exceeding Zacks estimates of $.36/share. Revenue for the quarter came in at $154.5 million, also exceeding Zacks estimates of $152.1 million. Revenue for the quarter increased 11% over prior year's results and adjusted eps increased to $.41/share from $.31/share last year. The company also raised guidance for 2015 results to $608 million in revenue (from previous guidance of $605 million), and earnings to $1.33/share (from previous guidance of $1.30).
A financial report cannot be much better than this. In the past I have referred to this as a "trifecta-plus" stock. This would mean earnings that grew, revenue that grew, expectations that were beaten, and guidance raised! How could an investor do better?
What about longer-term results? If we look at the Morningstar.com '5-Year Financials' we can see that revenue has increased from $405 million in 2010 to $587 million in 2014 and $601 million in the trailing 12 months (TTM). Diluted earnings per share have not been as consistent with $1.21 reported in 2010, dipping to $1.02 in 2013, and $1.30 in 2014 with $1.29 in the TTM. Outstanding shares have decreased from 61 million in 2010 to 55 million in the TTM.
Briefly looking at the Morningstar.com 'balance sheet' on Masimo, we can see that the company is reported to have $315 million in total current assets compared to $124 million in total current liabilities. This yields a 'healthy' current ratio of 2.54. In terms of free cash flow, the company has had increasing capital expenditures and in the trailing twelve months has a $(2) million in free cash flow per Morningstar.
Reviewing the Yahoo "Key Statistics" on Masimo (MASI) for some valuation numbers, we can see that first of all, the company is a small mid-cap stock with a market capitalization of $2.01 billion. The company has a trailing P/E of 29.95, with a forward P/E (fye Jan 3, 2017) of 25.32 and a PEG of 1.76. There are 52.26 million shares outstanding and 44.37 million of them float. Currently there are 2.22 million shares out short (6/15/15) and with the average volume of 327,512 shares, this yields a Short Interest Ratio of 8.00, well ahead of my own arbitrary 3 day value for significance. No dividends are paid and no stock splits are reported.
Examining the Masimo 'point and figure' chart from StockCharts.com, we can see that this stock has gone almost nowhere between 2008 and 2014 trading in a rather tight range between $17 and $36. In fact, the trend was actually quite negative until the stock bottomed in November, 2011 at about $17 and started moving higher. The stock really took off in October, 2014 and has charged higher from $19.50 to its current level of $38.48, breaking through resistance at around $29. I leave it to you to make your own call, but the stock chart looks strong without being over-valued from my own amateur perspective.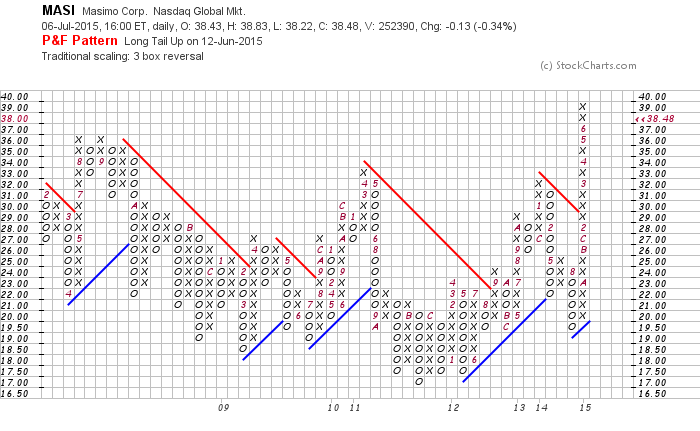 To summarize, I recently purchased some shares of Masimo (MASI). I like their latest financial results, I am intrigued by the non-invasive devices and wonder if applicability to wearable watches and the like might offer some consumer applications beyond the obvious medical placements.
Thanks again for stopping by! If you have any questions, please feel free to leave them right here.
Yours in investing,
Bob