Arista Networks Inc (ANET)
Hello Friends! Thanks so much for stopping by and visiting my blog Stock Picks Bob's Advice! As always, please remember that I am an amateur investor, so please remember to consult with your professional investment advisers prior to making any investment decisions based on information on this website.
I have had quite a hiatus in blogging here. I spent some time managine several models on Covestor but after the Interactive Brokers Acquisition, changes came to that platform, and although I am quite happy about my own performance, I remain an amateur investor (haven't I said that already?) and no longer manage any models for them. However, I still have a continuing Model, the Sparrow "Freedland Healthcare" model that continues on after me and in light of that Model, I shall refrain from commenting on Healthcare stocks on this website.
But there are certainly many other stocks out there to examine. One of my favorite places to identify some new ideas to discuss remains the Investor's Business Daily which has moved from a real "Daily" to one that is published on a weekly basis. In each of these editions, there is an IBD50 which for me is a treasure trove of stock investment ideas and often, as today, I like to identify candidates for inclusion either in my actual trading portfolio or like today just as an entry for consideration.

Arista Networks, Inc. (ANET) made the IBD50 this weekend at the #11 position. They closed Friday (12/30/16) at $96.77 up $.04 or .04% on the day. I do not own any shares of this stock nor am I planning to purchase any in the immediate future. But as I will show you, some of their numbers are quite compelling, and it is the type of stock that I would like to add to my portfolio some day.
According to the Yahoo "Profile" on Arista, the company
"... supplies cloud networking solutions in the United States

and internationally. The company's cloud networking solutions consist of extensible operating systems, a set of network applications, and gigabit Ethernet switches. It also offers technical support services. The company serves a range of industries, including Internet companies, service providers, financial services organizations, government agencies, media and entertainment companies, and others. Arista Networks, Inc. markets its products through direct sales force, as well as channel partners, such as distributors, value-added resellers, systems integrators, and original equipment manufacturer partners."
If you are a regular reader of this blog (even though I have been far from a regular poster here!), you may know that I like to take a look first at the latest quarterly result.
In this case, Arista reported 3rd quarter results on November 4, 2016. As the Motley Food commented:
"Sales jumped by a third to $290.3 million, which was slightly faster than the ambitious 30% growth rate that investors wanted to see. On the bottom line, adjusted net income was up 44% to $61.2 million, and that produced adjusted earnings of $0.83 per share. That figure was $0.10 per share higher than the consensus forecast for earnings among those following the stock."
For me, the important thing was that the revenue and the earnings were postiive and they beat expectations. The company also raised guidance (part of what I call my 'trifecta' of results with beats on both the revenue and earnings side and then raising of guidance).
According to the Motley Fool:
"Arista's guidance for the fourth quarter was also encouraging, giving investors a reasonable expectation that the company's outperformance can continue. Arista said that it expects to generate between $310 million and $320 million in revenue during the fourth quarter, and that range is above the current consensus forecast among investors for the period."
What about longer-term? A single quarter does not make a successful investment from my perspective. For this I turn to Morningstar.com and take a look at the "5-Year Financials".
Here we can see that Revenue has grown steadily from $140 million in 2011 to $838 million for the year ending 12/15 and $1.047 billion in the trailing twelve months (TTM). Diluted earnings per share have grown from $.73/share in 2013 to $1.67/share in 2015 and $2.31/share in the TTM. Outstanding shares have increased somewhat from 54 million in 2013 to 71 million in 215 and 73 million in TTM. I prefer to see the shares stable or declining but certainly the rate of growth of outstanding shares lags behind both the revenue and the earnings growth so this is quite acceptable.
In terms of financial health, a quick measure is the comparison of current assets to current liabilities giving us the current ratio. According to Morningstar, Arista has $974 million in current assets as compared to $235 million in current liabilities. This yields a current ratio of 4.14. As a minimum a current ratio, from my perspective, is 'healthy' when it is 1.5 or higher.
In terms of free cash flow, Morningstar reports that ANET had $10 million in free cash flow in 2011, by 2015, Arista was reporting $181 million in free cash flow and this has dipped to $173 million in the TTM. We prefer to identify stocks like Arista generating free cash flow and not using up their existing cash.
Looking at some basic Statistics from Yahoo on Arista, we see that the company is a mid-cap stock with a market capitalization of $6.79 billion. The trailing P/E is a rich 48.14, but with the rapid growth in earnings anticipated the forward P/E is at a more reasonable but not cheap 28.21. The PEG isn't too far out of line at 1.57 suggesting actually reasonable valuation (from my own particular perspective 1.0 to 1.5 is ok) for this stock.
There are 70.21 million shares outstanding with 43.76 million that float. Currently there are 5.24 million shares out short, above my own '3 day rule of significance' with a short ration of 6.5.
No dividends are paid and no splits are reported.
Finally, if we look at the chart from StockCharts.com, we can see a very stong chart that broke out sometime in late August, 2016, as it broke through the prior high at $80 and is currently trading just under the recent high of $98 at $96.77. The stock looks bullish to my own amateur eyes!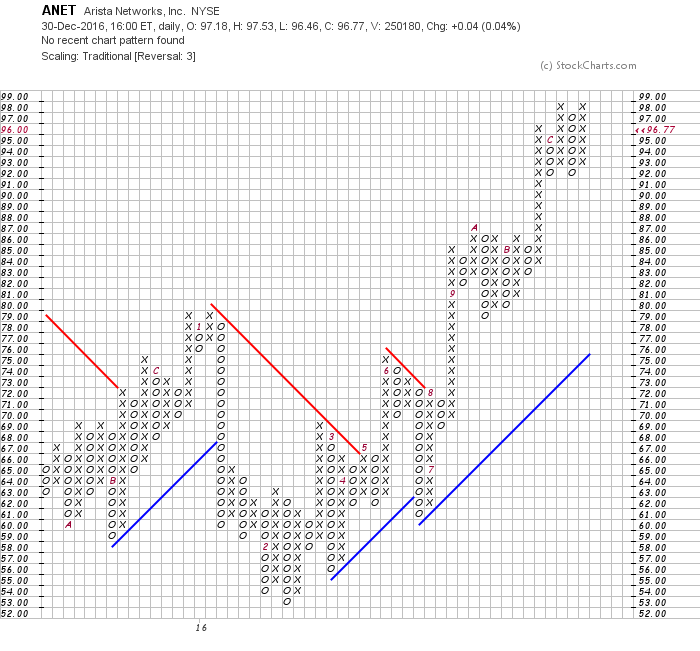 It should be noted that browsing through the news on Artista we can see stories regarding ongoing disputes between Arista and Cisco (CSCO) another networking giant. Recently, Arista had a good court ruling in a lawsuit that Cisco had apparently filed against it. Cisco does plan to appeal the ruling and had been seeking nearly $355 million in damages. This story deserves continued watching.
Overall I like this stock. I like the steady earnings and revenue growth, the excellent financials, valuation is satisfactory, recent earnings surprised on the upside, and the chart looks encouraging as well. I might just buy some shares in the future!
Thank you so much for stopping by and visiting here. I will of course try to do a better job at posting. If I get it together I might even get a Podcast out! Your loyalty is appreciated and you are more than welcome to post any comments or questions right here on the website.
Yours in investing,
Bob