Nanometrics (NANO)
Hello Friends! Thanks so much for stopping by and visiting my blog, Stock Picks Bob's Advice! As always, please remember that I am an amateur investor, so please remember to consult with your professional investment advisers prior to making any investment decisions based on information on this website.
I wanted to share with an idea that I came across today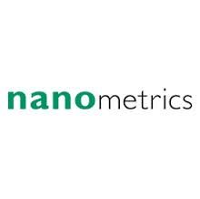 reading the Investor's Business Daily IBD50 rankings. Nanometrics (NANO) has some of the features that I utilize in my own investing and also on this blog. At this time, I do not own any shares of NANO. For the record, NANO closed at $44.14 on August 24, 2018, up $1.27 or 2.96% on the day.
NANO was ranked #11 on the '50' today (Week of August 27, 2018). According to the IBD, NANO has 22.4 million shares outstanding and ranks on the IBD as a '95' composite rating with a 99 earnings per share rating and a relative strength of 94.
According to the Yahoo "Profile" on Nanometrics, the company
"...provides process control metrology and inspection systems for use primarily in the fabrication of semiconductors and other solid-state devices worldwide. It offers automated metrology systems that provide optical critical dimension, thin film metrology, and wafer stress for transistor and interconnect metrology applications; and integrated metrology systems that are installed onto wafer processing equipment to provide near real-time measurements. The company's materials characterization products include systems that are used to monitor the physical, optical, electrical, and material characteristics of discrete electronic industry, opto-electronic, high brightness LED, solar photovoltaic, compound semiconductor, strained silicon, and silicon-on-insulator devices, including composition, crystal structure, layer thickness, dopant concentration, contamination, and electron mobility."
To put it simpler, Nanometrics is listed in the 'Semiconductor Equipment & Materials' Industry.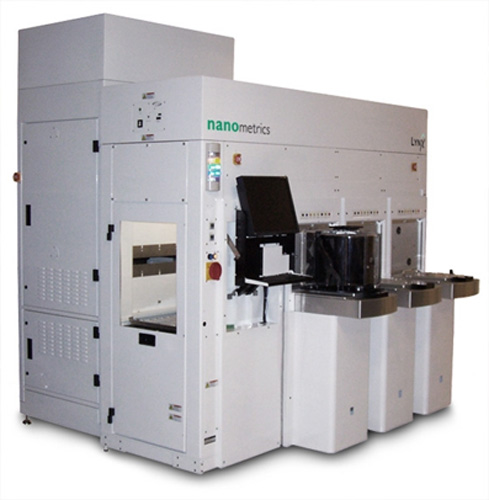 On July 31, 2018, Nanometrics reported their 2nd quarter results:
Earnings for the quarter came in at $.72/share, beating Zacks average of three analysts who were expecting $.66/share. Revenue for the quarter came in at $88.6 million ahead of the $86.2 million expected by analysts.
Revenue growth was up sequentially from the prior quarter by 8% and year over year an increase of 38%. Earnings per share of $.72 was up from the $.67 the prior quarter and up over 100% from the $.32 reported in the second quarter of 2017.
Longer-term, reviewing Morningstar.com on NANO, we can see that the company has a beautiful revenue ramp from 2013 when revenue was $144 million, this increased to $166 mil in 2014, $187 mil in 2015, $221 mil in 2016 and $259 mil in 2017. In the trailing 12 months, NANO has reported $306 million in revenue.
Earnings, while strong recently have been more erratic with $(.61)/share reported in 2013, dipping to $(1.30)/share loss in 2014, turning profitable at $.12/share in 2015, up to $1.75 in 2016, dipping back to $1.17 in 2017 but increasing strongly to $2.03 in the TTM.
The Morningstar.com balance sheet shows that Total current assets stand at $240 million as of 12/2017 with total current liabilities of $44 million. This works out to a very healthy current ratio of 5.45.
In terms of Free cash flow, NANO reported $15 million in 2017 and now has reported $64 million in the TTM.
What about valuation?
According to the Yahoo "Statistics" on Nanometrics, the company has a market cap of $1.07 billion making it a small cap stock. The trailing P/E is a modest 21.98 (for this type of growth stock) with a forward P/E of only 17.73. The PEG ratio, a better measure of valuation for growth stocks, comes in at a reasonable (imho) 1.55. The Short Ratio is rather high at 6.32 suggesting either there are a lot of people out there a lot smarter than I am speculating that this stock is going to fall, or perhaps the stocks is being set up for a 'short squeeze' as short-sellers are forced to buy shares to cover their 'pre-sold' positions---amore bullish scenario.
And what about the chart?
If we look at the Nanometrics 'point and figure' chart from StockCharts.com, we can see a strong technical appearance since March, 2016, when the chart broke through the resistance level at $14.50 and soared to the current level of $44.14.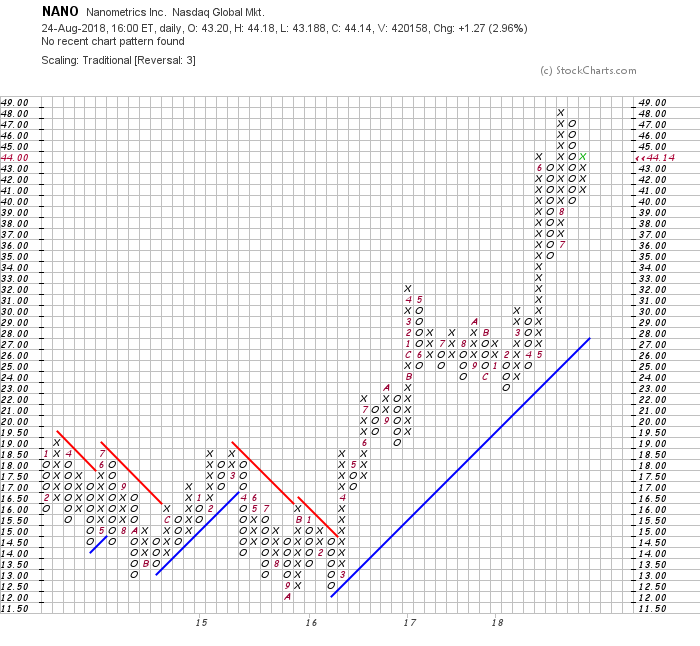 To summarize, NANO appeared in the IBD50 list today. Scanning across the list what attracted me initially was the strong chart, the reasonable valuation with big numbers for revenue and earnings growth. Further review shows that the company has a solid balance sheet, is generating increasing amounts of free cash flow, exceeded expectations on both revenue and earnings growth the latest quarter and even has a whole bunch of short-sellers seemingly headed for a 'squeeze'. In addition, they have an revenue ramp of multiple years of steady growth although the earnings has been actually a bit more inconsistent.
I do not own any shares, but this is my kind of stock and if I were looking or decide to buy a stock I might start here. Always remember to limit losses and consult with your own professional investment advisers instead of this amateur stock observer that you have with me!
It is nice to be back blogging. Sorry for the absence. Hope to blog again soon.
Yours in investing,
Bob
Posted by bobsadviceforstocks at 7:48 PM CDT |
Post Comment
|
Permalink
Updated: Sunday, 26 August 2018 8:29 PM CDT