December 6, 2004 DaVita (DVA)
Hello Friends! Well, if you are reading this blog, you will know that earlier today I reported on
Stock Picks Bob's Advice
that I had purchased shares of DaVita (DVA) in my
"Trading Portfolio"
. Now I could have sworn that I already had posted this stock somewhere on this blog...and I indeed may have, but even I find it a bit tough to sort through all of the entries, and I didn't locate any post or discussion, so I promised you I would talk about DaVita right here. I did own some shares in my trading account in the last year, and sold on a dip even though I was in a profit situation...so I am back into this stock! Please remember that I am an amateur investor so please consult with your professional investment advisors before making any investment decisions based on information on this website.

DaVita (DVA), according to the
Yahoo "Profile" on DVA
"...is a provider of dialysis services in the United States for patients suffering from chronic kidney failure, also known as end-stage renal disease (ESRD)." As I noted earlier, I just purchased 200 shares of DVA in my own trading account. DVA is doing well today and showed up in the
list of top % gainers on the NYSE
. Currently, as I write, DVA is trading at $36.42, up $2.92 on the day or 8.72%.
On November 2, 2004, DVA
reported 3rd quarter results
. For the quarter ended September 30, 2004, net operating revenue came in at $595.5 million up from $513.3 million last year. Net income was $60.4 million or $.59/diluted share up from $38.1 million in the same quarter in 2003 or $.36/diluted share. These results look solid to me!

After determining that the latest quarterly earnings report was satisfactory, I like to turn to Morningstar.com to get a longer-term view. The
"5-Yr Restated" financials on DVA
show that revenue has steadily been growing from $1.4 billion in 1999 to $2.2 billion in the trailing twelve months (TTM). During this time, the company has also steadily improved its earnings from a loss of $(1.21) in 1999 to $1.96/share in the TTM. Free cash flow has also been positive with $214 million in 2001 and $193 million in 2003.
The balance sheet on Morningstar whows $200.7 million in cash and $547.7 million in other current assets, plenty to cover the $384.4 million in current liabilities and enough to make a bit of a dent on the sizeable $1.3 billion in long-term debt. Hopefully, with the generation of nearly $200 million in free cash flow annually, we will see the balance sheet continuing to improve.
How about "valuation"? For this I turn to
Yahoo "Key Statistics" on DVA
. Here we can see that this is a large cap stock, if we cut off mid-cap at $3 billion. The market cap is $3.57 billion. The trailing p/e is nice at 16.51 with a forward p/e of 15.91 (fye 31-Dec-05). The PEG, with the steady growth, is reasonable at 1.18, and price/sales also nice at 1.46.
Yahoo reports 97.6 million shares outstanding with 96.90 million of them that float. Currently there are 1.64 million shares out short (11/8/04), representing 1.70% of the float or 1.549 trading days, so this doesn't look very significant to me.
No cash dividend is paid. The company did recently split its stock with a 3:2 split reported in June, 2004.
How about "technicals"? If we use a Point & Figure chart from
Stockcharts.com
: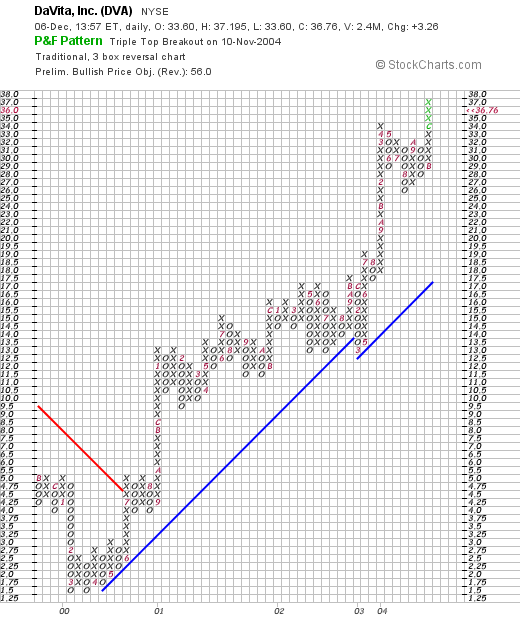 We can see that this stock has a very strong chart, having "bottomed" in March, 2000, at around $1.50/share, it has climbed steadily to its current level with hardly a pull-back! Might even be a tad ahead of itself (?).

So what do I think? Well, I liked this stock enough to purchase some shares. I have been kicking myself when I got "whip-sawed" earlier and dumped this stock when I thought an earnings report was bad...and had moved a bit too quickly. The latest report is solid, the steady revenue and earnings growth looks great, valuation is nice with a p/e in the mid-teens, and the chart and balance sheet is terrific!

Thanks again for stopping by! Again remember I am an amateur so PLEASE consult with your professional advisors as I CANNOT be responsible for your losses and shall not take credit for your gains! If you have any questions or comments, please feel free to email me at bobsadviceforstocks@lycos.com .

Bob