"Revisiting a Stock Pick" Abercrombie & Fitch (ANF)
Hello Friends! Thanks so much for stopping by and visiting my blog,
Stock Picks Bob's Advice
. Please always remember that I am truly an amateur investor, so please consult with your professional investment advisors to make sure that all investments discussed on this website are appropriate, timely, and likely to be profitable for you!

Looking through the
list of top % gainers on the NYSE
today, I saw that Abercrombie & Fitch (ANF) had made the list. As I write, ANF is trading at $65.12/share, up $7.13 or 12.30% on the day. I do not own any shares of this stock nor do I own any options.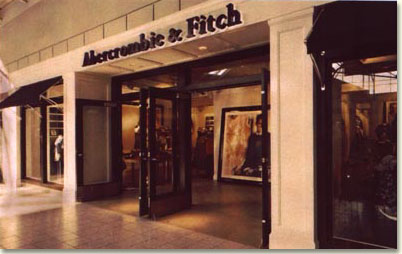 I first
posted ANF on Stock Picks on May 28, 2003
when it was trading at $29.07. Thus, we have a gain of $36.05 on that pick which was made just under two years ago, representing a 124% appreciation in stock price!
According to the
Yahoo "Profile" on ANF
, the company "...operates as a specialty retailer of casual apparel in the United States. It operates stores that sell casual apparel for men, women, and kids under the Abercrombie & Fitch, abercrombie, Hollister, and RUEHL brands."
What drove the stock higher today was a
terrific May sales report
; the company reported total Company net sales jumped 43%, with total company comparable store sales increasing 29%. Just to get a high single digit same store sales number is great in today's retail climate, but a same store sales number of 29% is incredible!
About two weeks ago, on May 17, 2005, ANF
reported 1st quarter 2005 results
. Total company sales for the quarter increased 33% to $546.8 million with a 19% same store sales growth reported for the quarter. Operating income jumped 46% to $68.3 million, and net income per share rose 50% to $.45/diluted share, up from $.30/diluted share in the same quarter in 2004. These were great results!
How about longer-term? Taking a look at the
Morningstar.com "5-Yr Restated" financials
, we can see steady revenue growth from $1.2 billion in 2001 to $2.02 billion in the trailing twelve months (TTM).
Earnings have also grown consistently from $1.55 in 2001 to $2.28 in the TTM.
Free cash flow has been positive and growing, albeit not quite as steadily, from $200 million in 2003 to $241 million in the TTM.
The balance sheet is also solid if not overwhelming with $350.4 million in cash and $301.9 million in other current assets; plenty to cover both the $413.9 million in current liabilities and $264.5 million in long-term liabilities.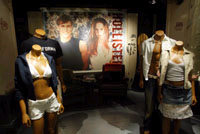 What about "valuation" and other "key statistics"? Taking a look at
Yahoo "Key Statistics" on ANF
, we can see that this is a large cap company with a market capitalization of $5.63 billion.
The trailing p/e isn't bad (imho) at 26.79, with a forward p/e (fye 29-Jan-07) at 17.73. The PEG (5 yr expected) is even nicer at 1.04.
In addition the Price/Sales ratio is 2.32. Withing the "apparel stores" industrial group, ANF is actually the highest Price/Sales stock, with American Eagle (AEOS) at 2.3, Pacific Sunwear (PSUN) at 1.3, Gap (GPS) at 1.1, and Ann Taylor (ANN) at 1.0. So the stock is priced a bit steaper than the competitors....but still look at those same store sales figures!
Taking a look at some other Yahoo statistics, we can see that there are 86.25 million shares outstanding with 85.99 million of them that float. Currently, as of 5/10/05 there are 2.85 million shares out short representing 3.4% of the float or 2.1 trading days of volume. With my arbitrary 3 day cut-off on significance, this doesn't look too bad.
The company does pay a small dividend of $.50/share yielding 0.86%. Yahoo reports the last stock split, a 2:1 split in June, 1999.
What about the chart? Taking a look at the
Stockcharts.com "Point and Figure" chart on ANF
: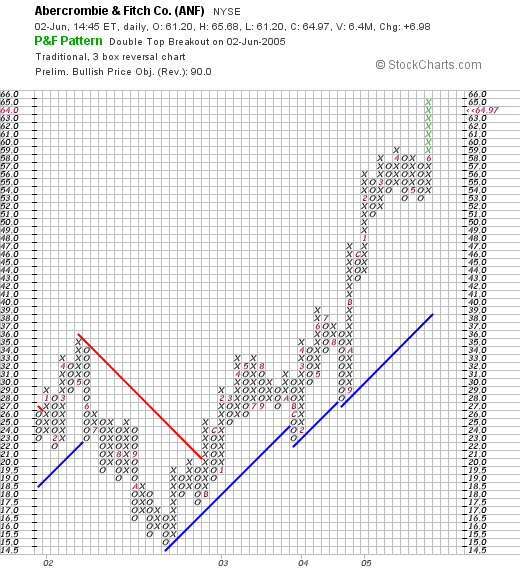 we can see that the stock peaked in May, 2002, around $34/share, then dropped to a low of $15/share in October, 2002. Since that time, the stock has been trading strongly higher and has actually accelerated its ascent since early this year. The graph looks quite strong to me. I can never tell if it is overextended, but the stock is trading above its support line.

So what do I think? Well, I wish I had purchased some of those Abercrombie shares in 2003! I still don't own any :(. The same store sales numbers are incredible! In fact, the 19% same store sales numbers the latest quarter not including this month are also amazing! The last quarter was great, the last five years have been strong, the free cash flow is solid, the balance sheet is great, valuation-wise, the p/e and PEG are where I like them. The Price/Sales is a bit rich next to similar stocks, but I don't think those other stocks are reporting numbers like Abercrombie. And the graph is strong.

There isn't much not to like imho. Now, if I could sell something at a gain, then I could be adding another issue in here :). Oh well. Back to sitting on my hands....waiting.

Thanks again for stopping by. Please feel free to leave any comments or questions right here on the blog or email me at bobsadviceforstocks@lycos.com.

Bob