June 16, 2005 Alliance Data Systems (ADS)
Hello Friends! Thanks so much for stopping by and visiting my blog,
Stock Picks Bob's Advice
. As always, please remember that I am an amateur investor, so please remember to consult with your professional investment advisors prior to making any investment decisions based on information on this website.

Earlier today, I purchased some Alliance Data Systems stock (ADS) for my trading account, and I wanted to briefly go over my thinking. It is very late here and I want to get right to the point....so bear with me.
ADS made the list of top % gainers on the NYSE today, closing at $39.00, up $2.16 or 5.86% on the day. I purchased some shares this afternoon, after selling shares of HIBB that had hit a 300% gain mark (!).
Yahoo "Profile"
: The company "...provides transaction services, credit services, and marketing services in North America."
1st quarter 2005 earnings
: Revenues rose 20% to $375.9 million from $312 million. Earnings jumped to $37.2 million or $.43/share from $32.3 million or $.39/share last year.
"5-Yr Restated" financials from Morningstar.com
: Revenue has grown steadily from $0.7 billion in 2000 to $1.3 billion in the trailing twelve months (TTM).
Earnings have climbed from $.31/share in 2002 to $1.26/share in the TTM.
Free cash flow looks nice with $80 million reported in 2002, expanding to $345 million in the TTM.
Balance sheet is o.k. with $156.7 million in cash and $461.9 million in other current assets, enough to cover the $485.1 million in current liabilities, but not enough to cover all of the $778.2 million in long-term liabilities as well.
Yahoo "Key Statistics"
: Large cap stock with a market cap of $3.25 Billion. Trailing p/e moderate at 30.81, but the forward p/e is much nicer (fye 31-Dec-06) at 17.89; thus, the PEG comes in at 1.14.
The Price/Sales ratio is 2.32. This doesn't look bad in the context of the "Information/Delivery Svcs" industry. Jupitermedia (JUPM) is at 7.6, FactSet (FDS) at 5.5, ADS at 2.5, Proquest at 2.0 and DST (DST) at 1.6.
Other statistics: 83.37 million shares outstanding with 68.87 million of them that float. Of these, as of 5/10/05, there were 2.35 million shares out short, representing 2.90% of the float or 2.5 trading days of volume. No cash dividend and no stock dividends are reported.
The
"Point & Figure" chart from Stockcharts.com
: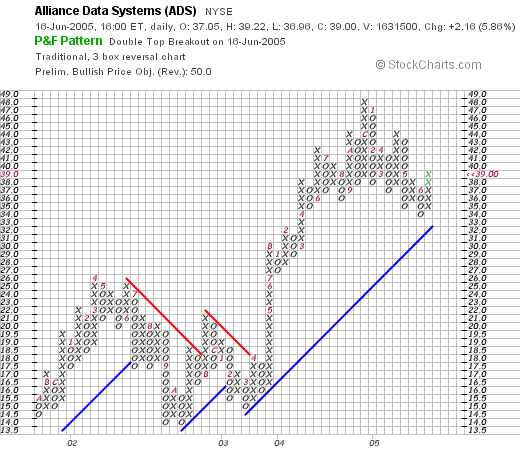 After moving sideways from 2002 through 2003, this price chart broke through resistance in April, 2003, at $18, and has moved strongly higher since. The chart looks nice to me.

So what do I think? Well, I liked it enough to buy some shares! The latest quarter was strong, the last five years look nice, with growing free cash flow. The balance sheet is adequate, and valuation looks reasonable. Finally, the stock chart looks nice as well.

Thanks again for visiting. If you have any questions or comments, please feel free to leave them right on the blog or email me at bobsadviceforstocks@lycos.com.

Bob