"Revisiting a Stock Pick" Lifeway Foods (LWAY)
Hello Friends! Thanks so much for stopping by and visiting my blog,
Stock Picks Bobs's Advice
. As always, please remember that I am an amateur investor so please remember to consult with your professional investment advisors prior to making any investment decisions based on information on this website.
Alan Greenspan is throwing a little
cold water
on the market today, warning about the increasing value of stocks and real estate. In the face of this, I still managed to find a stock from the
list of top % gainers on the NASDAQ
today.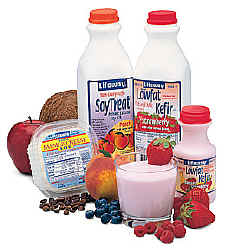 I first
posted Lifeway (LWAY) on Stock Picks
on August 21, 2003, when it was trading at $14.51/share. LWAY had a 2:1 stock split, making our effective "pick price" only $7.26. I actually owned a few shares for awhile, although I do not currently own any shares or options in this company.
Today, LWAY, as I write, is trading at $16.18, up $2.09 or 14.83% on the day. This is an increase of $8.92 or 122.9% from my pick price almost exactly two years ago!
What is driving the stock higher today, in the face of a fairly sloppy market, was the
news
that Wal-Mart will be carrying some of its kefir milk-based products in up to 17 of their stores in the Chicago area.
According to the
Yahoo "Profile" on LWAY
, Lifeway "...manufactures probiotic, cultured, and functional dairy and nondairy health products. It offers Kefir, a drinkable product, which is similar to but distinct from yogurt, in various flavors sold under the name 'Lifeway's Kefir'; a plain farmer's cheese sold under the name 'Lifeway's Farmer's Cheese'; a fruit sugar-flavored product similar to cream cheese sold under the name of 'Sweet Kiss'; and a dairy bevarage, similar to Kefir, with protein and calcium, sold under the name 'Basics Plus'."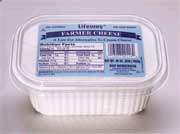 On August 15, 2005, LWAY reported
2nd quarter 2005 earnings
. Revenues for the quarter ended June 30, 2005, came in at $5.07 million, up 27% from last year's second quarter revenue of $4.00 million. Net income for the quarter came in at $556,845 or $.07/share in 2005, up from $432,109 or $.05/split-adjusted share in 2004.
Looking longer-term at a
"5-Yr Restated" financials from Morningstar
, we can see a nice, steady picture of revenue growth from $9.2 million in 2000 to $17.0 million in the trailing twelve months (TTM).
Earnings have also steadily grown from $.11/share in 2000 to $.24/share in the TTM, except for a slight dip from $.26/share in 2003 to $.24 in 2004.
Free cash flow, while small, has stayed positive with $3 million reported in 2002 and $2 million in the TTM.
The balance sheet also is beautiful with $12.3 million in cash alone reported, more than enough to pay off both the current liabilities of $.9 million and the long-term liabilities of $.9 million combined more than six times over. In addition, LWAY is reported by Morningstar to have an additional $3.8 million in other current assets.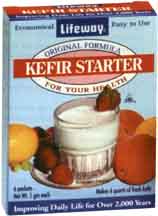 Looking at
Yahoo "Key Statistics" on LWAY
, we can see that this is a TINY company with a market cap of only $135.61 million. The trailing p/e is a bit rich at 63.62, and the forward p/e is still high at 40.40 (fye 31-Dec-06). No PEG is listed.
The stock also looks rich on a price/sales basis. According to my Fidelity brokerage account research, Lifeway (LWAY) tops the list of price/sales ratios in the "Dairy Products" industrial group at 7.0. This is followed by Dreyer's (DRYR) at 4.8, Galaxy Nutritional (GXY) at 0.8, and Dean Foods (DF) at 0.5.
Looking back at Yahoo for some other valuation measures, we find that LWAY now has 8.39 million shares outstanding. As of 7/12/05, there were 255,780 shares out short representing 6.50% of the float or 4 days of trading. So this isn't that significant imho. No cash dividend is paid, and the last stock split was the 2:1 mentioned earlier on 3/9/04.
What about the chart? Looking at a
"Point & Figure" chart on LWAY from Stockcharts.com
: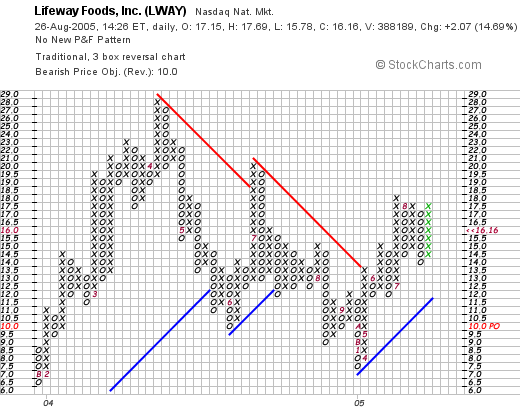 We can see a chart that initially was quite strong early in 2004 when it climbed from $7 to $28 in April, 2004, but then sold off for the nex year until bottoming recently at $8.00 in January, 2005. The stock subsequently broke through resistance at $14, and is now trading higher. The stock looks positive, but certainly not the strongest chart in the world. On the other hand, it doesn't look overextended as many of the graphs I post on stocks look. Anyhow, you make the call :).

So what do I think? Well, the latest quarter was solid. It is a very tiny stock and a tiny company which makes a big move on news of having its yogurt drink carried by 17 Wal-Mart stores. But then again, there are a LOT of Wal-Mart stores out there....so that could be big news (?). Anyway, the Morningstar looks nice, with the exception of a big of a dip in earnings this past year (the latest quarter shows that this is likely already history). Free cash flow is positive and the balance sheet is gorgeous.

The valuation is a bit rich with both p/e and p/sales significantly higher than its peers.

The chart looks positive and not over-valued.

In summary, this is a very small company with what appears to be a very positive outlook. I do believe that these companies may be the ones that produce the largest gains in stock price, but may also be the most volatile as large investors have no choice but make waves as they enter and depart shares.

Thanks so much for stopping by! If you have any questions or comments, please feel free to email me at bobsadviceforstocks@lycos.com, or just leave them right here on the blog. Have a great weekend everyone!

Bob