March 17, 2006 CLARCOR (CLC)
CLICK ***HERE*** for my PODCAST ON CLARCOR
Hello Friends! Thanks so much for stopping by and visiting my blog,
Stock Picks Bob's Advice
. As always, please remember that I am an amateur investor, so please remember to consult with your professional investment advisors prior to making any investment decisions based on information on this website.

I was looking through the
list of top % gainers on the NYSE
this afternoon, and came across CLARCOR (CLC) which as I write, is trading at $35.62, up $1.56 or 4.58% on the day. I do not own any shares of this company nor do I have any options.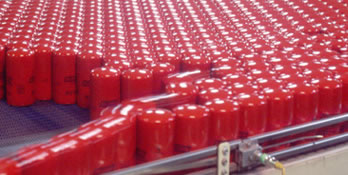 According to the
Yahoo "Profile" on CLARCOR
, the company
"...provides filtration products worldwide. It has three segments: Engine/Mobile Filtration, Industrial/Environmental Filtration, and Packaging."
On January 18, 2005, CLARCOR
reported 4th quarter 2005 results
. For the quarter ended 12/3/05, net sales came in at $241.5 million, a 16.4% increase over the $207.5 million reported in the same quarter the prior year. Net earnings worked out to $25.0 million, up 16.2% from the $21.5 million reported the year earlier. On a diluted earnings per share basis this was $.48/share, up 14.3% from the $.42/share reported the year earlier.
How about longer-term results?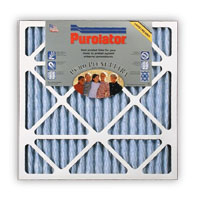 Reviewing the
Morningstar.com "5-Yr Restated" financials on CLARCOR
, we can see the steady increase in revenue from $667 million in 2001 to $874 million in 2005.
Earnings, likewise, have not 'missed a beat' growing steadily from $.84/share in 2001 to $1.46/share in 2005. The company does pay a dividend, which has been increased from $.24/share in 2001 to $.26/share in 2005. The number of shares outstanding is relatively stable with 49 million shares in 2001, increasing to 52 million shares in 2005.
Free cash flow is positive and steady with $75 million reported in 2003, and $65 million in 2005.
The balance sheet as reported by Morningstar looks solid with $28.9 million in cash and $296 million which when compared to the current liabilities of $121.5 million yields a 'current ratio' of almost 3. In fact, the combined current assets is enough to completely pay off the current liabilities of $121.5 million and the $71.0 million in long-term liabilities combined and still have over $130 million left over.
How about some valuation numbers on this stock?
Reviewing the
Yahoo "Key Statistics" on CLARCOR
, this is a mid-cap stock with a market capitalization of $1.84 billion. The trailing p/e is a moderate 24.35, with a forward (fye 30-Nov-07) p/e of 20.72, giving us a PEG of 2.18.
According to the
Fidelity.com eResearch website
, CLARCOR is in the "Auto Parts" industrial group and is priced at the top of the group with a Price/Sales ratio of 2.0. This is followed by BorgWarner (BWA) at 0.8, Magna International (MGA) at 0.4, American Axle (AXL) at 0.2,and Lear (LEA) at 0.1.
Reviewing some additional Yahoo information, the company has 51.77 million shares outstanding with 50.69 million that float. Of these, 1.52 million (as of 2/10/06) are out short representing 3.2% of the float or 6.2 days of average trading volume. Anything over 3 days is significant imho, and thus, at 6.2, may be contributing to the continued price rise in the stock.
As noted earnlier, the company does pay a small dividend of $.27/share yielding 0.80%. The company split its stock last year, having declared a 2:1 split May 2, 2005.
How about a chart?
Looking at the
"Point & Figure" chart for CLARCOR from StockCharts.com
: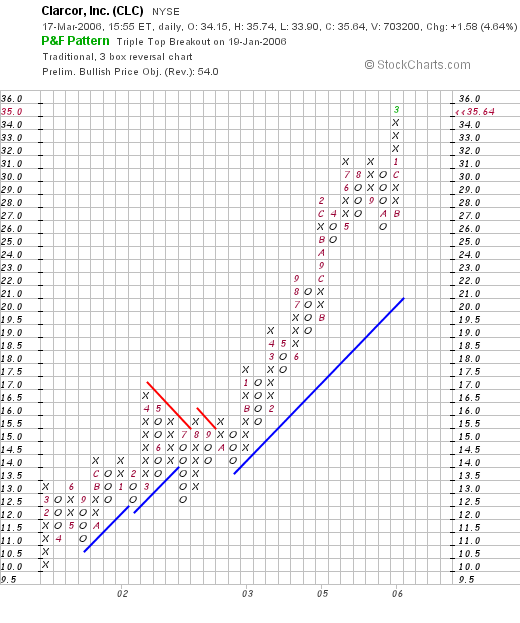 We can see how the steady revenue and earnings growth of this company has resulted in a steady and sustained price appreciation from $10/share in February, 2001, to the current $35.64 level. This is a very strong stock chart imho!

So what do I think? Well, if I did have the 'permission' to purchase a new positions, this stock would be quite tempting! I like the latest quarterly report, the five-year on Morningstar shows consistent revenue and earnings growth, free cash flow is positive if not growing, and the balance sheet looks great.

On the downside, the PEG is over 2.0 and the Price/Sales at 2.0 is the highest in its industrial group. Otherwise, the chart is solid and the steadiness of the company is quite impressive.

Thanks so much for stopping by and visiting. If you have any comments or questions, please feel free to leave them on the blog or email me at bobsadvicefrostocks@lycos.com.

Bob







Posted by bobsadviceforstocks at 3:20 PM CST |
Post Comment
|
Permalink
Updated: Friday, 17 March 2006 11:49 PM CST