Sirenza Microdevices Inc. (SMDI) July 3, 2006
CLICK HERE FOR MY PODCAST ON SIRENZA
Hello Friends! Thanks so much for stopping by and visiting my blog,
Stock Picks Bob's Advice
. As always, please remember that I am an amateur investor, so please remember to consult with your professional investment advisors prior to making any investment decisions based on information on this website.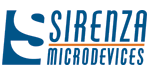 I hope you all had a chance to read through my previous post on
"My Investment Strategy"
. As I go through this review, I think you will see how this all fits in.
Looking for a candidate to review this afternoon, I started with the
list of top % gainers on the NASDAQ
. After examining several of the names on this list, I came across Sirenza Microdevices (SMDI) which closed at $13.52, up $1.38 or 11.37% on the day. I do not own any shares nor do I have any options on this stock.
According to the
Yahoo "Profile" on Sirenza
, the company
"...engages in the design and supply of radio frequency (RF) components for the commercial communications, consumer and aerospace, defense, and homeland security equipment markets. The company's products receive and transmit voice and data signals in mobile wireless communications networks, as well as in other wireless and wireline applications in the United States and internationally."
On May 3, 2006, SMDI
announced 1st quarter 2006 results
. The company reported revenue for the quarter ended March 31, 2006, of $20.9 million, a 72% increase over the $12.1 million reported in the same quarter last year. In addition, this was a 7% sequential increase in revenue over the immediately preceding quarter. Net income was $1.6 million or $.04/share compared to a net loss of $(1.8) million or $(.05)/diluted share in the prior year same quarter.
On a longer-term basis, if we review the
Morningstar.com "5-Yr Restated" financials on SMDI
, we can see a steady increase in revenue from $19.8 million in 2001 to $64.2 million in 2005 and $72.9 million in the trailing twelve months (TTM0.
Earnings have turned around from a loss of $(.67)/share in 2001 to a profit of $.01/share in 2004, $.04/share in 2005 and $.13/share in the trailing twelve months.
The company
has
been increasing its float (and I believe using the shares for acquisitions) increasing the number of shares outstanding from 29 million in 2001 to 35 million in 2005 and 45 million in the TTM. This 50% increase in shares outstanding was apparently effective as the company grew its revenues almost 400% and turned from a loss of $(.67)/share ot a profit of $.13 in this same period of time.
Free cash flow which also was a negative $(10) million in 2003, improved to $2 million in 2004, $6 million in 2005 and $10 million in the trailing twelve months.
The balance sheet looks solid with $24.9 million in cash reported, enough to pay off
both
the $12.3 million in current liabilities and the $.3 million in long-term liabilities combined almost twice over. Calculating the current ratio, with total current assets adding up to $46.7 million, compared with the $12.3 million in current liabilities gives us a ratio of 3.8. Also appearing quite healthy.
Looking at the
"Key Statistics on SMDI from Yahoo"
, we see that this is a mid-cap stock with a market capitalization of $605.07 million. The trailing p/e is
rich
at 108.16, but the company is just turning profitable and estimates allow a forward p/e (fye 31-Dec-07) of only 22.53. Thus, even though the p/e is currently over 100, the PEG is only 1.22.
Using the
Fidelity.com eresearch website
, we find that the company is in the "Semiconductor-Integrated Circuit" industrial group. The Price/Sales ratio also appears rich relative to this group with Sirenza (SMDI) coming in at 6.5. This is only exceeded by Marvell (MRVL), and followed by Broadcom (BRCM) at 6.1, Semtech (SMTC) at 4.6, RF Micro Devices (RFMD) at 1.5 and Skyworks (SWKS) at 1.1.
Regarding profitability, this company is in the middle of its group with a return on equity (ROE) of 9.6%. Tops in the group is Broadcom (BRCM) at 15.6%, followed by Marvell (MRVL) at 11.7%, Semtech (SMTC) at 9.9% the SMDI, then RF Microdevices (RFMD) at 2.9% and Skyworks (SWKS) at 2%.
Finishing up with Yahoo, we can see that there are 44.75 million shares outstanding with 24.84 million that float. Currently there are 1.63 million shares out short (6/12/06) representing 5.70% of the float or 2.7 trading days of volume (under my 3 day cut-off for significance in this "short ratio").
No dividend is paid and no stock split is reported on Yahoo.
If we review the
"Point & Figure" chart on Sirenza from StockCharts.com
: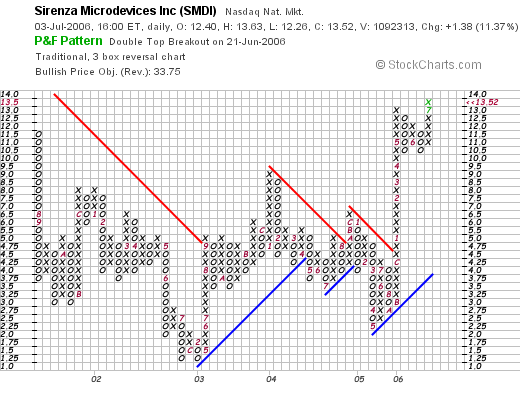 We can see that this stock, which traded down from $11.50 in July, 2001, to a low of $1.25 in February, 2003, then moved higher in a step-wise and tentative fashion, finally decisively breaking out into higher price ranges in December, 2005, breaking through resistance at $4.50 and moving to the current range of $13. The stock appears to have broken higher once again and overall, the chart looks fine to me.

So to summarize, here is a stock in the semiconductor area that moved higher today. The latest quarter was quite strong and the Morningstar.com report looks very consistently strong the past five years. Valuation is rich both in terms of p/e and Price/Sales but the company is improving its earnings so quickly that the PEG is under 1.5. Finally the chart looks encouraging.

Anyhow, that's the pick for today! Thanks again for stopping by and visiting. Please drop me a line at bobsadviceforstocks@lycos.com if you have any comments or questions. Also, be sure and listen to my Stock Picks Bob's Advice Podcast Site.

Bob
Posted by bobsadviceforstocks at 1:36 PM CDT |
Post Comment
|
Permalink
Updated: Monday, 3 July 2006 11:36 PM CDT