Guess (GES) October 7, 2006
CLICK HERE FOR THE PODCAST ON THIS ENTRY!
Hello Friends! Thanks so much for stopping by and visiting my blog, Stock Picks Bob's Advice. As always, please remember that I am an amateur investor, so please remember to consult with your professional investment advisors prior to making any investment decisions based on information on this website.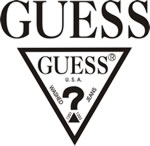 Two days ago, I promised you that I would write something about Guess (GES), and I wanted to get back to that stock and complete my review. GES closed yesterday at $53.89, down $(.01) or (.02)% on the day. I do not own any shares of Guess nor do I have any options on this stock. Even though yesterday the stock did not move strongly higher, on the previous day's trading, Guess had made a very strong move higher, making the list of top gainers on the NYSE. Let's review some of the things that led me to pick this stock for the blog!
1. What exactly does this company do?
According to the Yahoo "Profile" on Guess (GES), the company

"...engages in the design, marketing, distribution, and licensing of lifestyle collections of casual apparel and accessories for men, women, and children. Its product lines comprise collections of denim and cotton clothing, including jeans, pants, overalls, skirts, dresses, shorts, blouses, shirts, jackets, and knitwear. The company also grants licenses to manufacture and distribute a range of products, including eyewear, watches, handbags, footwear, kids' and infants' apparel, leather apparel, fragrance, jewelry, and other fashion accessories."
2. Was there any recent news to explain the stock's move higher?
As reported on Thursday, October 5, 2006, Guess reported their September 'same-store sales' results. This figure, as I have emphasized throughout this blog, is one of the most important factors, imho, determining the success or failure of any retail venture. If you are in the dark on this, you might want to read this Motley Fool explanation by Bob Fredeen. In any case, Guess announced that September same-store sales increased by 11.3%. Not only is this a very strong retail result, but two other factors should be considered. First, the news exceeded expectations, meaning that this good news exceeded the 4.3% figure expected by those who follow this company. Second point, the company related that same store sales in the third quarter increased 8.6%. Thus, the September figure represented an acceleration of same-store sales growth compared to the other months in this quarter. I guess the only thing that the company didn't do was to suggest that future same-store sales growth were also expected to increase at this rate.

I found another Motley Fool article that mentioned GES that pointed out another critical point in picking stocks. The article is titled "Misinterpreting the Mall", and Seth Jayson points out that just because your walk through the mall shows that folks seem to be buying a lot of stuff at store "A", but not at store "B" that this 'research' may encourage you to go out and buy stock in that mall store you saw full of customers, you might need to do a bit more research than that! This is commentary on what the now famous Peter Lynch, the former Fidelity Magellan manager whose famous comment,

"If you stay half-alert, you can pick the spectacular performers right from your place of business or out of the neighborhood shopping mall, and long before Wall Street discovers them."


has been mis-applied by too many investors for too long. What you see in the mall may be a good start, but the same-store sales figures are hard to argue with!
3. How did this company do in the latest quarter?
On August 2, 2006, Guess (GES) reported 2nd quarter 2006 results. For the quarter ended July 1, 2006, the company reported revenue of $231.0 million, a 29.6% increase over $178.2 million in the same quarter last year.
Comparable store sales during the quarter increased 17.4%. Net earnings for the quarter climbed 230% to $13.7 million from net earnings of $4.2 million the prior year. Diluted earnings per share increased 233.3% to $.30/share vs. $.09/share in the same quarter last year. The company went ahead and raised guidance for the third quarter for revenue growth to 'slightly more than 20%'. The company also raised guidance for earnings with an improvement of $1.5 million to $2.0 million or $.03-$.04/share over prior guidance.

I comment a lot about my 'trifecta-plus' in earnings announcements and this company did just this! In other words, they managed to announce strong revenue and earnings growth, raised guidance and they also beat expectations handily. As reported elsewhere, the company reported earnings per share of $.30. Analysts had been expecting $.22/share. Revenue came in at $231 million; analysts at Thomson First Call expected $219.3 million. This was a very strong quarterly report!
4. How about longer-term financial results?
Let's take a look at the Morningstar.com "5-Yr Restated" financials on Guess (GES). First of all, the company did have a week 2001/2002 sequence with revenue dipping from $678 to $583 million, and earnings dropping from $.14/share to a loss of $(.26)/share. However, since 2002, revenue has climbed steadily from $583 million to $936 million in 2005 and $1.03 billion in the trailing twelve months (TTM). Earnings have improved from that loss of $(.26) in 2002 to $1.31/share in 2005 and $1.67/share in the TTM. The number of shares outstanding has been stable with 45 million in 2001, dipping to 44 million in 2005 and climbing to only 46 million in the TTM. No dividends are paid.

Free cash flow the past several years has been positive and growing with $44 million in 2003, $47 million in 2004, $95 million in 2005 and $134 million in the TTM.

The balance sheet looks solid with $197.3 million in cash and $236.5 million in other current assets. This total of $433.8 million, easily covers the $225.1 million in current liabilities yielding a healthy 'current ratio' of 1.93.
5. What about some valuation numbers for this stock?
Reviewing the Yahoo "Key Statistics" on Guess, we can see that this company is a mid cap stock with a market capitalization of only $2.46 billion. The company has a moderately rich p/e of 32.52, and a more reasonable forward p/e estimated (fye 31-Dec-07) of 23.33. The PEG works out to an acceptable 1.26.

Looking at the Fidelity.com 'eresearch' website, we can see that Guess (GES) is in the "Textile-Apparel Clothing" industrial group and is moderately priced with a Price/Sales ratio of 0.6. Topping this group is BEBE Stores with a Price/Sales ratio of 1.7. This is followed by both Guess and VF Corp (VFC) at 0.6, Columbia Sportswear (COLM) at 0.3, Hot Topic (HOTT) at 0.1 and Quiksilver (ZQK) at 0.1.

Checking the Return on Equity (ROE) as a measure of 'profitability', we can see that Guess (GES) leads this group with a ROE of 25.4%. GES is followed by BEBE at 19.5%, VF Corp at 18.5%, Columbia Sportswear at 17.1%, Quiksilver at 7.9% and Hot Topic at 7%.

Returning to Yahoo, Guess has 45.62 million shares outstanding with 21.03 million that float. As of 9/12/06 there were 4.44 million shares out short, representing 18.50% of the float or 3.9 trading days of volume (the short ratio). Using my own '3 day rule' on short ratios, this is a bit high and may be a bullish influence on stock performance. No dividend is paid and no stock splits are reported on Yahoo.
6. What does the chart look like?
Reviewing a "Point & Figure" chart on Guess (GES) from StockCharts.com, we can see what appears to me to be a very strong performance the past few years. The stock price appreciated from $10.50 in late 2003, consolidating between that level and $19.50 until May, 2005, when the price broke out through resistance at $16, and moved strongly higher to its current level. Since January, 2005, the stock price has more than quadrupled to the recent $53.89 level.
7. Summary: What do I think about this stock?

Let's review some of the things that I have pointed out in the above discussion. First of all, the stock made a strong move higher on strong same-store sales results. This report beat expectations and demonstrated short-term acceleration in comparative sales results. The latest quarter earnings report was very nice with the company reporting strong revenue and extremely strong (more than 200%) increases in both earnings and earnings/share. This exceeded expectations as well and the company raised guidance. The Morningstar.com report looked nice with at least 4 years of steady revenue and earnings growth, steady shares outstanding and increasing free cash flow. The balance sheet appears solid.

Valuation-wise, the p/e is a bit rich in the 30's but the PEG is reasonable, the Price/Sales ratio is near the mean of its group, and the company leads the pack on Return on Equity. This is a company with relatively few shares floating and even some short-sellers who may have to cover (?) if the stock moves higher. No dividend is reported. Finally, the chart looks quite strong, if not a tad over-extended. All-in-all I like this stock for all of these reasons. I am not buying any shares as I do not have a 'signal' from my own portfolio but this is the kind of company I want to have in my 'vocabulary' of investable stocks!
Thanks so much for stopping by and visiting! If you have any comments or questions, please feel free to leave them right on the blog or email me at bobsadviceforstocks@lycos.com! Also, be sure and visit my podcast site where I discuss many of the same stocks I write about here on Bob's Advice!
Bob

Posted by bobsadviceforstocks at 11:06 AM CDT |
Post Comment
|
Permalink
Updated: Sunday, 8 October 2006 3:22 PM CDT