A Reader Writes "Among my own stock picks is Sonoco Products (SON).."
Hello Friends! Thanks so much for stopping by and visiting my blog, Stock Picks Bob's Advice! As always, please remember that I am an amateur investor, so please remember to consult with your professional investment advisors prior to making any investment decisions based on information on this website.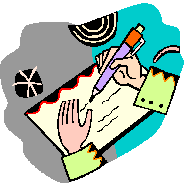 I was over at a friend's house the other night for a political fund-raiser and as is often the case I found myself moving conversation towards investing. (Is that hard to believe?) I was trying to explain my investing strategy to some acquaintances and is often the case, discussion came around to Fastenal (FAST). This is a popular stock around here because the company is headquartered not too far from where I live, and indeed, the stock has done quite well over the years.
I like Fastenal. But what I like about Fastenal is not its geographic location or the fact that some locals have literally become millionaires investing in the stock. What I tried to point out was that as an investor it is important to find stocks like Fastenal....by 'profiling' companies....I try to identify companies that have many of the same characteristics of FAST, as potential investments. William O'Neil attempted to do the same thing with his CANSLIM approach which was also a way to identify stocks in some objective, not subjective, fashion that had the characteristics of a winning stock. I do not use CANSLIM, but I have been affected by Mr. O'Neil's and the IBD approach.
Anyhow, Caroline wrote:
"Bob: thanks for your excellent write-up on Best Buy. You have a lot there!

Among my own stock picks is Sonoco Products (SON on NYSE)--founded in 1899 in Hartsville, S. C., and is a leader in packaging around the globe. It's another company like Fastenal in that the average person on
the street doesn't know the name, although this same average person comes into contact with the product nearly every day.

SON produces so many of the containers and packaging that consumers pick up at the grocery store-- Folger's coffee, Minute Maid orange juice, cookies, razor blades, etc. They are busy inventing new packaging devices for keeping food products fresh all the time.

Companies like Maytag, Amana, GE buy their packaging for refrigerators, stoves, microwaves--and the
consumer tosses Sonoco's products once the appliance is installed in the home. SON owns lots of forest acerage around the south, esp. S. C.Hugh McColl was ( or may still be) on the board--H. M. was behind the banking explosion--mergers, etc.--some years ago, and was responsible for making Charlotte a banking center of the south.

SON is NOT a glamous, go-go company making national headlines on the money shows. Slow and steady would describe the company.Just as people here know the name Fastenal, people in S. C. and the south know the name Sonoco. There is a plant in Wausau (I believe.)


It started out as the Southern Novelty Company, when they figured out how to make paper products out of pine trees. Early on they served the textile industry of North Carolina with cones, etc. for wrapping textiles on. A world lost on the south now!

More anon.

Bullish on SON, Caroline"
Caroline, thank you so much for writing. You have obviously done some work on this stock, and I am glad that you have done well and also have some family member(s) that work at Sonoco. I don't own any shares of this stock, but I would be happy to take a look at it and see what I can find out.
Most of your comments would fall into the Peter Lynch style of investing. Sort of like explaining what the company does and how all of its products are around us all the time. In addition, some investors like to follow certain people who may either be on the board or CEO's. Some of these gifted individuals do indeed seem to make a big difference on the fortune of companies.
However, my approach is closer to what might be called a "Quantitative Approach to Investing". While not using any computers, I am attracted to stocks not so much by what they do, but by how they are doing. For me, a quality investment is not determined by the quality of its products (although that can be helpful in the success of a company without a doubt), but by the quality of its financial results. For me, quality financial results is a matter of predictable consistency. I believe that a company that has been regularly been growing its revenue, earnings, and free cash flow, is likely to continue to do so into the future. This has also been referred to as earnings momentum.
But before completely digressing, let's take a quick look at Sonoco (SON) and Iu will let you know what I think from my perspective.

Sonoco (SON) closed at $36.75 on November 17, 2006. It was up $.02/share or 0.05% on the day.
1. How did they do in the latest quarter?
On October 18, 2006, SON announced third quarter 2006 results. For the quarter ended September 24, 2006, net sales were up almost 6% to $932 million, from $881 milion in the same period last year. Net income climbed nicely, up 33% to $61.1 million, from $45.9 million the prior year. Diluted earnings per share were up 30% to $.60/share, from $.46/share last year. The company also pays a dividend and paid $.24/share this quarter, up $.01 from $.23/share paid in the same quarter the prior year. According to this report, the company beat expectations for earnings, but slightly missed on the revenue side.
2. How about longer-term results?
Reviewing the Morningstar.com "5-Yr Restated" financials on SON, we find that revenue has been slowly increasing from $2.5 billion in 2001 to $3.5 billion in 2005 and $3.6 billion in the trailing twelve months (TTM).

Earnings have also been steadily increasing from $.96/share in 2001 to $1.61/share in 2005 and $1.77/share in the TTM. The dividends, which were $.80/share in 2001, have been increased each and every year to $.91/share in 2005 and $.93/share in the TTM.

The number of shares outstanding has been increased slightly from 96 mnillion shares in 2003 to 99 million in 2005 and 99 million in the TTM.

Free cash flow has been positive, although not really increasing, with $219 million in 2003, dropping to $98 million in 2005, and rebounding to $191 million in the TTM.

The balance sheet is solid with $60.7 million in cash and $846.8 million in other current assets. When combined and compared to the $632.6 million in current liabilities, we find that the current ratio works out to a reasonable 1.43.
3. How about some valuation numbers?
If we review the numbers from the Yahoo "Key Statistics" page on SON, we find that this is a large mid-cap stock with a market capitalization of $3.67 billion. The trailing p/e is moderate at 19.11 with a forward p/e of 15.91. The PEG however, suggests that based on the 5 yr estimates, the stock is relatively richly valued, as it is a 2.37. Generally, I like PEG ratios of 1 to 1.5.

Recently I have looked more closely at the Price/Sales ratio. I read an excellent article by Paul Sturm last year who suggested that the importance of this ratio is relative to other stocks in the same group. Reviewing the information from the Fidelity.com eresearch website, we find that SON is in the "Paper & Paper Products" industrial group. Within that group, SON is reasonably priced with a Price/Sales ratio of 1. Leading this group is Kimberly-Clark (KMB) at 1.9, Avery Dennison (AVY) at 1.2, then Sonoco (SON) at 1, International Paper (IP) at 0.7, Smurfit-Stone Container (SSCC) at 0.4, and Bowater (BOW) at 0.3.

Another valuation parameter I like to review is the Return on Equity (ROE). I also like to compare this profitability measure with other companies in a similar business. Again, SON does fairly well with a return on equity of 15.2%. This is exceeded by Kimberly-Clark at 24.3%, Avery Dennison at 19.1%, and followed by International Paper at 3%, and two companies with losses: Smurfit-Stone at (10.1)%, and Bowarer with a negative (30.9)%. So by this measure, Sonoco also doesn't look too bad!

Finishing up with Yahoo, we find that there are 99.75 million shares outstanding with 96.54 million that float. As of 10/10/06, there were 488,310 shares out short representing 1.6 days of average volume (the short ratio). This is well below my idiosyncratic 3 day rule of significance.

The company does pay a nice dividend of $.96/share estimated going forward, yielding 2.6%. The last stock split was a 11:10 (or a 10% stock dividend), declared May, 13, 1998.
4. What does the chart look like?
Checking the Sonoco "Point & Figure" chart from StockCharts.com, we can see that the company which was basically moving sideways between 2001 and much of 2004, at a level around $20, broke through resistance in late 2004 and around $22 and has moved steadily higher to the $36 level now. The stock really has shown some strength since March, 2005.
5. Summary: So what do I think about Sonoco Products?
Quite frankly Caroline, this is an attractive stock. It isn't about what the company does, although that may contribute to the financial results. It isn't about the history, the geographic location, or who is on the board. It is simply about the steady increase in revenue, earnings, and positive free cash flow in the face of a solid balance sheet. In addition, the company has been keeping its number of shares stable and increasing it relatively significant dividend. The p/e isn't bad, but the PEG is rich. The Price/Sales and the ROE look reasonable, and the chart is encouraging.

I have to admit that this is a nice company from my perspective as well! I don't own any shares, but if it ever is making a nice move higher on the day i have a "permission slip" to add a new position, this might well be a stock i would be adding to my portfolio!
Thanks again for writing! If you have any other comments or questions, please feel free to leave them on the blog or email me at bobsadviceforstocks@lycos.com. If you get the chance, drop by my Stock Picks Podcast Site, where I discuss some of the same stocks and topics I wrtite about here on the blog.
Bob