On 'Investor Euphoria' or 'How to Keep a Cool Head when Things are Going Well!'
Hello Friends! Thanks so much for stopping by and visiting my blog, Stock Picks Bob's Advice! As always, please remember that I am an amateur investor, so please remember to consult with your professional investment advisers prior to making any investment decisions based on information on this website.
On a day like today it is easy to forget that investing is a dangerous game. That a loss is also just around the corner. That on a day when even an amateur blogger looks brilliant, it is easy to forget that 'what goes up may go down'.
There have been plenty of books written about investor psychology. The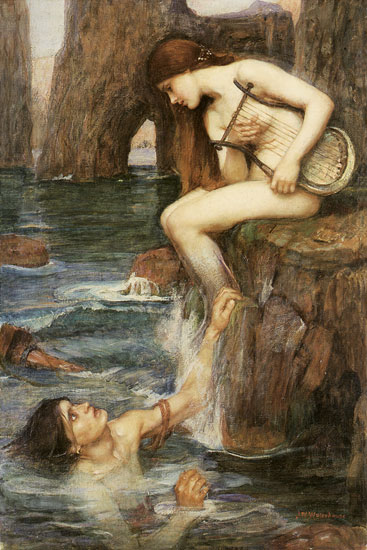 muse that is the stock market has attracted many investors.
Or perhaps it is like a Siren as in this painting by John William Waterhouse, seducing the unwary sailor to his doom with the lure of something other-worldly.
In any case, as I have written many times, it is imperative for the investor, especially the new investor, to invest in a calm fashion, to avoid being seduced by the lure of easy riches, fast gains, and money to be taken without sacrifice. It isn't like that at all.
For those of you who have recently become enthralled with the market, beware her siren call. Respect the risk that she presents. Learn from her and above all do not fall head-over-heels into a swoon that may well lead to your financial destruction. Do I sound gloomy enough?
Having a realistic strategy in dealing with the market and your investments is necessary for success. When initially getting involved in the market, move slowly, commit only small amounts of funds into a new venture and give yourself time to consider what is really happening in the investment world.
If you feel like the stock market is getting away from you, or a stock you had seen is moving higher without you, do not panic. Do not chase that siren, she may well fall under her own weight. You do not need to own every single stock that climbs to do well in the market. You need to monitor your investments closely, understand your planned course of action in the event of every possible outcome, and then implement that action as the time to deal with your investments arises.
It is essential to have a calm mind when investing. To avoid excessive euphoria when stocks rise and the same amount of 'depression' when the stocks move against your interests. Stocks and the market do not know you exist. They live and breathe almost like a living organism. Stocks will not rise because you have sold them, nor will they fall because you have purchased them. Stocks simply don't care.
So if you are a new investor, do not get overly enthusiastic when things are working right. Consider yourself lucky, examine your plan, and determine your response. Above all, stick with your rules that you made when you were calm inside and anticipating whatever the market might deliver you.
Bob