Thinking About Buying an iBond!
Hello Friends! Thanks so much for stopping by and visiting my blog, Stock Picks Bob's Advice! As always, please remember that I am an amateur investor, so please remember to consult with your professional investment advisers prior to making any investment decisions based on information on this website.
Is inflation rearing its ugly head?
As reported this morning:
The department's Producer Price Index, which measures inflation pressures before they reach the consumer, rose 0.2 pct in April following a 1.1 increase in March.

Core inflation rose 0.4 pct for the month, after rising 0.2 pct in March. That left core inflation up 3.0 pct in the past twelve months, the largest change since December 1991. Overall inflation has risen an unadjusted 6.5 pct for the year.

Economists polled by Thomson's IFR Markets had expected overall wholesale inflation to rise 0.4 pct, while core inflation was expected to increase 0.2 pct.
So what is an investor supposed to do?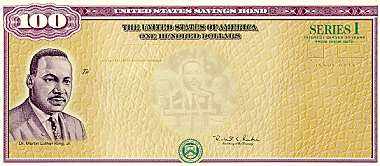 IBonds deserve a place in an investor's portfolio.
These United States Government Savings Bonds are adjusted for inflation.
As explained:
I Bonds earn interest from the first day of their issue month.

You can redeem them at any time after a twelve-month minimum holding period
They are an accrual-type security
They increase in value monthly and the interest is paid when you redeem the bond
I Bonds are sold at face value; i.e., you pay $50 for a $50 I Bond
I Bonds grow in value with inflation-indexed earnings for up to 30 years

If you redeem I Bonds before they're five years old, you'll forfeit the three most recent months' interest; at or after 5-years old, you won't be penalized.

Rates

The I Bond earnings rate is a combination of two separate rates; a fixed rate and an inflation rate:

Fixed Rate:

Announced each May and November
Applies to all bonds issued during the six months period beginning with the announcement date.
Remains the same for the life of the bond

Inflation Rate:

Announced each May and November
Based on changes in the Consumer Price Index for all Urban Consumers (CPI-U)
Is combined with the fixed rate to determine the earning rate of the bond every six months*
O.K., that's pretty conservative! But I always feel like I have an ethical responsibility to share my best ideas with my readers. And having an IBond in your portfolio of investments isn't really a bad idea! I plan on picking up a bond later this year. Investors are currently limited to $5,000/year in 'paper' bonds and $5,000/year in electronic bonds.
Go to the links above for more information on details and tax consequences.
Currently, IBonds purchased between May, 2008, and October, 2008, are yielding 4.8%. This may change. Up or down. But with money market rates in the low single digits, this might be something to consider.
I will write up some more stocks later :). But I would encourage all of you to explore the possibilities of a IBonds in your portfolio as a small inflation hedge.
Yours in investing,
Bob