Graham (GHM) and Johnson Controls (JCI) "Trading Transparency"
Hello Friends! Thanks so much for stopping by and visiting my blog, Stock Picks Bob's Advice! As always, please remember that I am an amateur investor, so please remember to consult with your professional investment advisers prior to making any investment decisions based on information on this website.

Earlier this afternoon I decided that I could no longer 'take the heat' from Graham (GHM), which fundamentally is a terrific company, but which is trading in a very volatile fashion along with the price of oil.
As this story explains:
"NEW YORK (CNNMoney.com) -- Oil futures on Tuesday tumbled to levels not seen since early April on a strengthening dollar and concerns that an economic slowdown has crippled demand for energy.

U.S. crude futures for October delivery dropped $5.75 a barrel to settle $109.71. It was the lowest oil has settled since April 8, according to the U.S. Energy Information Administration."
Responding to this decline in oil prices, Graham closed today at $85.31, down $(8.09) or (8.66)% on the day.
Frankly, I believe the selling is now overdone. But not anxious to continue to have my stock fortune dependent on the swings in the price of a commodity, I chose to step aside, and sold my 78 shares of Graham at $87.02. These shares had been purchased at a cost basis of $64.48 just a few months ago on 5/30/08, so I had a nice gain on these shares amounting to $22.54 or 35% since purchase. Since my sale was based on what I would refer to a 'fundamental' problem, that is the volatility in the price of oil, and not on an absolute decline (although I would have had a sale triggered if the stock had hit a 30% appreciation level), I reserved the right to substitute this holding with another stock.
And I did.
But since I have sold my shares in Graham (GHM), without any fundamental problem with the company itself, I shall be reducing my rating:
GRAHAM (GHM) IS RATED A HOLD
Since I was selling a stock due to the decline in oil prices, I thought it might be wise to purchase shares in an 'old favorite' of mine, a stock that might benefit from such a decline, Johnson Controls (JCI).

I purchased 210 shares of Johnson Controls (JCI) for $32.0477. JCI closed at $31.39, up $.47 or 1.52% on the day. So I am a bit underwater on this stock already :(.
But I would like to briefly comment on this stock and why
JOHNSON CONTROLS (JCI) IS RATED A BUY
First of all, JCI is an 'old favorite' of mine. I first wrote up JCI on this blog more than four years ago (!) on July 9, 2004, when the stock was trading at $53.24, up $1.97 or 3.84% that day. The stock subsequently (October 3, 2007) had a 3:1 stock split making that pick price actually $17.75/share.
On July 17, 2008, JCI reported 3rd quarter results. Earnings came in at $.73/share up from $.66 and revenue increased 11% to $9.87 billion from $8.91 billion the prior year. The company met expectations on earnings and beat expectations on revenue.
However the company did reduce guidance on the 4th quarter in the same announcement and reduced expectations for the fiscal year.
Recently Matthew Moscardi wrote a positive piece on JCI that was covered by Seeking Alpha.
Matthew wrote about Johnson Controls:
Provided efficiency controls for energy delivery for cars, climate, security, lighting, and building automation for corporate real estate.
History of increasing dividends since 1985.
Currently deflated P/E ratio at 13, undervalued due to general economic concerns despite strong fundamentals.
Avoids sector risk by offering fundamental supplies for many alternative energy and sustainable business solutions.
Favorite of alternative energy mutual fund managers, including stalwarts New Alternatives Fund [NALFX] and Winslow Green Solutions [WGGFX].
But what I love about JCI is the beautiful Morningstar.com "5-Yr restated" financials. The steady revenue and earnings growth. The growing dividend. The stable outstanding shares. The growing free cash flow, and the solid balance sheet.
I like that Johnson Controls is about environmental controls in our office buildings; an important part of future conservation efforts. I am excited about their potential in developing hybrid batteries. And I don't believe that the downturn in automobiles is 'forever'.
Certainly, the 'point & figure' chart on JCI is struggling to hold support. Many stocks are in this 'condition'.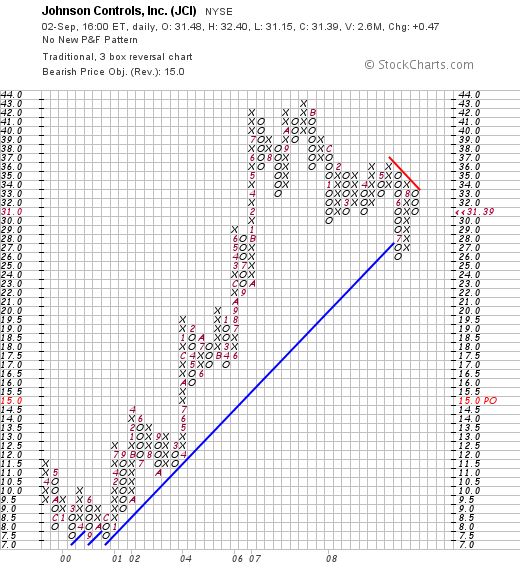 Will my arbitrary trade work? Time will tell. I do believe that JCI is the kind of stock I like to write about and believe that this is a reasonable entry. I may have been premature. I may have exited GHM at exactly the WRONG time. After all I am an amateur!
But I feel better about JCI than GHM.
Thanks again for visiting! If you have any comments or questions, please feel free to leave them on the blog or email me at bobsadviceforstocks@lycos.com.
Yours in investing,
Bob
Posted by bobsadviceforstocks at 5:51 PM CDT |
Post Comment
|
Permalink
Updated: Tuesday, 2 September 2008 5:53 PM CDT