Potash (POT) and Graham (GHM) "Trading Transparency"
Hello Friends! Thanks so much for stopping by and visiting my blog, Stock Picks Bob's Advice! As always, please remember that I am an amateur investor, so please remember to consult with your professional investment advisers prior to making any investment decisions based on information on this website.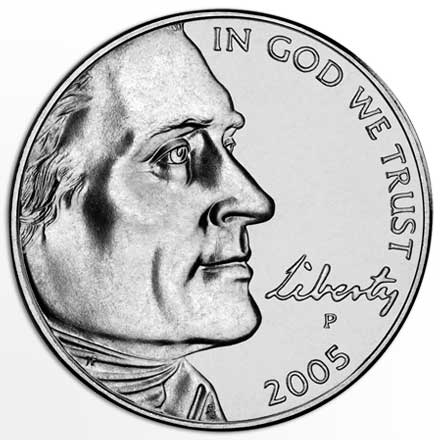 That nickel was really burning a hole in my pocket today!
As you may know, I am currently down to 1 position. In my 'trading strategy' my portfolio is supposed to vary between 5 and 20 positions. It is quite a commentary that even with my efforts to replace positions, I am overwhelmed by this correction!
Anyhow,
To make a long story short, with the market apparently fighting back from a losing performance after the Fed cut rates by 1/2%, I thought it might be safe (?) to get back into the water.
Almost.
Checking the lists of top % gainers this morning, I found two interesting prospects that I thought might be worth an investment:
Potash (POT) and Graham (GHM). (I have to thank Doug S., a frequent commenter and reader here of this blog who pointed out that Graham might be worth another visit!) Both of these stocks have solid latest quarter results and Morningstar.com restated financials. And both have been under pressure lately selling far under their previous price levels.
I purchased 70 shares of Potash at $95.84. Potash closed at $98.60, up $11.74 or 13.52% on the day.
I also purchased 420 shares of Graham (GHM), an old favorite of mine, at $16.3258. GHM closed at $17.85, up $2.50 or 16.29% on the day. Both of these stocks were trading even higher prior to the close when the Dow managed to swoon once again (what a roller-coaster day it was in equities), to manage to close down at 9,258.10, down 189.01, and the Nasdaq closed at 1,740.33, down 14.55 on the day.
With the market still unable to shake the terrible selling pressures, even with my own purchase of these shares, the best I can do:
POTASH (POT) IS RATED A HOLD
GRAHAM (GHM) IS RATED A HOLD
Hopefully, I shall be able to hold onto these stocks for more than a few hours or days prior to having to once again yield to the terribly bearish forces acting upon our equity markets!
Thanks again for stopping by and visiting.

If you have any comments or questions, please feel free to leave them on the blog or email me at bobsadviceforstocks@lycos.com.
Yours in investing,
Bob