Meridian Bioscience (VIVO) "Revisiting a Stock Pick"
Hello Friends! Thanks so much for stopping by and visiting my blog, Stock Picks Bob's Advice! As always, please remember that I am an amateur investor, so please remember to consult with your professional investment advisers prior to making any investment decisions based on information on this website.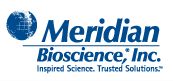 As I slowly gain some confidence in this difficult stock market, I wanted to take another look at one of my past favorites, Meridian Bioscience (VIVO). I do not currently own any shares, but have owned shares on an off since first writing about this stock on this blog on April 22, 2004.
Meridian is in the medical diagnostic test kit business. As the Yahoo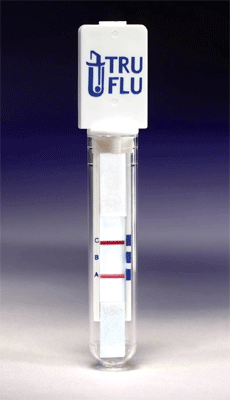 "Profile" on VIVO reports, Meridian Bioscience is
"...a life science company, engages in the development, manufacture, sale, and distribution of diagnostic test kits primarily for respiratory, gastrointestinal, viral, and parasitic infectious diseases."
Probably one of the biggest medical challenge facing this nation and the rest of the world is the 2009 H1N1 Flu (also called "Swine Flu") epidemic. It does not appear that this pandemic has yet peaked.
Meridian was recently given FDA approval to market the "TRU FLU" kit to include claims that it is sensitive to two strains of swine flu. Tests were accomplished in the laboratory but had not been fully proven in clinical testing. As reported:
"The research was done with strains of the virus cultured from positive respiratory specimens, Meridian said in a news release. The test hasn't been proven yet to distinguish positive results from clinical specimens."
The swine flu epidemic is clearly urgent enough to get the FDA to expedite this labeling permission. But the timeliness of this particular product is not what really attracts me to this company. It is just an added "plus" from my own perspective. This company has consistently produced solid financial results for at least as long as I have been following this stock, which is for longer than five years.
First of all, let's take a look at the latest quarterly result.
On July 16, 2009, Meridian Bioscience (VIVO) reported 3rd quarter 2009 results. Sales for the quarter came in at $38.2 million, up 16% from the $33 million reported in the prior year. Earnings cane in at $8.5 million, up 10% from $7.8 million the prior year and diluted earnings per share increased 11% to $.21/share from $.19/share previously. The company also reaffirmed guidance for full 2009 year of revenue between $140 million and $144 million and earnings between $.77 and $.81/share.
On September 15, 2009, the company continued its optimistic assessment of its opportunities providing 2010 guidance of sales between $160 and $165 million, and earnings to be between $.90 and $.95/share.
Let's take a longer-term look at some more Meridian (VIVO) numbers and I think you will agree with me that the company, although small, has been generating some pretty phenomenal results.
Looking at the Morningstar.com "5-Yr Restated" financials, we can see that VIVO has steadily increased its revenue from $80 million in 2004 to $142 million in the trailing twelve months, without 'missing a beat'! Earnings during this period have also steadily improved from $.30/share in 2004 to $.80/share in 2008. Surprisingly for such a small company, they pay a significant dividend and have also increased it yearly from $.17/share in 2004 to $.53/share in 2008 and $.62/share in the TTM.
The company has increased its float somewhat from 34 million shares in 2004 to 40 million in 2006, but since 2006 has only increased shares to 41 million. Free cash flow has been positive and growing with $19 million reported in 2006 increasing steadily to $26 million in 2008 and $29 million in the TTM.
Per Morningstar.com, the balance sheet for this company is gorgeous with $53 million in cash which by itself could pay off both the $12.2 million in current liabilities as well as the nominal $1.2 million in long-term liabilities reported more than 4x over!. If we include the $49 million in other current assets, the current ratio jumps to over 8.0.
Looking at "Key Statistics" on Meridian from Yahoo, we can see that this is a small cap stock with a market capitalization of only $916.99 million. The trailing p/e is a bit rich at 29.50 (clearly the market is putting a premium on these financials), and the forward p/e (fye 30-Sep-10) is also a bit rich at 24.60 with a PEG reported at 1.64 (5 yr expected).
The company is reported to have 40.52 million shares outstanding with 39.42 million that float. Based on its recent average daily volume of 258,803 shares, the 2.66 million shares out short represents 9 trading days of volume (the short ratio), well above my own '3 day rule' for significance. There could be a rush to cover these short shares if Meridian comes out with better than expected results. However, on the other hand, there are a lot of stockholders betting against this company especially in light of its relatively rich valuation.
The dividend as I have noted, is not insignificant with $.68/share being the forward dividend payment yielding 3%. The company does pay out a significant portion of its earnings in dividends with a 79% payout ratio. The company last split its stock May, 2007, when it declared a stock dividend to effect a 3:2 split.
Looking at a recent "point & figure" chart from StockCharts.com on Meridian, we can see that the stock made a terrific move higher between August, 2006, when the stock was trading at $12 to a peak of $35 in April, 2008. The stock sold off with the rest of the market dipping to a recent low of $15.00 in April, 2009, only to rally past recent resistance and currently trades at $22.63/share. The stock does not appear currently over-extended relative to its apparent consolidation over the past two years of its big move in 2007.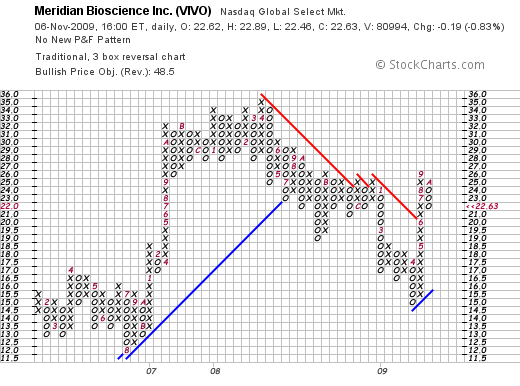 To summarize, Meridian (VIVO) is a timely stock with an interesting diagnostic product line that may benefit from the current Swine Flu pandemic hitting our nation. They have been a consistent performer with steadily increasing revenue, earnings, and even dividends. The company is financially solid with positive and growing free cash flow and an impressive balance sheet. If anything, the company is priced a bit rich but with the sideways move the stock price has been making the past two years, and the recent strength it has shown, it may well be a timely stock to consider.
Thanks again for stopping by and visiting my blog. If you have any comments or questions, please feel to leave them right here on the website or drop me a line at bobsadviceforstocks@lycos.com.
Yours in investing,
Bob