Colgate-Palmolive (CL)
Hello Friends! Thanks so much for stopping by and visiting my blog, Stock Picks Bob's Advice! As always, please remember that I am an amateur investor, so please remember to consult with your professional investment advisers prior to making any investment decisions based on information on this website.
I wrote in the previous entry how my shares of McDonald's (MCD) had appreciated 30% since my purchase triggering a partial sale and a 'trading signal' to add a new holding to my own portfolio. I did this and purchased shares of Colgate-Palmolive (CL). Just catching up with this purchase, I wanted to share with you a few thoughts about this company.
Probably like you I am uncertain about the health of our economy over the intermediate term. I tend to agree with Paul Krugman that the economic stimulus advanced by the Obama administration wasn't big enough. I am also concerned about our level of debt and the size of government but my own basic Economics education has convinced me that Keynes was right 'enough' that austerity right now is absolutely the wrong time to be cutting back.
I think the bail-out of GM, the TARP funds, the financial re-regulation is all medicine indicated for the illness this patient is facing. It disappoints me that in this difficult time of high unemployment, increasing disparity of wealth, and global financial stress that our Republicans in office do not give the newly elected President a chance and instead obstruct at every turn.
OK enough politics. Many of you who are my friends probably know that I love politics almost as much as I enjoy investing!
Let's talk Colgate (CL).
According to the Yahoo "Profile" on Colgate-Palmolive (CL), this company
"....together with its subsidiaries, manufactures and markets consumer products worldwide. It offers oral care products including toothpaste, toothbrushes, and mouth rinses, as well as dental floss and pharmaceutical products for dentists and other oral health professionals; personal care products, such as liquid hand soap, shower gels, bar soaps, deodorants, antiperspirants, shampoos, and conditioners; and home care products comprising laundry detergents, dishwashing liquids and detergents, household cleaners, and oil soaps, as well as fabric conditioners."
While I purchased shares of Colgate (CL) as a 'comfort stock' their quarterly report on July 29, 2010, was less than stellar. Colgate reported earning $603 million or $1.17/share in the quarter ended in June, 2010. Those results are up from $562 million in earnings or $1.07/share in the prior year same period. The company beat expectations on earnings as analysts had been expecting $1.16/share but revenue came in light as analysts had been expecting $3.94 billion in revenue. Some of the problems came in from Venezuela where currency devaluation affected results.
Morningstar.com allows us a longer-term perspective on Colgate-Palmolive. We can see that revenue has grown steadily from $11.4 billion in 2005 to $15.330 billion in 2008 with a slight dip to $15.327 billion in 2009. Net income has grown uninterruptedly from $1.35 billion in 2005 to $2.29 billion in 2009. Diluted earnings have also increased without interruption from $2.43/share in 2005 to $4.37/share in 2009.
Free cash flow for CL has increased from $1.39 billion in 2005 to $2.70 billion in 2009. Most recent balance sheet numbes show $3.8 billion in total current assets compared to $3.60 billion in total current liabilities. The company also has $4.42 billion in long-term liabilities reported.
Looking at Yahoo "Key Statistics" on Colgate-Palmolive (CL), we can see that this is a large cap stock with a market capitalization of $36.09 billion. The stock has a trailing p/e of 17.71 with a forward p/e (fye Dec 31, 2011) estimated at 14.22. The PEG ratio is a bit rich at 1.69.
Yahoo reports 486 million shares outstanding with 483.37 million that float. As of August 13, 2010, there were 5 million shares out short representing a short ratio of only 1.40. The forward annual dividend is $2.12 working out to a 2.8% yield. The dividend is well covered with a 44% payout ratio. The last stock split was July 1, 1999, when the stock was split 2:1.
In terms of the technical performance of this stock, if we examine the 'point & figure' chart on Colgate-Palmolive (CL) from StockCharts.com, we can see that looking a little longer-term, CL has traded from a low of $37 back in October, 2004, to a high of $85 in August, 2009. Currently correcting from another pass at the $85 level in July, 2010, the stock has pulled back rather sharply to its current price of $74.25. While short-term a bit weak, longer-term, the trend appears higher.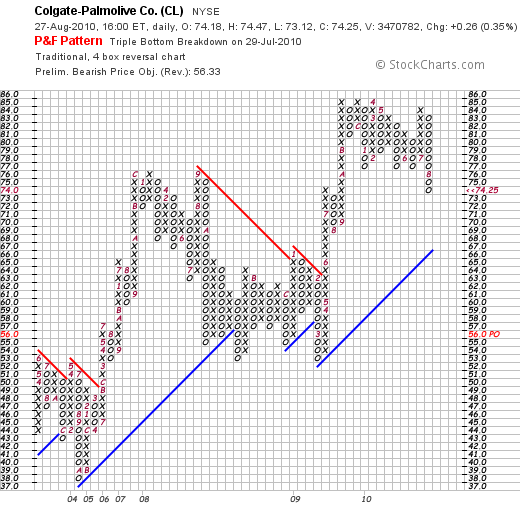 In summary, I am aware of the difficult times we find ourselves living in, investing in, and even dealing with the politics of the 'cure'. Long-term, I am every bit as bullish on America as Kudlow. But right now, I need a comfort stock. A stock I have grown up with that I use to brush my teeth, clean my dishes, and even shampoo my hair. Colgate is a long-term winner as the rest of the world advances and starts increasingly demand consumer products that Colgate is prepared to deliver.
Long-term, Colgate "has paid uninterrupted dividends on its common stock since 1895 and increased payments to common shareholders every year for 47 years." A very blue blue-chip stock indeed!
Thanks so much for stopping by and visiting my blog! If you have any comments or questions, please feel free to leave them right here or email me at bobsadviceforstocks@lycos.com.
Yours in investing,
Bob