FleetCor Technologies (FLT)
Hello Friends! Thanks so much for stopping by and visiting my blog, Stock Picks Bob's Advice! As always, please remember that I am an amateur investor, so please consult with your professional investment advisers prior to making any investment decisions based on information on this website.
I would like to apologize to my friends and readers for my long hiatus here on this blog. I am definitely an amateur blogger and know that successful blogging requires a consistent post or two. If I can make this a New Year's resolution.... That being said, I wish all of you a happy and healthy 2013.

One of the strongest holdings in my Covestor 'Buy and Hold' Value model is my position in FleetCor (FLT). I purchased shares of FLT on September 12, 2012 at a price of $44/share. Today (1/4/13) FleetCor is trading at $55.05, up $.16 or .29% on the day. Let's take a closer look at this investment and try to understand what it does, how it's doing, and what kind of valuation this stock price represents.
According to the Yahoo "Profile" on FleetCor, the company...
"...provides specialized payment products and services to businesses, commercial fleets, oil companies, petroleum marketers, and government entities in North America, Europe, South Africa, and Asia. It sells a range of customized fleet and lodging payment programs; and offers various card products to purchase fuel, lodging, and related products and services at participating locations. The company also offers prepaid fuel and food vouchers and cards, as well as a telematics solution that enables fleet operators to monitor the capacity utilization and movement of vehicles and drivers."
First of all let's take a look at the latest quarter. Zacks reported on their 3rd quarter results on November 9, 2012. Revenues for the quarter came in at $186.9 million, up 32% over the prior year same quarter. Revenue growth largely was due to international results which climbed 107.3% year over year, and moderate growth domestically, up 9.1% year over year.
Adjusted earnings came in at $.83/share, up 48% from $.56/share the prior year and exceeding the Zacks Consensus Estimate by 20.1%. The company also raised revenue guidance for 2012 to $678-$682 million from prior guidance fo $665-$675 million.
In terms of longer-term results, reviewing the Morningstar.com '5 Years Financials', we can see that revenue has grown steadily from $341 million in 2008 to $520 million in 2011 and to $645 million in the trailing twelve months (TTM). Net income has improved from, $97 million in 2008 to $147 million in 2011 and $194 million in the TTM. On a diluted earnings per share basis, Morningstar reports FLT reported $1.34/share in 2010, $1.76 in 2011, and $2.27/share in the TTM. Outstanding shares were 81 million in 2010 and have grown slightly to 85 million in the TTM.
Looking briefly at their balance sheet on Morningstar, we can see that the company as of December 2011, had $1,123 million in total current assets compared to $1,122 in total current liabilities giving it a current ratio of just over 1.0.
Free cash flow has improved from $52 million in 2008 to $266 million in 2011 and dipped to $224 million in the TTM.
Looking at Yahoo "Key Statistics" for some valuation numbers, we can see that this is a Mid Cap Stock with a market capitalization of $4.65 billion. The company sports a moderate trailing P/E of 24.22 and a forward P/E of 16.62. With rapid growth estimated the PEG Ratio (5 yr expected) comes in very reasonably at 1.15. Yahoo reports the company with 84.53 million shares outstanding with only 56.62 million that float. There are 1.84 million shares out short as of 12/14/12, resulting in a 'Short Ratio' of 2.20, under my own arbitrary 3 day level for significance. The company does not pay a dividend.
In terms of technical strength, looking at the StockCharts 'Point & Figure' chart on FLT, we can see that FleetCor (FLT) which has a trading record since 2011, has fairly steadily increased its price from $25 to its current level of $55 where if anything it appears a bit over-extended short-term.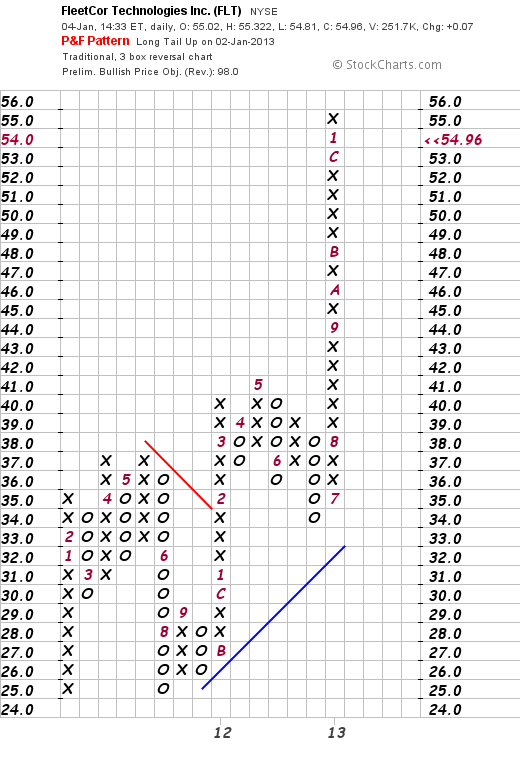 As the economy rebounds from the recession, the trucking industry is also rebounding. Recently, one of my favorite sources for new ideas for stocks has been the Monday Edition of the IBD which lists the Investor's Business Daily top 50 stocks. Not every stock on that list meets my own requirements for inclusion. However, FleetCor (FLT) has been an IBD 50 favorite for some time and the underlying strong earnings growth and revenue record, reasonable valuation, and strong technicals along with sitting in a rebounding industry make it very attractive.
Thank you for your continued interest and loyal readership. If you have any questions or comments, please feel free to leave them right here.
Yours in investing,
Bob