CareFusion (CFN)
Hello Friends! Thanks so much for stopping by and visiting my blog Stock Picks Bob's Advice! As always, please remember that I am an amateur investor, so please remember to consult with your professional investment advisers prior to making any investment decisions based on information on this website.
On February 1, 2013, I purchased shares of CareFusion (CFN) at a cost of $31.43 for my Healthcare Covestor Model. CareFusion closed at $34.31 on March 15, 2013, so thus far it has been a good move. Let's take a look 'under the hood' on this stock and see if it makes sense for this blog and for my own portfolio.
First of all, according to the Yahoo "Profile" on CFN, the company
"... operates in two segments, Medical Systems and Procedural Solutions. The Medical Systems segment develops, manufactures, and markets capital equipment and related supplies for medication management. It offers IV medication safety and infusion therapy delivery systems, including dedicated disposables, software applications, and related patient monitoring equipment; automated dispensing machines and related applications for distributing and managing medication and medical supplies; and respiratory ventilation equipment and dedicated circuits for respiratory therapy, as well as develops data mining surveillance software that enables hospitals to identify adverse drug events and healthcare associated infections. This segment provides its products under the Alaris, Pyxis, Rowa, AVEA, Vela, and LTV Series brands. The Procedural Solutions segment develops, manufactures, and markets single-use skin antiseptic products and other patient-preparation products; hair-removal and skin-care products, and non-dedicated disposable IV infusion administration sets and accessories; surgical instruments; interventional specialty products, such as diagnostic trays and biopsy needles, drainage catheters, and vertebral augmentation products; and non-dedicated disposable ventilator circuits and oxygen masks used for providing respiratory therapy."
In other words, this company supplies hospital and medical clinics supplies for delivery of pharmaceuticals and patient care.
Let's take a look at their latest quarterly results. On February 7, 2013 CareFusion (CFN) reported their 2nd quarter results. Revenue for the second quarter came in $909 million, up 2% from the $890 million reported the prior year same period. Operating income grew 20% to $171 million from the $143 million reported the prior year. Income from continuing operatings came in at $108 million or $.48/share. The 'adjusted income' from continuing operatings increased 9% to $121 million or $.54/diluted share. These are reasonably good results but what about longer-term?
Reviewing the Morningstar.com "5-Yr Financials" on CFN, we can see that revenue has actually decreased from $4.5 billion in 2008 to $3.5 billion in 2011, and now has started increasing to $3.6 billion in 2012 and $3.62 billion in the trailing twelve months (TTM). Diluted earnings/share however, have shown strong growth with $.87/share reported in 2007 increasing strongly to $1.30/share in 2012 and $1.42/share in the TTM. Outstanding shares have been stable with 223 million shares outstanding in 2010 and 225 million shares in the TTM. Thus while revenue has decreased over the last 5 years, the company has been becoming more profitable with rapidly increasing earnings while revenue has been turning around as well.
In terms of their 'balance sheet', the Morningstar.com site shows that the company has $3.1 billion in total current assets as opposed to $933 million in total current liabilities yielding a current ratio of over 3.0. The company appears to be quite solvent.
Morningstar.com reports that the CareFusion's free cash flow has ranged from $563 million in 2010, dipped to $177 million in 2011, and increased back to $545 million in 2012.
In terms of valuation, this company is a mid cap stock with a market capitalization of $7.64 billion according to the Yahoo"Key Statistics" on CFN. The trailing p/e is a moderate 24.01, the forward p/e (fye June 30, 2014) is estimated at 14.18, yielding a reasonable PEG of 1.41. Yahoo reports 222.59 million shares outstanding with 222.04 million that float. As of February 28, 2013 there were 2.21 million shares out short yielding a relatively insignificant (from my perspective) short interest ratio of 1.10. The company does not pay a dividend and there is no record of a stock split on Yahoo.
And how has the stock price been doing? Examining the 'Point and Figure' chart on CFN from StockCharts.com, we can see that the stock experienced a sharp decline from $35 in July, 2007 to a low of $15 in March, 2009. Since that low, the stock has moved higher, consolidating at around $25 between Novembe, 2009, until August, 2012. More recently the stock has been moving higher heading back towards the $35 range.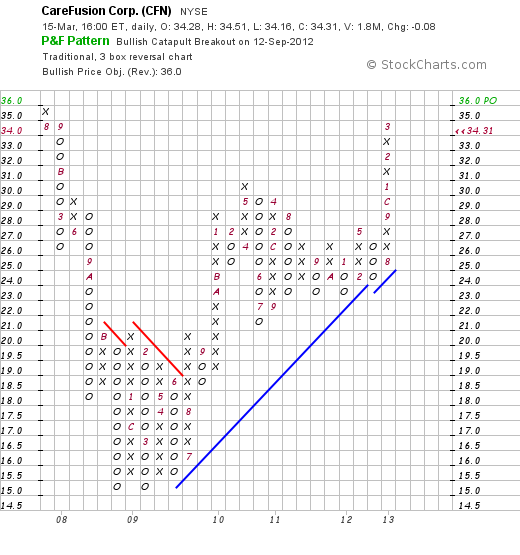 CareFusion (CFN) has been enjoying a strong stock performance as part of a very strong Healthcare Sector. Thus far the stock has been performing well within my own portfolio and hopefully the stock's momentum both technically and fundamentally will lead the stock price higher in the future.
Thanks so much for stopping by and visiting my blog! If you have any comments or questions, please leave them here.
Yours in investing,
Bob
Posted by bobsadviceforstocks at 4:57 PM CDT |
Post Comment
|
Permalink
Updated: Saturday, 16 March 2013 5:33 PM CDT