Worthington Industries (WOR)
Hello Friends! Thanks so much for stopping by and visiting my blog, Stock Picks Bob's Advice! As always, please remember that I am an amateur investor, so please remember to consult with your professional investment advisers prior to making any investment decisions based on information on this website.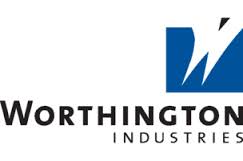 Reading news about the economic recovery in the United States, I came across Worthington Industries (WOR) and their recent good financial results. The stock has been trading quite well the past few days and I have given some thought to purchasing some shares. I do not own any shares of Worthington (WOR) at the time of writing but may well buy some shares if the opportunity presents. But first let me share with you more about Worthington and see if you will share my own enthusiasm.
As I noted above, what drove the Worthington stock higher the last couple of weeks has been the 2nd quarter 2014 earnings report which at first glance showed a dip in second quarter earnings, however deducting one-time items, as this Zacks report demonstrates, results in a earnings result of $.57/share, a bit ahead of the $.56 expected by Zacks. Revenues for the quarter ended November 30, 2013, rose 24% over the prior year to $769.9 million well ahead of the Zacks estimate of $685 million. Gross margins also increased to 16.7% from 15.2% the prior year---altogether a very nice report.
Worthington closed at $42.71 on January 3, 2014, up $1.09 or 2.62% on the day.
By the way, let's take a look at what the company does! According to the Yahoo "Profile" on Worthington, the company
"...focuses on value-added steel processing and manufactured metal products in the United States, Canada, Europe, and internationally. It operates through three segments: Steel Processing, Pressure Cylinders, and Engineered Cabs."
As this earnings review from the Investors Business Daily points out, Worthington is benefiting from its cooperative ventures in China with Nisshin Steel and Maruben-Itochu Steel to "make strip steel for the country's growing automotive industry." The Chinese auto industry, while slowing recently after red-hot growth, remains a strong growth industry and Worthington is set to benefit from this relationship.
Reviewing the Morningstar.com '5 Years Financials' for a longer term look at this company, we can see that the recent growth in revenue has been a change from a relatively flat revenue curve for this cyclical company. Revenue came in at $2.63 billion in 2009, dipped to $1.9 billion in 2010, and since then has rebounded back to the $2.64 billlion reported in the trailing twelve months (TTM). Diluted earnings per share have improved from a loss of $(1.37) in 2009, to $.57/share in 2010 and up to $2.18/share in the TTM. Outstanding shares have been reduced from 79 million in 2009 to 72 million in the TTM.
Morningstar reports $867 million in total current assets as of May, 2013, compared to total current liabilities of $449 million for a healthy current ratio of 1.93. Free Cash Flow dipped from $190 million in 2009 to a low of $50 million in 2011 and since then has strongly increased to $228 million in fiscal 2013 to $255 million in the TTM.
Looking at some valuation numbers on this stock, according to the Yahoo "Key Statistics" on Worthington, this is a mid-cap stock with a market capitalization of $2.95 billion. The trailing P/E is reported at 20.84 with a forward P/E (fye May 31, 2015) estimated at 14.93. With steady growth in earnings predicted to continue, the PEG works out to a reasonable 1.42. There are 69.14 million shares outstanding with only 38.42 million that float. As of December 13, 2013, Yahoo reports that there were 1.12 million shares out short resulting in a moderately significant short interest ratio of 3.4 days. (My own arbitrary 3 day rule for significance!)
The company pays a forward annual dividend of $.60 for a yield of 1.4%. They have room to raise their dividend with a payout ratio of only 26.0%. In fact as Worthington's fortunes have improved the last couple of years, they have indeed been increasing their cash payout.
In terms of price performance, if we examine the 'point & figure' chart on Worthington from StockCharts.com, we can see that the stock has appreciated nicely from early 2009 until mid-2011 when it corrected from $23 to about $12.50. The stock since then has broken through resistance levels and has moved strongly higher to its current level of $42.71. (January 3, 2014)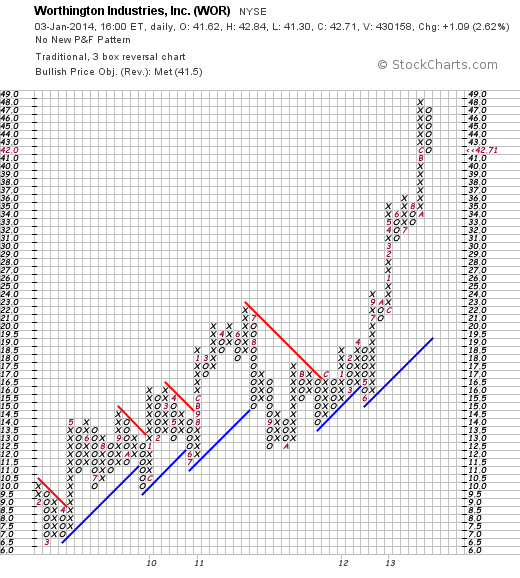 In summary, Worthington is a cyclical steel manufacturer that has been benefiting from the economic recovery and has improved its future possibilities with recent investments in the Chinese steel market. They just reported a solid earnings report that exceeded expectations, they have been raising their modest dividend and valuation-wise they do not appear overpriced to me. Looking at their chart, we can see the impressive strength of the stock price. From my perspective this would be a great addition to my own portfolio.
Thanks again for stopping by and visiting my blog! If you have any comments or questions, please feel free to leave them here!
Wishing all of you a very healthy and prosperous 2014!
Yours in investing,
Bob