A Reader Writes "What are the most important things you think a new trader should look at?"
Hello Friends! Thanks so much for stopping by and visiting my blog, Stock Picks Bob's Advice! As always, please remember that I am an amateur investor, so please remember to consult with your professional investment advisers prior to making any investment decisions based on information on this website.
Happy Thanksgiving!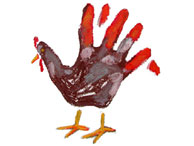 (Turkey from the MIT website)
I hope that you all have a chance to spend some time with family and friends, enjoy the Thanksgiving holiday, and share your expressions of appreciation with each other.
I am personally thankful of all of you who visit, write, and make blogging here on this website as enjoyable experience as it is for me!
Speaking of receiving email, I had a good email a short while back about investing that I kept meaning to respond to and tonight I guess is as good a time as any to comment.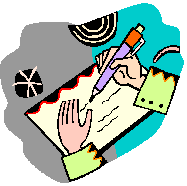 Terry wrote me about investing in general and in particular, the SIRI and XMSR merger.
He wrote:
Hey Bob,

I just Ran into your site searching and wanted to ask you a question. I am new to Trading and have been studying real hard and as of yet. Haven't bought a thing but hope to trade in the near future.

I wanted to ask you. How do you do in trading ?

What is the most important things you think a new trader should look at in a company before buying their stock.

One of my big problems as of now is I don't know how people figure out all of these percents of companies income's. Like this one about the 14%. I'm not a real smart guy but I do have common sense and can do this over time. How did this guy figure the 14%.

When the merger agreement was signed (Feb 23rd) SIRI traded at $3.74 and XM traded at $15.10. The agreement stated that each XM share will be exchanged for 4.6 SIRI shares.
At the time of the announcement that meant that SIRI would pay $17.204 per XM share (4.6 x 3.74) which is a premium of about 14% ( $2.1 premium per share).

Hope you don't mind me asking and good luck to you in your Trading. Future Trader. Terry
Terry, first of all thanks so much for writing and visiting. I am sorry it took so long to get back to you. I have been thinking about some of the questions you wrote and would like to respond to the best of my ability. As I have written numerous times on my blog, I am also an amateur investor. I have just been buying and selling and holding stock for a good bit longer than you. You are welcome to my experience and perspective.
Let me try to get through your comments and questions in order.
You first write:
"How do you do in trading?"



I am doing just fine thank you :). Seriously, you can follow my actual trades and my trading account by visiting my
Covestor page
. Covestor is a website that monitors my actual trades and my account without my active participation. So they are about as unbiased a source as I could possibly imagine. If you look through the Covestor page, you will see that there are many other investors that are doing better than I am doing, but I am still ahead of the market for the period which Covestor has been following me (since June 12, 2007).
For 2007, my trading account which currently has a value of $54,535.50 as of today's close (including the sharp drop in stocks today). I have a net unrealized gain in the account currently of $21,014.62. (that means my stocks that I own but haven't sold are currently selling for $21,014.62 more than my purchase price overall.) As of this morning, I had a net realized gain of $30,458.17. However, I did take a small loss in BMC this morning that should drop that just under $30,000. That means that if you add up all of the gains and all of the losses in my trading account, for 2007 I have realized, which means taken actual trading gains nearly $30,000.
So this year has been kind to me. I am doing just fine thank you.
Your next question:
"What is the most important things you think a new trader should look at in a company before buying their stock."
This is what this blog is about. I am continually examining the criteria that I believe to be critical in selecting a stock. I can only share with you what I personally like to do at this time. Not what is the right answer. There are many different approaches to investing. There is what I would call the "technicical" approach that involves looking at stock charts to determine appropriate investment timing, there is the "value" approach which I would include the 'Warren Buffett' investors who like to buy a stock as cheap as possible. Then there are the "momentum" investors who look for stocks that are moving higher and trying to ride the trend.
For me, each of these approaches is attractive and reasonable. I have chosen what I would describe as an 'eclectic' approach to investing. I like to draw from each of these analyses to decide about which stock might be the right one for me.
I first look towards momentum, choosing to pick a stock that is moving higher on the day that I buy it. I next start doing a fundamental analysis, identifying the results of the latest quarter and the Morningstar.com "5-Yr Restated" financials on the stock. Finally, I like to look at the 'point & figure' chart. It is my way of looking to see that the stock price is basically appreciating.
There isn't anything magical about what I do. Nor do I have any secret approaches that require you to send money to me to get the information. I just like to write about stocks and share what I know for every investor, new and experienced, to consider.
Most of what I do in picking stocks is looking for stocks that have certain 'profiles'. I know what the stock should look like. And if the shoe fits....well then I write it up. I really would suggest that you go through the blog, read as many of the entries as possible, and see if you can see and understand what I am doing. You might not and probably should not agree with my approach, but you are welcome to utilize any of my thinking as you develop your own strategy for investing.
My 'profile' of a stock that is 'investable' includes a consistency in revenue growth, earnings growth, and free cash flow growth. Outstanding shares should be stable and if possible they should be paying a dividend and increasing it as well. The latest quarter should show positive revenue and earnings growth and hopefully they beat expectations and raised guidance. You will hear these themes repeated over-and-over if you read my entries. Finally, I would rather buy a stock with reasonable valuation, that is a p/e that isn't too high, a PEG between 1.0 and 1.5 or lower, a Price/Sales ratio that is less than the average in the industry and possible a significant number of shares out short that may end up being "squeezed". The chart should show a stock that is steadily appreciating.
You will note that this discussion doesn't include the what of the company. If there is a company that indeed I recognize their product (like Garmin (GRMN) that I recently wrote-up), then that is all the more powerful a story. That is the 'Peter Lynch' portion of the investing story.
Beyond that, I find it critical to have a portfolio management system in place. By that, I mean a system of knowing when and what to buy and when and what to sell and how much. For me, I aggressively sell on declines and sell portions of my holdings on appreciation. You can do whatever you like, but I find this helpful in managing my portfolio.
We all need 'signals' to let us know when to be buying new positions and committing new funds to the market. Some people just wait for the right stock and then buy when the 'price is right'. For me, I have built in a system of shifting into and out of equities using my own portfolio as the indicator. Simply put, when a stock of mine is sold on bad news (like my BMC I sold today), I use this as a signal that 'something is rotten' in the market (as indeed it is), and 'sit on my hands'. That is I shift from equity exposure into cash for that position. I do not reinvest my funds into a new position unless I have a signal to buy a new stock (which for me is a partial sale of one of my existing holdings at an appreciation target)---or if I am at my minimum of 5 positions and one of those is sold, then I am 'directed' to replace that position with an appropriate stock when that opportunity arises.
It is with this method that I try to respond to the market in as automatic a fashion as possible. It is logical. I just don't know if it really will work.
I am not sure about your question about the SIRI and XM merger. It seems like your calculation answered your question. If you wanted, you could buy XM stock and do what is called 'arbitrage' which is to speculate on the final closure of the stock at the arrangement described and collect the difference between the proposed merger deal and the current market price, which I guess as you write is 14%. I haven't done the calculation. And frankly, neither of these two stocks attracts me much because they just don't meet what I call my idiosyncratic method :).
Now you might ask why everyone in the whole world doesn't just jump in and buy XM if they are going to make an 'easy 14%'. But it really isn't that simple, is it? There is the risk that the deal goes bust. There are real anti-trust concerns about the only two satellite providers merging. After all, two companies were specifically created to allow for some competition. We really are in a relatively lax regulatory environment, so the merger may well move ahead. And you might just make some money if you play the merger.
But I am not into arbitrage situations. I like to invest in the highest 'quality' companies available. These are the ones that I write about. I am not particularly clever or imaginative. I am just trying to make a little money over the long haul. And I am very happy to share with you and all of my readers my thoughts, whatever they may be worth.
I hope this answers you questions. If not, please feel to write me again, comment on the blog, or drop me a line at bobsadviceforstocks@lycos.com. You all are welcome to visit my
Covestor page
, where my trading account is analyzed, my
SocialPicks Page
where my many picks are reviewed by SocialPicks another website, and my
Podcast Page
, if you would like to hear me talk about a few of the many stocks I blog about on the website.
Meanwhile, I wish all of you a wonderful and Happy Thanksgiving holiday. Tell the ones you love how much you love them. Be thankful that you live in a world that allows you to celebrate freely and work hard to protect that freedom for you and your children.
Bob