May 7, 2004 Provide Commerce (PRVD)
Hello Friends! Thanks so much for stopping by! I am so glad it is Friday, it is sunny outside, and not too hot. A beautiful day in Wisconsin! I hope you are having nice weather also. As always, I must insist that you do your own investigation on all stocks discussed on this blog before making any decisions, and please discuss this with your investment advisors as I am an amateur investor and cannot be expected to advise you regarding the suitability and profitability of any investment idea!
And THAT was a LOT of exclamation marks!!!

I came across Provide Commerce (PRVD) today while scanning the lists of greatest % gainers on the NASDAQ. I do not own any shares nor do I have any leveraged or option positions. PRVD is currently trading at $20.16, up $1.95 or 10.71% on the day. According to Yahoo, Provide "...operates an e-commerce marketplace for perishable goods that delivers products direct from the supplier to the customer." I guess that includes flowers...and not to remind anyone or anything but guess what is coming up this next Sunday....Mother's Day!...so this is our Mother's Day stock :)
On May 4, 2004, PRVD announced record
third quarter 2004 results
. Net sales increased from $28.8 million in the quarter ended March 31, 2003, to $40.7 million in the same quarter this year. Net income, on a fully diluted basis, increased from $.22/share in 2003 to $.30/share this year, same quarter.
If we take a look at the Morningsar.com
"5-Yr Restated" financials
we can see a rapid increase in revenue from $3.9 million in 1999 to $88.7 million in 2003. Net income has turned positive from negative and the free cash flow which was $(4) million in 2001, improved to $0 in 2002 and $7 million in 2003, with $6 million reported in the trailing twelve months.
Balance sheet-wise, this company looks fine, in my humble opinion, with $6.5 million in cash and $2.1 million in other current assets with $7.7 million in current liabilities and NO long-term liabilities at all.
Looking at
"Key Statistics" from Yahoo
we can see that this is a SMALL cap stock with a market cap of only $228.66 million. The trailing p/e is only 17.20, but the forward p/e is 32.87 (???). That part I just don't follow. As the PEG is only 1.30 and price/sales at 1.87. Probably some kind of error that forward p/e...(?).
Yahoo reports 11.40 million shares outstanding with 4.30 million of them that float. There are only 11,000 shares out short as of 4/7/04, representing 0.5 trading days or just 0.26% of the float...so this is not an issue. No dividend is reported and Yahoo does not report any stock dividend either recently.
Taking a look at a chart: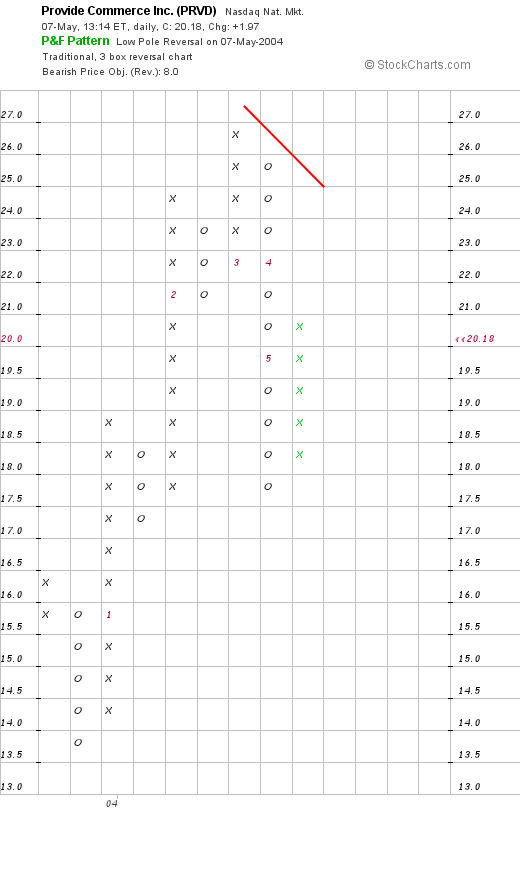 We really do not have much of a chart to hang our hats on but overall the stock price is appreciating, but currently under a resistance level. Maybe you can get a better take on this one.
What do I think? The stock is interesting to me. The results and rapid revenue growth are impressive, the balance sheet is nice, and the valuation does not seem unreasonable. And it is ALMOST Mother's Day. So Happy Mother's Day all you MOMS out there!
If you have any comments, questions, or words of encouragement, please feel free to email me at bobsadviceforstocks@lycos.com
Bob