Swapping PetSmart (PETM) for TJX Companies (TJX) "Trading Transparency"
Hello Friends! Thanks so much for stopping by and visiting my blog, Stock Picks Bob's Advice! As always, please remember that I am an amateur investor, so please remember to consult with your professional investment advisers prior to making any investment decisions based on information on this website.
Before I write about the 'swap' I made with PetSmart (PETM) and TJX (TJX), I want to talk to you a little about "chasing performance". There is a good article on attempting to improve results by chasing after the best and latest hot stock or fund that you might want to read. In general, it is counterproductive to be switching investments or funds in pursuit of investments that have performed well in the past. Simply doesn't work.
Perhaps as an amateur investor, I am guilty of the same amateur mistakes that others make. So with that in mind, after my latest review of TJX, I have been growing impatient with my PetSmart (PETM) stock which appeared to be underperforming my other holdings.
If we examine the last three months chart of the two stocks: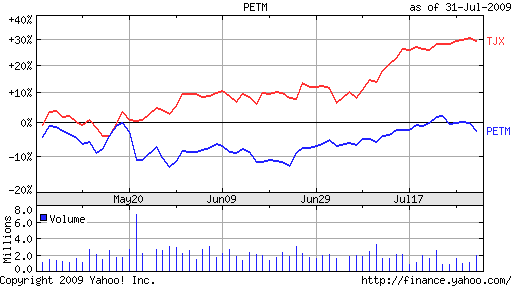 We can see how TJX has been outperforming PETM. But that doesn't mean that the divergence in performance shall continue. But it might!
In any case, I grew impatient and pulled the plug swapping out my shares of PETM for TJX. On July 31, 2009, I sold my 90 shares of PETM at $22.46/share, and purchased 60 shares of TJX at $36.50/share. The PetSmart shares were purchased 5/21/09 at a cost basis of $20.41/share. Thus I had a nice gain of $2.05 or 10% since purchase. TJX closed Friday at $36.23 so I was a little 'under water' on this purchase already.
Thanks so much for visiting my blog! If you have any comments or questions, please feel free to leave them right here or email me at bobsadviceforstocks@lycos.com.
Yours in investing,
Bob