"Looking Back One Year" A review of stock picks from the week of May 15, 2006

Hello Friends! Thanks so much for stopping by and visiting my blog, Stock Picks Bob's Advice! As always, please remember that I am an amateur investor, so please remember to consult with your professional investment advisers prior to making any investment decisions based on information on this website.
I missed the review last weekend. That's how my 'looking back a year' looks more and more like a year-and-a-half! In any case, I shall try to get this review posted this evening. I just have two stocks to review so it shouldn't be too bad :).
These reviews that I do are my way of examining the stocks that I posted about a year previously in some sort of methodical fashion. It helps me identify those things that are working in my process, and those that aren't. It will also give you a chance to see how this blog is doing in picking stocks. Credibility. That's what I really seek here. I hope that I shall be successful in my stock picking, but more important, is an honest appraisal of this entire process.
Anyhow, my reviews are based on a 'buy and hold' approach which isn't my own trading philosophy or the philosophy of this blog. I assume this buy and hold at this time for the ease of the review. In practice I employ and advocate a disciplined strategy of portfolio management that I have described multiple places on this blog. I try to sell my declining stocks quickly and completely and sell my gaining stocks slowly and partially. This difference in strategy would certainly affect the overall performance of any investment. Please take this into consideration when reading these write-ups.

On May 16, 2006 I posted FactSet Research (FDS) on Stock Picks Bob's Advice when the stock was trading at $46.23. FDS closed at $64.10 on November 16, 2007, for a gain of $17.87 or 38.7%.

On September 25, 2007, FDS reported 4th quarter 2007 results. Revenues climbed 23.1% to $129.5 million from $105.2 million the prior year same period. Net income rose 31% to $30.7 million from $23.4 million the prior year. On a diluted earnings per share basis this worked out to $.60/share this year compared to $.46/share last year a 30.4% increase.
The company beat expectations which according to Thomson Financial were $.56/share on revenue of $128.7 million.
Taking a look at the 'point & figure' chart on FDS from StockCharts.com, we can see that the stock has appreciated nicely since it was picked on this blog and the upward move of this stock appears intact.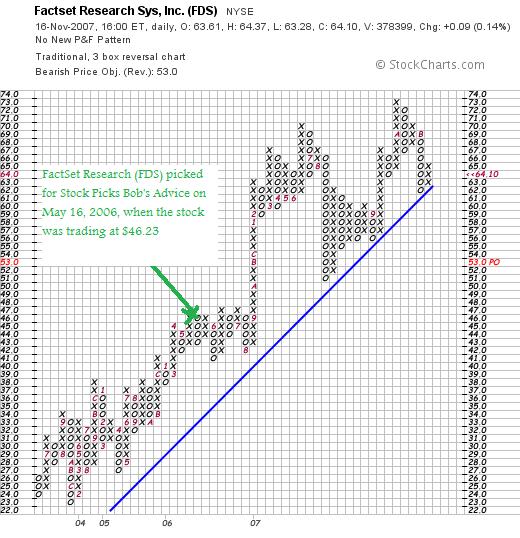 Reviewing the Morningstar.com "5-Yr Restated" financials page, we can see that the steady revenue growth, earnings growth, dividend growth, and stable outstanding shares is intact. Free cash flow is growing nicely and the balance sheet appears solid.
With all of these findings,
FACTSET RESEARCH (FDS) IS RATED A BUY

On May 20, 2006 I posted Eagle Materials (EXP) on Stock Picks Bob's Advice when the stock was trading at $52.21. EXP closed at $36.99 on November 16, 2007, for an effective loss of $(15.22) or (29.2)% since posting.

On October 22, 2007, Eagle Materials (EXP) reported 2nd quarter 2008 results. Revenue for the quarter ended September 30, 2007, came in at $210.5 millon, down 18% from the same quarter last year. Net earnings came in at $34.8 million, down 47% for the same period. On a per share basis, this worked out to $.73/share this year, down 44% from the $1.32/share reported last year.
The company beat expectations for earnings but missed expectations on revenue with Reuters Estimates being for $.72/share in earnings on $213.11 million in revenue.
If we review the 'point and figure' chart on Eagle Materials from StockCharts.com, we can see that the stock has continued to decline from the date of our stock pick and does not show any good evidence of technical strength, instead moving lower under the 'support line'.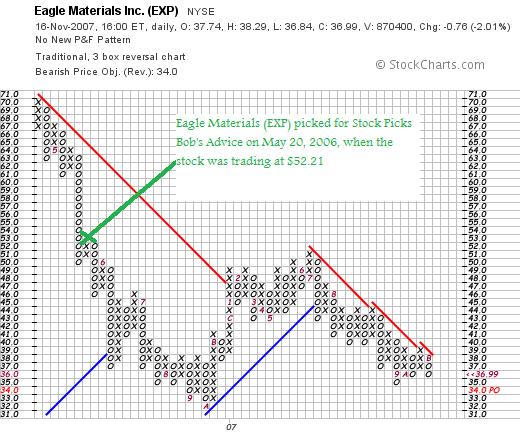 Reviewing the Morningstar.com "5-Yr Restated" financials on EXP, we can see that with the recent results, the trailing twelve months shows decreased in revenue, earnings, and free cash flow. The company has maintained and raised its dividend expressing optimism over its own prospects, and the balance sheet while adequate shows a current ratio of just a bit over 1.2 with significant long-term liabilities present.
With the weak earnings report and the associated weak price chart,
EAGLE MATERIALS (EXP) IS RATED A SELL
So how did I do with these two stock picks from that week about a year and a half ago? Well, I had one gainer and one loser. The average of these two stocks works out to a gain of 4.75%.
Thanks again for dropping by and visiting! If you have any comments or questions, please feel free to leave them on the blog or email me at bobsadviceforstocks@lycos.com. If you get a chance, be sure and visit my Stock Picks Podcast website, where many of my stock picks are discussed. In addition, stop by my Covestor web page where my actual trading portfolio is reviewed, and my SocialPicks page where all of my stock picks from the past year have been reviewed.
Have a great Sunday everyone! And wishing you a wonderful Thanksgiving week!
Bob