Ecolab (ECL) "Revisiting a Stock Pick"
Hello Friends! Thanks so much for stopping by and visiting my blog, Stock Picks Bob's Advice! As always, please rememeber that I am an amateur investor, so please remember to consult with your professional investment advisers prior to making any investment decisions based on information on this website.
On April 15, 2009, my Covestor Growth and Momentum Model (Originally called "Buy and Hold Value") was initiated as one of the first ten models on the Covestor website. Since that time, as of March 20, 2014, the Portfolio has returned an annualized 12.4% and during the past 365 days 20.1% slightly behind the S&P 500's 22.7% return.

Ecolab (ECL) is currently my top gainer in my Growth and Momentum Model on Covestor. It also is a favorite of mine on my blog where I last wrote it up on May 2, 2010, almost 4 years ago. I also commented on Ecolab on February 8, 2009 and previously commented on December 13, 2008. Clearly I like this stock! I like their business, their financial results, and the performance of their stock. Currently in my Covestor model I have an average cost of $66.29. Ecolab (ECL) closed at $110.73 on March 21, 2014, with a gain of $.69 or 0.63% on the day.
According to the Yahoo "Profile" on Ecolab (ECL), the company
"... provides water, hygiene, and energy technologies and services for customers worldwide. The company operates in four segments: Global Industrial, Global Institutional, Global Energy, and Other. The Global Industrial segment provides water treatment and process applications, and cleaning and sanitizing solutions primarily to large industrial customers within the manufacturing, food and beverage processing, chemical, mining and primary metals, power generation, pulp and paper, and commercial laundry industries. The Global Institutional segment offers specialized cleaning and sanitizing products to the foodservice, hospitality, lodging, healthcare, government and education, and retail industries. The Global Energy segment provides the process chemicals and water treatment needs of the petroleum and petrochemical industries in both upstream and downstream applications. The Other segment offers pest elimination, and kitchen repair and maintenance services."
On February 21, 2014, Ecolab reported fourth quarter 2013 results. For the quarter ended December 13, 2013, sales increased 17% to $3.6 billion compared to $3.04 billion in the prior year same period. Operating income for the quarter grew 19% to $471 million from $396 million the prior year. Diluted earnings per share increased 17% to $1.04 on an adjusted basis compared to prior year results of $.89/share. At the same time the company provided strong guidance for 2014 full-year earnings in the $4.10 to $4.20/share range representing a 16-19% increase for the year. Guidance for the first quarter 2014 was also shared and represented a strong 18-25% increase in earnings to the $.70-$.75 range. Overall a very nice report!
Reviewing the "5 years" financials on Morningstar for Ecolab, we can see that revenue has climbed from $5.9 billion in 2009 the $13.3 billion in 2013, Diluted earnings have grown from $1.74/share in 2009 to $3.16/share in 2013. Diluted shares have increased from 240 million in 2009 to 306 million in 2013.
Morningstar reports Total Current Assets of $4.7 billion compared to Total Current Liabilities of $3.5 billion for a calculated current ratio of 1.34. Free cash flow has increased from $398 million in 2009 to $898 million in 2013.
Reviewing some valuation numbers on Yahoo "Key Statistics" for Ecolab, we can see that the company is a large cap stock with a market capitalization of $33.3 billion. The trailing P/E is a bit rich at 35.04 but with continued growth expected carries a forward P/E (fye Dec 31, 201) of 22.97 yielding a PEG ratio of 1.85 still a bit rich with my preferred range being 1.0-1.5. Yahoo reports 300.77 million shares outstanding with 271.3 million that float. As of February 28, 2014, there were 2.4 million shares out short yielding a short interest ratio of 2.0 (below my own arbitrary 3 day rule for significance.)
Ecolab pays a forward annual dividend rate of $1.10 yielding 1.00%. (This is an increase from the trailing dividend of $1.01). The company has a payout ratio of 31% suggesting room for future dividend increases. The last stock split was a 2:1 split back on June 9, 2003.
Technically, Ecolab has a beautiful chart as this Point & Figure chart from StockCharts.com demonstrates. From $28 a share in March, 2009, the stock has steadily climbed to its current lofty level of $110.73. If anything the stock has gotten a little ahead of itself but with continued strong earnings reports, I suspect this chart can be sustained.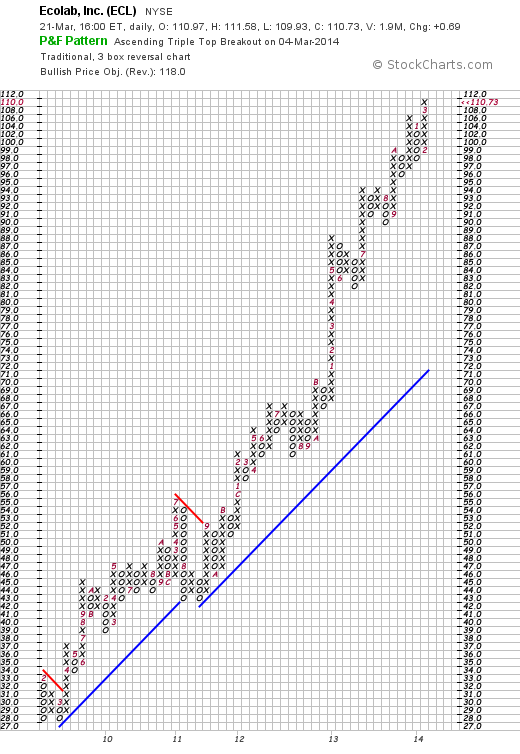 In summary, Ecolab (ECL) has been a stock that has caught my attention here on this blog in the past. I do own shares of this stock in my Covestor Growth and Momentum Model where it has performed the strongest of my holdings.
They recently reported strong earnings, guided to a strong first quarter and year 2014, and have a terrific chart. They are a bit richly priced with a P/E in the mid 30's and a PEG just over 1.5. However the consistent financial results appear to be well worth the premium. I like the service industry that Ecolab finds itself where it is a bit of a competitor to another favorite of mine Sysco (SYY) which I shall need to revisit at another time!
To summarize Ecolab helps business clean things and this investor has been cleaning up with Ecolab.
If you have any comments or questions, please feel free to leave them here.
Yours in investing,
Bob