December 19, 2004 C R Bard (BCR)
Hello Friends! Thanks so much for stopping by my blog,
Stock Picks Bob's Advice
. As always, please remember that I am an amateur investor, not a certified investment advisor, so please consult with your professional investment advisors prior to making any decisions based on information on this website. As alway, remember that I cannot be responsible for your losses nor do I want to take credit for any of your gains. If you have any questions or comments, please feel free to email me at bobsadviceforstocks@lycos.com or leave them right here on the blog!
Earlier this week I intended to post C R Bard (BCR) here on Stock Picks, and quite frankly I never got around to it! It had a nice day with a big jump in price on Thursday, when it made the list of top % gainers and got my attention: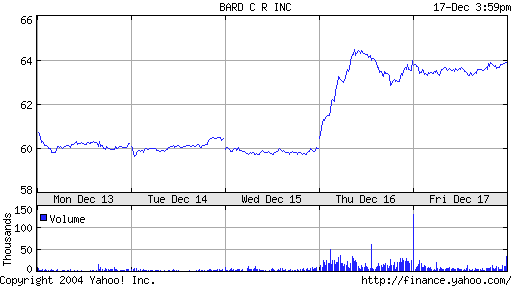 Now in retrospect, interestingly, the stock not only made a nice move higher, it has held onto that gain showing how strong that price move really was!

BCR closed on Friday, December 17, 2004, at $63.90, down $(.09) or (.14)% on the day. According to the Yahoo "Profile", C.R.Bard "...is engaged in the design, manufacture, packaging, distribution and sale of medical surgical, diagnostic and patient care devices." I do not own any shares nor do I have any options or leveraged positions in this stock.

What drove the stock higher Thursday was a report released on Wednesday 12/15/04, after the close, that the company saw 2005 earnings growth of at least 14%. In addition, the company predicted revenue growth of 10 to 11% adjusted for currency exchange rates. The company also suggested that the next quarter's results of $.61, in line with consensus, was reaffirmed except that if it missed the target it "will be because profits exceeded the estimate." This comment is a way of raising guidance, almost always bullish for a stock price!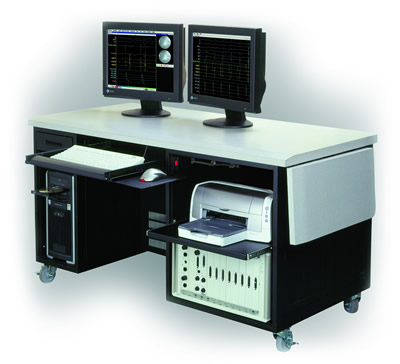 How about the latest quarter's results? On October 19, 2004, BCR reported 3rd quarter 2004 results. Net sales came in at $421.9 million for the quarter ended September 30, 2004, up 17% over the prior year's net sales of $361.8 million. (Adjusting for currency exchange rates, this still came in for a 15% increase in net sales!). Net income was $102.4 million and diluted earnings came in at $.95, up 99% and 94% respectively over the prior year. Excluding one time items, net income and diluted eps still came in at a gain of 33% and 31% respectively compared to the same quarter in 2003. These were very strong results!

How about 'longer-term'? Taking a look at the Morningstar.com "5-Yr Restated" financials, we can see the steady revenue growth from $1.04 billion in 1999 to $1.61 billion in the trailing twelve months (TTM).

Earnings during this period have been steadily, if not perfectly, growing from $1.14/share in 1999 to $2.37/share in the trailing twelve months. Dividends (!) have also been steadily increasing with small increases each and every year since 1999 when the dividend was $.39/share, to the TTM when it was reported on Morningstar at $.47/share.

Free cash flow, while not increasing, has been strong at $230 million in 2001, holding at $205 million in the TTM. The balance sheet is also quite solid with $485.2 million in cash and $485.4 million in other current assets, plenty to cover both the current liabilities of $375.8 million AND pay off all of the long-term liabilities of $258.5 million and still have current assets left over!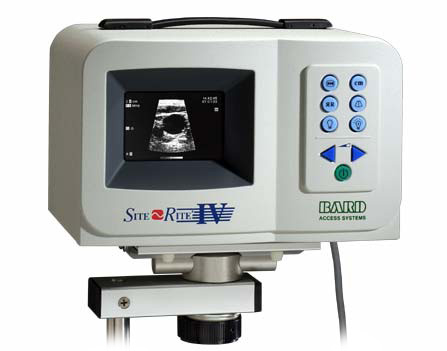 What about 'valuation' questions? Looking at "Key Statistics" on Yahoo, we can see that this is a large cap stock (over $3 billion market cap) with a market cap of $6.69 billion. The trailing p/e is moderate at 26.97 with a forward p/e (fye 31-Dec-05) of 22.82. The PEG also suggests a slight premium for this stock at 1.76. It doesn't look like we are the first to discover this company!

Yahoo reports 104.65 million shares outstanding with 101.7 million that float. Currently, as of 11/8/04, there are 1.41 million shares out short, which although sounding like a large number, actually only represents 1.38% of the float or 2.023 trading days to cover. So it isn't a big deal imho.

As I noted earlier, the company currently has a dividend of $.48/share yielding 0.75%. The company also recently (6/1/04) split their stock 2:1.

How about 'technicals'? If we take a look at a Point & Figure Chart on C.R.Bard, we can see the very strong price performance on this company. Trading sideways between March, 1999, and August, 2003, at around the $30.00 range, the stock has exploded to the upside to the $64 range. If anything, the stock may be a bit over-valued and the price ahead of itself...but I usually do not try to outsmart the graph. Thus, the stock chart, at least at this time, looks very strong!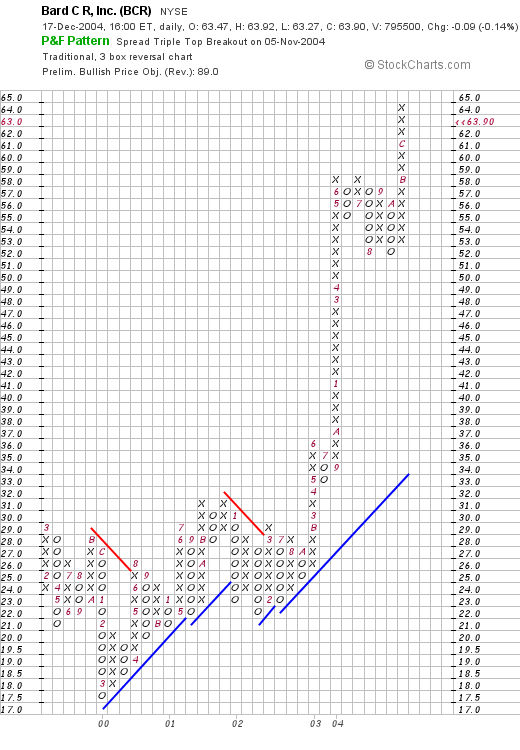 So what do I think? Well the latest earnings report was very strong. They raised guidance, the past five years have been solid with steady free cash flow generated and the balance sheet is excellent. The valuation is a bit steep and the stock chart might be a bit over-extended. Otherwise I love this stock. Unfortunately, I don't have any available cash to buy any shares....and am waiting, in any case, for a buy signal with my own portfolio.

Until then, I shall sit on my hands and not buy anything! Thanks again for stopping by and visiting! If you have any questions, comments, or words of encouragement, please feel free to email me at bobsadviceforstocks@lycos.com .

Bob