Tile Shop Holdings, Inc. (TTS)
Hello Friends! Thanks so much for stopping by and visiting my blog, Stock Picks Bob's Advice! As always, please remember that I am an amateur investor, so please remember to consult with your professional investment advisors prior to making any investment decisions based on this website.

Last week I purchased shares of Tile Shop Holdings, Inc. (TTS) in my Covestor Growth and Momentum model. The shares were acquired on June 6, 2013, at a cost of $27.12/share. TTS closed at $28.78 on June 7th, 2013, for a gain of $1.66 or 6.12% on the day.
The Tile Shop appears to be benefiting from the housing rebound and the recent news of a rebound in the price of housing in the United States. A similar argument could made for Lumber Liquidators (LL) that I reviewed here previously and is a strong performer in my Covestor Growth and Momentum Model already. This same housing rebound is driving other stocks like Home Depot to all-time highs.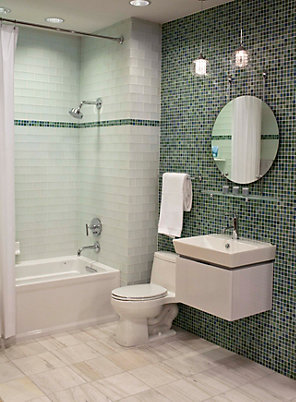 According to the Yahoo Profile on Tile Shop Holdings, the company
"...operates as a specialty retailer of manufactured and natural stone tiles, setting and maintenance materials, and related accessories in the United States. It offers floor, wall, natural stone, ceramic, porcelain, glass, and metal tile products; tile patterns; basins; fixtures; listellos/borders; and profiles. The company also provides installation products consisting of heated floors, shower pans, tile threshold and edging products, sealants and caulks, tile maintenance and cleaning products, adhesives, substrates, and recessed shelves, as well as installation, cutting, and grout tools; and care and maintenance products. As of January 2, 2013, it operated 68 stores in 21 states."
On May 1, 2013, The Tile Shop (TTS) reported 1st quarter 2013 results. Net sales increased 23.9% to $56.8 million for the quarter ended March 31, 2013 up from $45.9 million in sales for the same quarter the prior year. Importantly, comparable store sales grew 10.4%, and sales in new stores added $6.2 million. Adjusted EBITDA grew 17.9% to $16.4 million, up from $13.9 million the prior year. However, going forward analysts have decreased their estimates for the next quarter to a profit of $.15 from $.16 and for the year estimates have dropped to $.51/share from $.55/share previously estimated.
Reviewing the Morningstar.com Financials on TTS, we can see that the data is limited as the company went public in 2012.The Tile Shop is not a new outfit as it dates back to 1985 when it opened its first shop in Rochester, Minnesota. In 1992, the company expanded outside of Minnesota and has continued to add stores and expand its business territory since.
The Morningstar report shows that the company increased its revenue from $183 million in 2012 to $194 million in the trailing twelve months (TTM). Earnings have actually decreased as the company is still losing money with $(1.31) reported in 2012, and $(2.61) reported in the TTM. The company has increased its float from 6 million shares in 2010 to 36 million in 2012 and 39 million in the TTM.
In terms of the Morningstar-reported balance sheet for TTS, the company has $72 million in total current assets and $36 million in total current liabilities yielding a current ratio of 2.0. The company is generating postive free cash flow as reported by Morningstar, with $18 million reported in 2012 and $12 million in the TTM.
In terms of some valuation numbers, referring to the Key Statistics on Yahoo for Tile Shop Holdings (TTS), Tile Shop Holdings is a small cap stock with a market capitalization of $1.53 billion. With a trailing loss, there is no P/E ratio, but going forward the PEG ratio (5 yr expected) is a bit rich at 2.26. There are 53.13 million shares outstanding with 20.35 million that float. As of May 15, 2013, there were 421,830 shares out short yielding a short interest ratio of 2.20. (This is below my own arbitrary 3 day rule for significance.) No dividends are paid and no stock splits are reported by Yahoo.
Looking at the 'point and figure' chart on Tile Shop Holdings (TTS) from StockCharts.com we can see a very strong but limited chart.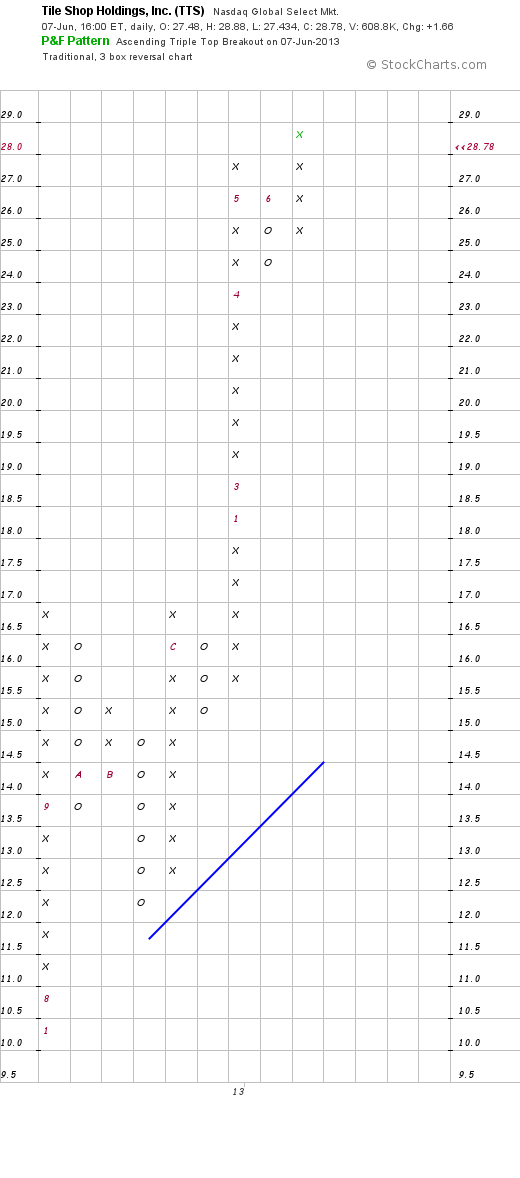 Reviewing some of the recent analyses on Tile Shop Holdings, Motley Fool published a nice article on this company's ability to play 'America's Housing Boom'. Josh Arnold also wrote a nice review of The Tile Shop on Seeking Alpha.
To summarize, I am a recent purchaser of Tile Shop Holdings (TTS) stock in my Covestor Growth and Momentum Model. This is a very small company that is growing quickly and participating in the rebound of real estate, especially housing in this country. This strategy has worked well with my purchase of Lumber Liquidators (LL) which also is involved in flooring but hardwood floors rather than tile sales. In general, I am a big advocate of identifying retail concepts that can be 'rolled out' from a small base to a larger number of stores in a broader geographic area. The fact that TTS has done so this past year with strong (10%+) same-store-sales growth is very encouraging.
On the negative side, the company is still losing money and even going five years out, the current valuation is a bit rich as estimated by the PEG ratio reported.
With the very strong chart and technical strength and with a 'story' that is quite compelling, I added a position to my own holdings and am optimistic that this will prove to be a good move. Like any of my purchases, if the stock incurs a loss, I shall be quick to part company regardless of my belief in the long-term outlook.
Thank you so much for stopping by and visiting. If you have any comments or questions, please feel free to leave them right here.
Yours in investing,
Bob