"Weekend Trading Portfolio Analysis" ResMed (RMD)
CLICK HERE FOR MY PODCAST ON RESMED!

Hello Friends! Thanks so much for stopping by and visiting my blog, Stock Picks Bob's Advice! As always, please remember that I am an amateur investor, so please remember to consult with your professional investment advisors prior to making any investment decisions based on information on this website.
One of the things I like to do on this blog is to share with you both ideas about investments that I am reviewing (my "stock picks") as well as let you know about the actual transactions I make (my "trading transparency"). A year or so ago, I thought I would add a regular review of stocks that I actually own...what I call my "Trading Portfolio". With only 11 positions, out of my maximum of 25 positions possible, I have been reviewing positions, going alphabetically, about every other week. Two weeks ago I reviewed Quality Systems (QSII). My next holding is ResMed (RMD).

I currently own 150 shares of ResMed in my Trading Portfolio. RMD closed at $40.80 on September 8, 2006. These shares were purchased on 2/4/05, with a cost basis of $29.87. Thus I have an unrealized gain of $10.93 or 36.6% on these shares.
I have sold shares of ResMed twice since the original purchase. One portion at a 30% appreciation, and another at a 60% appreciation level. Thus, on the upside, I shall be selling approximately 1/6th of my position if the stock should reach a 90% appreciation at a price of 1.90 x $29.87 = $56.75. On the downside, the sale of all of my remaining shares would be at 50% of the highest sale point (my personal strategy) or at a 30% gain level (since the highest sale was at a 60% sale). Or all shares would be sold at 1.30 x $29.87 = $38.83. With ResMed pulling back from the latest sale, I am closer to a sale at the 30% level than a sale at a 90% appreciation target.
Let's take another look at this firm and see if it still deserves a spot on this website.
1. What does this company actually do?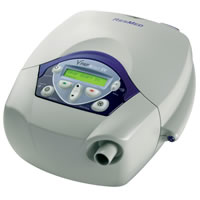 According to the Yahoo "Profile" on ResMed (RMD), the company
"... through its subsidiaries, engages in the design, manufacture, and marketing of equipment for the diagnosis and treatment of sleep-disordered breathing and other respiratory disorders, including obstructive sleep apnea. Its products include airflow generators; diagnostic products; mask systems; headgear; and other accessories, including humidifiers, cold passover humidifiers, carry bags, breathing circuits, Twister remote, the Aero-Click connection system, and the AeroFix headgear."
2. How did the company do in the latest quarter?
On August 17, 2006, ResMed reported their 4th quarter 2006 results. For the quarter ended June 30, 2006, revenue grew 36% to $171.2 million, up from $125.4 million the prior year same period. Diluted eps came in at $.30, up from $.22/share last year. Net income was $23.1 million, up sharply from $15.6 million in the same period the prior year.
3. How about longer-term results?
Reviewing the Morningstar.com "5-Yr Restated" financials, we see a genuinely beautiful picture of steadily increasing revenue as represented by the increasing purple bars on the bar graph. Revenue has increased from $155.2 million in 2001 to $425.5 million in 2005 and $561.2 million in the trailing twelve months (TTM).

On a per-share basis, the company has reported earnings/share of $.18 in 2001, growing steadily and strongly to $.91/share in 2005 and $1.09/share in the TTM.

The company has not paid dividends and has increased the number of shares outstanding slightly from 63 million in 2001 to 69 million in 2005. 75 million shares were outstanding in the TTM. Thus, the float has grown about 16% from 2001 to currently, while revenue has almost gone up 400% and earnings are up more than 400% as well.

Free cash flow has been positive except for the latest twelve months. $34 million in free cash flow in 2003, $19 million in 2004, $31 million in 2005, and $(8) million in the TTM. The negative free cash flow reflects the large increase in capital spending in the latest twelve months.

ResMed's balance sheet looks solid as presented on Morningstar.com with $168.2 million in cash and $264.5 million in other current assets. Thus, the total current assets of $432.7 million when compared to the $110.5 million in current liabilities yields a current ratio of 3.92. (I generally conclude that ratios over 1.5 represent a healthy balance sheet from this particular perspective). The current assets can easily pay off the current assets and the $114.3 million in long-term liabilities combined....again supporting the healthy balance sheet of this company.
4. What about some valuation numbers on this stock?
Reviewing the data from Yahoo "Key Statistics" on RMD we find that this stock is a large mid-cap stock with a market capitalization of $3.08 billion. The trailing p/e is a fully-valued 35.02, with a foward p/e (fye 30-Jun-08) of 20.82. The (5-yr expected) PEG is a more reasonable 1.24.

Referring to the Fidelity.com eresearch website, we find that this stock is in the "Medical Appliances/Equipment" industrial group. Within this group, ResMed is the most 'expensive' relative to the Price/Sales ratio with a ratio of 5.6. Following RMD is Zimmer Holdings (ZMH) at 5, Medtronic (MDT) at 4.7, St. Jude (STJ) at 4.5, Biomet (BMET) at 4, and Edward Lifesciences (EW) at 3.

Examining the company for profitability, in terms of the Return on Equity (ROE), ResMed is actually one of the least profitable in its group with a ROE of 14.8%. Topping this group is Medtronic at 26.8%, followed by Biomet at 25%, Edwards Lifesciences at 16.6%, Zimmeer Holdings at 16.3%, St. Jude at 15.8% and then ResMed at the bottom of this group.

Yahoo reports that there are 75.41 million shares outstanding with 73.03 million shares that float. Currently 2.93 million shares are out short representing 4.10% of the float or 5.9 trading days of average volume. Using my own 3 day rule for the short ratio, this stock does appear to have a significant number of shares that have been already sold by short-sellers speculating that the stock will decline. In the event of good news we may see a bit of a squeeze of these short-sellers.

No dividend is paid and the last stock split was a 2:1 stock split on October 3, 2005.
5. What does the chart look like?
Reviewing the "Point & Figure" chart on RMD from StockCharts.com, we can see that although the stock has pulled back recently from its highs near $48, the stock is still well above its support level which would be down in the mid $30's. The stock did retreat from $30 in October, 2001, to a low of $13 in June, 2002, but since that time, the stock appears to be moving strongly higher.

6. Summary: What do I think about this stock?
Reviewing some of the things discussed earlier, the company is trading currently a little below its recent highs. The latest quarterly report was quite strong, with both steady revenue and earnings growth. The Morningstar numbers look nice with steady revenue and earnings growth over the past five years with just a slight increase in the stock shares outstanding. Free cash flow was negative in the TTM, but otherwise has been positive. The balance sheet is solid. Valuation is a bit rich, but with the rapid growth in revenue and earnings, the PEG works out to a bit over 1.2. Price/Sales is rather rich, and the profitability (ROE) is less than stellar. Supporting the stock price, ironically, may be the relative large number of short-sellers placing bets on the stock. On a Peter Lynch perspective, the market for CPAP machines may continue to grow as the number of overweight individuals grows worldwide and our understanding of sleep apnea improves. I shall be staying with the stock and shall be selling based on the price performance of the shares.
Thanks so much for stopping by and visiting! If you have any comments or questions, please feel free to email me at bobsadviceforstocks@lycos.com and also please be sure to stop by and visit my Stock Picks Podcast Site.
Bob
Posted by bobsadviceforstocks at 6:41 PM CDT |
Post Comment
|
Permalink
Updated: Saturday, 9 September 2006 11:31 PM CDT