June 23, 2004 NVE Corp (NVEC)
Hello Friends! The market started out sloppy and grew stronger into the close. I don't know the significance of that but it sounds optimistic to me! Anyhow, if this is your first time on the blog, welcome to my world! If you are a returning visitor, well THANKS for coming back...and be sure to return often. As you probably know, I am an AMATEUR investor, so PLEASE do your own investigation of all stocks discussed on this blog and PLEASE discuss all ideas with your own PROFESSIONAL financial advisors!
Well I was scanning the lists of % gainers today, and I came across NVE Corporation (NVEC)...which I could almost have sworn I had listed here once already....you know I am NOT sure how many stocks I have reviewed on this blog...but it is a load of 'em! NVEC had a nice day today, closing at $36.61, up $2.36 or 6.89%. It had traded as high as $40.64 during the day...so it actually traded off its highs into the close.
According to the Yahoo profile, NVEC "...develops and sells devices using spintronics, a nonotechnology the Company helped pioneer, which utilizes electron spin rather than electron charge to acquire, store and transmit information." Yahoo goes on to point out that "NVE is a licensor of spintronic magnetic random access memory technology (MRAM)." Pertinently, NVEC
announced yesterday
that the U.S. Patent and Trademark Office issued the company a patent "for an innovative type of MRAM." According to the news report, "The invention therefore has the potential to significantly reduce MRAM write currents...." and "...could enable MRAM cell densities comparable to those of DRAM or Flash." PLEASE do not ask me to explain the difference between MRAM and DRAM....heck I can barely PRONOUNCE those words...but this memory thing was something the 'street' liked and the stock has reacted positively.
Looking for the latest quarterly report, I found that NVEC
reported 4th quarter 2004 results
on April 28, 2004. Revenue for the fourth quarter ended March 31, 2004, came in at $3.21 million, an increase of 23% over last year's $2.6 million in the same quarter. Net income came in at $789,670 or $.16/diluted share compared with last year's $160,164 or $.04/diluted share.
Looking longer-term at the
"5-Yr Restated" financials
on Morningstar.com, we see that revenue growth has been a bit erratic, increasing from $5.5 million in 1999 to $11.4 million in the trailing twelve months. Earnings have been all over the place but dropped to a loss of $(.60)/share in 2002, and have increased steadily since then with $.33/share reported in the TTM (trailing twelve months).
Free cash flow which was $0 in 2001 $(1) million in 2002, $0 in 2003, turned back positive to $1 million in TTM.
The balance sheet looks just fine with $6.7 million in cash and $2.5 million in other current assets as compared to $1.6 million in current liabilities and only $.1 million in long-term liabilities per Morningstar.
What about 'valuation'? Looking at
"Key Statistics" on Yahoo
we can see that this really IS a NANO company with a market cap of just $164.53 million. The trailing p/e is at 82.64...and Yahoo has a forward p/e of 0...so I am not sure what THAT means....there is no PEG...when we get to tiny companies, there just aren't enough analysts that follow them...needless to say, with the rapid growth, the PEG can't be as bad as the P/E!
Yahoo reports only 4.49 million shares outstanding with 2.10 million of them that float. I personally do NOT own any shares of this issue...there are apparently 1.60 million shares out short as of 5/10/04...representing 76.14% of the float (!)....but the volume of shares traded is only 2.178 days....so I guess the trading volume is rather good for a stock of such limited float (?).
No cash dividend is paid...and in November, 2002, this company actually did a REVERSE 1:5 split.
What about 'technicals'?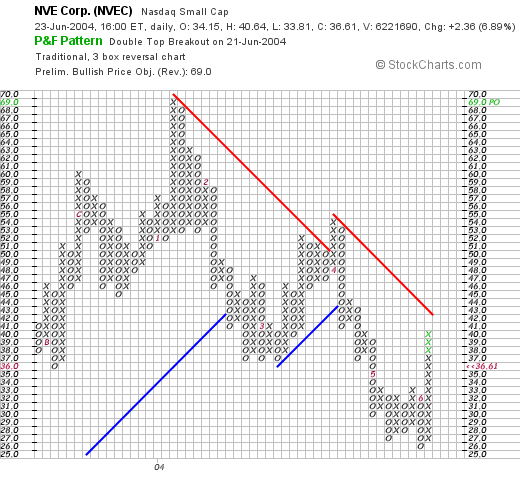 This company actually peaked out at about $69/share in January, 2004, and has traded lower fairly steadily since then. Recently, with the current rise especially, it is challenging a resistance level at about $41. Would like to see it break through that area...to suggest it had reversed the downward spiral. Certainly, the stock is not at this time ahead of itself or technically extended like a lot of stocks we examine.

What do I think? This is a fascinating stock and if you like the idea of a NANO company....well then this might be the ticket. The recent revenue and earnings growth looks nice, the free cash flow and balance sheet looks terrific....but I cannot tell much about valuation...and I am a little concerned about the technicals. Besides, I personally DO NOT HAVE ANY MONEY lol.

Thanks so much for stopping by! If you have any comments or questions, please feel free to email me at bobsadviceforstocks@lycos.com

Bob
Posted by bobsadviceforstocks at 11:25 AM CDT |
Post Comment
|
Permalink
Updated: Wednesday, 23 June 2004 6:19 PM CDT