Microsoft (MSFT) "Trading Transparency"
Hello Friends! Thanks so much for stopping by and visiting my blog, Stock Picks Bob's Advice! As always, please remember that I am an amateur investor, so please remember to consult with your professional investment advisers prior to making any investment deciisons based on information on this website.

This morning Microsoft announed 2nd quarter 2009 results.
As was reported:
"Microsoft Corp. today announced revenue of $16.63 billion for the second quarter ended Dec. 31, 2008, a 2% increase over the same period of the prior year. Operating income, net income and diluted earnings per share for the quarter were $5.94 billion, $4.17 billion and $0.47, declines of 8%, 11% and 6%, respectively, compared with the prior year."
In light of deteriorating economic conditions Microsoft (MSFT) announced first-ever job cuts:
"In light of the further deterioration of global economic conditions, Microsoft announced additional steps to manage costs, including the reduction of headcount-related expenses, vendors and contingent staff, facilities, capital expenditures and marketing. As part of this plan, Microsoft will eliminate up to 5,000 jobs in R&D, marketing, sales, finance, legal, HR, and IT over the next 18 months, including 1,400 jobs today."
The news spooked the street over-riding the good earnings report from AAPL. The Dow closed down 105.30 today at 8,123 and the Nasdaq was off 41.56 at 1,465.
MSFT closed at $17.12 today, down $(2.26) or (11.66)% on the day.
It all seemed overdone. MSFT is already down from its 52 week high of $35.00. It is currently trading with a trailing p/e of 9.01 and has a dividend yield of 3.04%. The report wasn't great, but the company doesn't seem to be going out of business.
If we check the "5-Yr Restated" financials from Morningstar, we can see that Microsoft has grown its revenue from $36.8 billion in 2004 to $60.4 billion in 2008 and $61.7 billion in the trailing twelve months.
Earnings--up to the latest quarter--have increased from $.75/share in 2004 to $1.87/share in 2008 and $1.89/share in the TTM. Dividends were $.16/share in 2004 and increased to $.44/share in 2008 and $.46/share in the TTM.
Meanwhile outstanding shares have decreased from 10.89 billion in 2004 to 9.47 billion in 2008 and 9.39 billion in the TTM.
Free cash flow is particularly impressive with the company reporting $12.8 billion in free cash flow in 2006 increasing to $18.4 billion in 2008 decreasing slightly to $15.7 billion in the TTM. The balance sheet is solid with $9 billion in cash and $28 billion in other current assets. This is compared to the $24.4 billion in current liabilities and the $7.1 billion in long-term liabilities. The current ratio is approximately 1.5.
If we look at a Microsoft chart from Yahoo, we can see that the stock has now plunged to its lowest level since about 1997.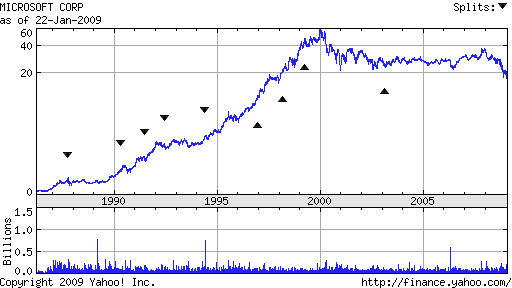 The price decline really seemed overdone. Maybe I am crazy, but I decided to buck the tide with a purchase of Microsoft (MSFT) shares. I don't think this one is going out of business!
I purchased 1,000 shares of Microsoft (MSFT) at $17.69. I certainly didn't catch the bottom today because the stock went lower and closed at $17.11 on the day, down $(2.27) or (11.71)%.
This was certainly out of my usual trading strategy. I am not abandoning that strategy but from time to time I have chosen to purchase lots of shares that just seemed to have a compelling story. I could be wrong, but I think this is one of those times! Wish me luck!
Yours in investing,
Bob