Genesco (GCO) Weekend Trading Portfolio Analysis
Click ***HERE*** For my Podcast on GENESCO

Hello Friends! Thanks so much for stopping by and visiting my blog,
Stock Picks Bob's Advice
. As always, please remember that I am an amateur investor, so please remember to consult with your professional investment advisors prior to making any investment decisions based on information on this website.
This past year, I have started reviewing the actual stocks in my own trading portfolio. I do this out of wishing to provide you with an understanding of what I actually do with stocks in practice. Not just theory. I select stocks from the universe of stocks discussed on this blog, and follow the trading rules that I have advocated here on this website. With 21 stocks in my trading portfolio, of a maximum of 25 positions, it would take me a little over 5 months if I review one stock weekly. Not liking to 'over-plug' my own holdings, I am going to try to do these review every other week, so that it will take me about a year to get back to the same stock assuming I still own it, as I review each of my holdings.
Two weeks ago, I
reviewed Cytyc (CYTC) on Stock Picks Bob's Advice
. Going alphabetically through my holdings, I am up to Genesco (GCO).
I currently own 200 shares of Genesco (GCO) which were acquired almost a year ago, on May 26, 2005, with a cost basis of $34.40/share. I have not sold any shares of my original purchase. GCO closed at $38.83 on 3/24/06 for a gain of $4.43 since my purchase or 12.9%. My trading goals include selling portions of holdings at pre-set appreciation targets. My first targeted sale would be for 1/6th of my holding (200/6 = 33 shares) if the stock should appreciate to a 30% gain (1.30 x $34.40 = $44.72). On the downside, not having sold any shares yet, my sale of all of my shares would occur if the stock should drop to an 8% loss from my purchas (.92 x $34.40 = $31.65).
I fist
discussed Genesco (GCO) on Stock Picks Bob's Advice
on November 18, 2004, when it was trading at $28.35. I also performed my first
"Weekend Trading Portfolio Analysis" on Genesco
on October 30, 2005, when it was trading at $35.85.
Let's take another look at this stock and see if it still fits into my investment strategy.
First, a description of the business. According to the
Yahoo "Profile" on Genesco (GCO)
, the company:
"...ngages in the design, marketing, and distribution of footwear, headwear, and accessories. The company distributes footwear under its own Johnston & Murphy brand and under the licensed Dockers brand to retail accounts, including various department, discount, and specialty stores. It operates through five segments: Journeys, Underground Station Group, Hat World, Johnston & Murphy, and Dockers Footwear."
And what of the latest quarterly result?
On March 2, 2006, Genesco
reported 4th quarter 2006 results
. For the fourth quarter ended January 28, 2006, net sales increased 15% to $406 million from $353 million in the same quarter in fiscal year 2005. Earnings came in at $31.2 million or $1.15/diluted share, up from $25.4 million, or $.97/diluted share the prior year. These results are "before discontinued operations".
And how about a longer-term view?
Reviewing the latest
Morningstar.com "5-Yr Restated" financials
, we can see the very steady revenue growth from $700 million in 2001 to $1.1 billion in 2005 and $1.2 billion in the trailing twelve months (TTM).
Earnings have been a little erratic, increasing from $1.21 in 2001 to $1.46 in 2003, then dropping to $1.20 in 2004, but rebounding to $1.91/share in 2005 and $2.21 in the TTM. The shares outstanding has been very stable with 22 million in 2001, 22 million in 2005 and 23 million in the TTM.
Free cash flow has grown nicely from $6 million in 2003 to $60 million in 2005 and $44 million in the TTM.
The balance sheet looks solid with $33.4 million in cash and $341.5 million in other current assets, which, when compared with the $178.7 million in current liabilities, yields a current ratio of just over 2.0. Generally anything over 1.5 is 'healthy' imho.
The combined current assets is almost enough to pay off both the $178.7 million in current liabilities and the $232 million in long-term liabilities combined.
How about some statistics on this stock?
Reviewing
Yahoo "Key Statistics" on GCO
, we can see that this is a mid-cap stock with a market capitalization of $888.0 million. The trailing p/e is a very reasonable 16.96, with a forward p/e (fye 28-Jan-08) estimated at 13.16. The (5 yr expected) PEG comes in at a very reasonable level of 1.1.
According to the
Fidelity.com eresearch website
, Genesco has a very reasonable Price/Sales ratio of .9. Within its industrial group of "Apparel Stores" topping the group is Chico's (CHS) (that I just reviewed in the previous note) with a Price/Sales ratio of 5.3. This is followed by American Eagle (AEOS) at 2.0 and Abercrombie & Fitch (ANF) at 2.0), Pacific Sunwear (PSUN) at 1.2, Limited (LTD) at 1.0, and Genesco (GCO) at the bottom of the list, implying the best value, with a Price/Sales ratio of 0.9 as noted.
Yahoo reports only 22.87 million shares outstanding with 22.40 million that float. As of 3/10/06, there were 839,060 shares out short representing 3.8% of the float or 3 trading days of average volume (the short ratio).
No dividend is paid.
What about a chart?
Since I have reviewed this stock before, let's take a look at a few of the past charts I have posted.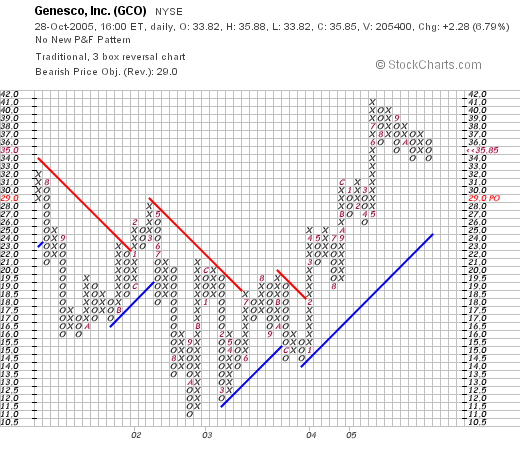 This was the StockCharts.com chart I posted 10/28/05.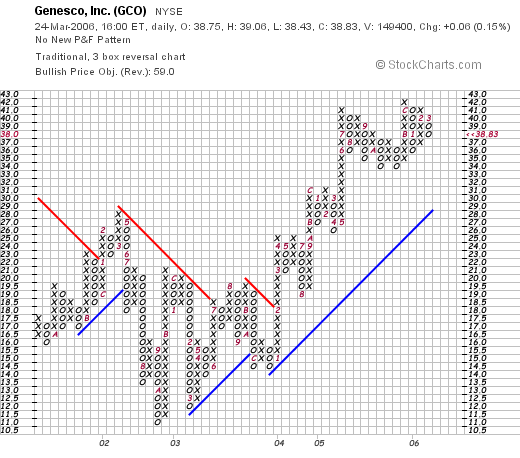 And this is the latest chart from StockCharts.com from 3/24/06.

You can see the chart, which had some weakness between March, 2002, when it was trading at $29, until October, 2002, when the stock dropped as low as $11, has been behaving steadily better since and continues to move higher. The chart looks fine to me.

So what do I think? I am happy to have this stock in my portfolio. It represents a company showing steady growth with reasonable valuationa and a nice chart 'to boot!'.

Thanks so much for visiting my blog! If you have any comments or questions, please feel free to email me at bobsadviceforstocks@lycos.com or leave your comment right on the blog.

Bob


Posted by bobsadviceforstocks at 10:45 AM CST |
Post Comment
|
Permalink
Updated: Sunday, 26 March 2006 11:55 AM CST