December 30, 2004 Dialysis Corporation of America (DCAI)
Hello Friends! Thanks for stopping by and visiting my blog,
Stock Picks Bob's Advice
. As always, please remember that I am an amateur investor, so please consult with your professional investment advisors prior to using any information on this website. I cannot be responsible for any of your losses that you may experience using any such information, nor shall I attempt to take credit for any of your gains. If you have any questions or comments, please feel free to email me at bobsadviceforstocks@lycos.com . By the way, I hope all of you have a very happy, healthy, safe, and profitable 2005!
Since so many of you who stop by here are new to what I do, I will try to review some of the techniques to find what I would call "stocks of interest". For me personally, it is from these stocks that I have been forming my portfolio. Again, what you do with these stocks should be first to discuss them with your own advisors to determine if they are appropriate, timely, and likely to be profitable for you!
It has been my experience that stocks that are making strong moves on any particular day may be among those stocks that may turn out to be good investments. Thus, I like to scan the
NASDAQ list of top % gainers
. In this case, I found Dialysis Corporation of America (DCAI) on the NASDAQ list. Due to my own constraints of selling at 8% losses to prevent losses from growing too large, I have found that stocks under $10 are far too volatile for me and I prefer to avoid these issues. DCAI made the list today with a strong gain of $1.75 (or 10.02%) to close at $19.21. I do NOT own any shares of DCAI as I write this issue. (Since my last portfolio transaction was a sale of a portion of COH at a gain, I am "eligible" to add a position and certainly will be looking at DCAI in the future.)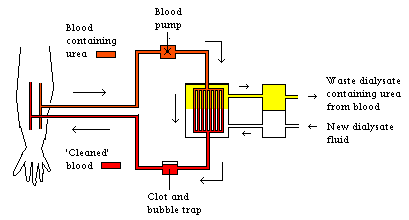 My first "screening" step after finding a stock is to look at the latest quarter. I am not very "picky" but do insist that the latest quarter show both revenue growth and earnings growth. For this information, I generally turn to Yahoo finance which is a nice place for researching recent quarterly results.
On November 15, 2004, DCAI
reported 3rd quarter 2004 results
. First on the question of revenue, for the quarter ended September 30, 2004, revenue came in at $11.0 million compared with $7.6 million the prior year. Second, earnings: net income came in at $776,000 or $.09/diluted share, compared with $308,000 or $.04/diluted share the prior year. On both counts, DCAI passes my "test".
My next step is to look a little deeper on the quality of this company. What do I mean by that? For me, quality is about consistency of growth. I am looking for those companies, boring as it may sound, that have been consistently growing earnings and revenue over several years. It is my hope, that this earnings and revenue "momentum" as you might call it, will persist.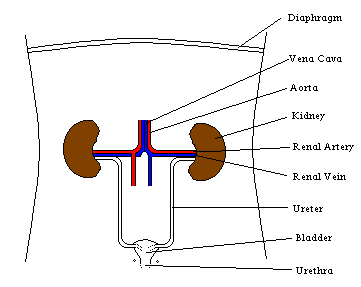 A good friend of mine introduced me to the Morningstar.com site, and I would encourage you to get familiar, and even consider subscribing if you are so oriented. I have found much of the free material adequate for my basic needs. Looking at the
"5-Yr Restated" financials
from Morningstar.com on DCAI, we can see a very pretty picture of revenue growth from $5.9 million in 1999 to $37.5 million in the trailing twelve months (TTM).
How about earnings? This has grown almost linearly (except for a dip between 2002 and 2003) from a loss of $(.10)/share to $.22/share in the TTM.
I have also been looking at free cash flow. As noted on the chart, this is the difference between "Operating Cash Flow" and "Capital Spending." Not being an accountant, I am afraid I am not qualified to expound on free cash flow, but in my simple understanding, this amounts to the actual cash being created or consumed by a corporation. (For another view on free cash flow, I would encourage you to read this
discussion on the Motley Fool site
)
I prefer to see positive free cash flow, but certainly, "break-even" is preferable to negative cash flow. In DCAI's case, free cash flow, as reported on Morningstar, was $(1) million in 2001, $1 million in 2002, and "0" in 2003 and the TTM. Thus, the company is at this point neither generating nor consuming free cash. (I prefer growth in free cash, but as long as everything else is growing strongly, "0" is acceptable imho.)
How about the balance sheet? (Once again, for a more detailed discussion, I would like to refer you to the
Motley Fool balance sheet basics
.) Basically, assets are dollar amounts that you own, and liabilities are dollar amounts that you owe to others. It doesn't take a genius, imho, to realize that you would rather own dollars than owe them to others! In addition, current vs. long-term, as I understand it, are assets or debts that you own or are owed divided by a twelve month period from the current time. For DCAI, from Morningstar, we can see that this company has $1.5 million in cash, and $10.3 million in other current assets. This is balanced against current liabilities of $9.2 million (with the over $11 million in cash and current assets easily covered) and $3.7 million in future liabilities (debts owed that will come due in a greater than 12 month time frame). Overall, the company appears solvent without additional cash needs at this time imho.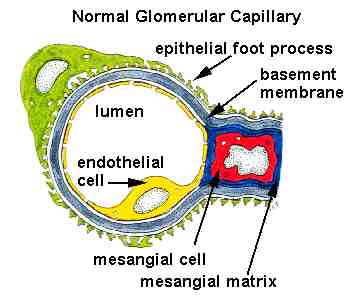 Thus far, I have looked at "momentum" both in terms of earnings and revenue growth, and some "fundamental" views of the soundness of the business venture, that is, 'is this company using or generating cash' and 'what is the balance-sheet like?'. This may sound like a lot of work, but if you follow my steps, I think you can see that with a few seconds of review, this information is easily available and readily understood.
My next step is an assessment of "valuation". For this I once again turn to Yahoo, and in particular for DCAI,
"Key Statistics" from Yahoo on DCAI
. Here we find that this is really a small cap (under $500 million according to the
Ameritrade definitions
with a market "cap" of $163.02 million. (Some people would even refer to this small a company as a "micro cap" stock (See
Investopedia.com
) meaning those companies with capitalization between $50 and $300 million).
The trailing p/e is reported as a 'rich' 87.72, there is no PEG, and the Price/Sales is also a bit rich at 3.97. (imho the PEG and Price/Sales are 'bargains' when they hover near 1.0). So this is no great bargain in terms of value, but with a very fast small company, I do not personally rule out stocks on this basis, but it does give me pause.
There are only 8.49 million shares outstanding and only 6.40 million of them float. There are only 4,000 shares out short representing 0.06% of the float or 0.182 trading days, so this is not a factor imho. No cash dividends are paid, and the stock DID recently split 2:1 in February, 2004.
How about "technicals". This is my simple approach of at least looking at a chart! Personally, I believe that stock price performance is a function of the underlying fundamentals, and do not believe that stock charts determine future price performance. However, it is nice to at least look at a chart to either verify or give you pause about the rest of your assessments!
I have grown to like the "Point & Figure" charting techniques. An explanation of these charts is found on
Stockcharts.com
, where I found this
"Point & Figure" chart on DCAI
: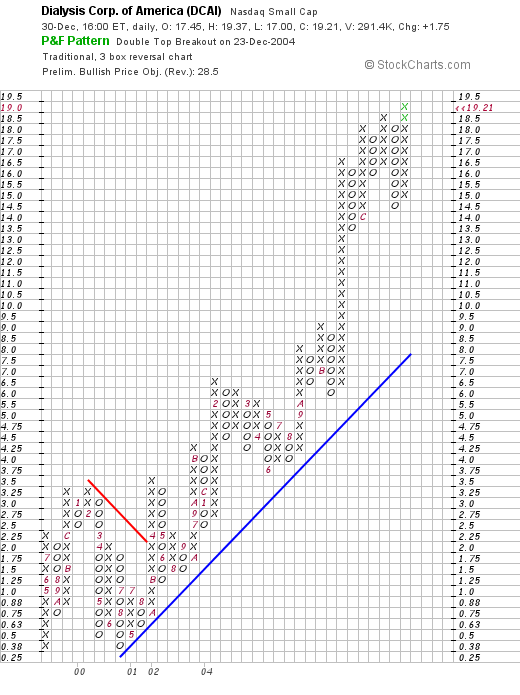 This is my kind of chart with a steadily increasing stock price going back all the way to 2001. It does appear that the stock might be a little ahead of itself, but the strength of the chart, without any sophisticated technical background, for me, is apparent.



So what do I think? Well, let's review, first of all, the stock made a nice move today, the latest quarter was very strong, the five-year growth in revenue and earnings is impressive, the free cash flow is break-even, but the balance sheet is solid. Valuation is a bit rich, with a p/e above 70, the PEG is unknown probably because there aren't any analysts with estimates. So it is attractive as an investment to me, and since I AM in the investment market....well I will have to sleep on this one!

Meanwhile, I wish you and your friends and family, a Happy, Healthy, Safe, and Profitable 2005. Please note my priorities. Profitable is nice, but the rest is so much more important! Thanks again for stopping by, and if you have any questions or comments on what I have written, please feel free to email me at bobsadviceforstocks@lycos.com or comment right here on the blog!

Bob