A Reader Writes "...where do I find the page that has your methods/goals/strategies....?"
Hello Friends! Thanks so much for stopping by and visiting my blog, Stock Picks Bob's Advice! As always please remember that I am an amateur investor, so please remember to consult with your professional investment advisors prior to making any investment decisions based on information on this website.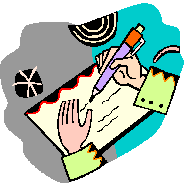 This weekend I received two emails about my strategy. For those of you who have read many of my previous entries, some of what I am going to write may be redundant, but for the rest of you I hope that what I am commenting on here is relevant and may answer some of your own questions.
First of all, Doug D. wrote:
"Bob,

I am a LTL (long time lurker) on Jubak's Refugee site and have seen some of your posts. I went to your site to check it out and it looks pretty good. The question I have is where do I find the page that has your methods/goals/strategies for your stock picking, selling and over all portfolio management. I seem to remember somewhere on the refugee site (a long time ago) you posted it and now I can't seem to find it. Anyway if you could show me where to find it that would be great. Thank you and keep up the good work. Doug"
Then I had one other letter from Keith, who followed up on an earlier question with this email:
"Bob

Have a few more questions for you.

1. How far down the % gainers list do you go to find a stock?

2. If you have a good sell therefore giving you a buy signal...do you buy a new stock immediately or wait for an excellent stock to show up instead of settling for a good one.

3. Have you tracked the % of winners vs losers? I try to tell my group to expect losses. I tell them that you can live with 40% winners if you average 25+% on your winners.

Thanks

Keith"
Instead of pointing you two to other entries in my blog (which I also would have to locate), let me try to answer both of you directly.
Doug, let me try to answer your questions first. My goal for my investments and my portfolio is to develop a way of selecting a group of "quality" investments that will outperform the market. I want to sell my losing stocks quickly and completely and sell my gaining stocks slowly and partially. Furthermore, I want my portfolio to respond automatically to market conditions. That is when my portfolio is doing poorly as evidenced by sales on "bad news" I want to be shifting my investments from equities to cash; conversely, when sales are happening on "good news" I want to expand my exposure to equities from cash. I have set myself up with the holding parameters of a minimum of 6 positions and a maximum of 25. I consider 12 positions to be a "neutral" posture, 6 conservative, and 25 aggressively invested.
First of all on how I screen stocks for my "quality" considerations. I do this manually, and not necessarily every trading day. The stocks that I identify I refer to as my "vocabulary" of my investing language. They are the "words" that will make up my investing world so to speak.
I start with the lists of top % gainers. I generally will examine the NASDAQ list first, then the NYSE and occasionally the AMEX list. Generally, I prefer to pick stocks that are at least or near to $10/share. My screens include looking at the latest quarter results. I insist that both earnings and revenue are growing and profitable. After that I use the Morningstar.com "5-Yr Restated" financials. I want to see at least three years of positive revenue and earnings growth, the company needs to be free cash flow positive, and have a balance sheet with at least as much current assets as current liabilities. (A current ratio of at least 1). I prefer seeing a company with a stable or only slowly-growing number of shares outstanding. In addition, a dividend is a plus to me (although not required) and if the company does pay a dividend, if they can actually be increasing the dividend on some regular basis, I think that's great!
My analysis generally follows up with some basic 'valuation' issues. I don't really rule out too many stocks on this basis. But if I can find reasonable valuation numbers, this enhances my interest in the company. I look at the p/e and PEG...preferring a company with a PEG between 1.0 and 1.5. I check the company's Price/Sales and Return on Equity relative to other companies in the same industrial group. I look at the number of shares outstanding and the short interest, enjoying the prospect of a great company with lots of shares out short. For me that means more than three days of short interest.
Finally, I take a look at a "Point & Figure" graph. I am not a technician. For me, I just want to see that the company appears to be moving higher at least in the short-term. I like seeing charts with steady increases in stock price.
These are my quality stocks. Quality for me is about consistency and predictability of good results. It is not really about the particular product or service. It isn't how much I like what they make but rather how they have been performing on a fundamental basis.
Let me touch on a little of my "signals" from my own portfolio. I believe my thinking is an extrapolation of William O'Neil's CANSLIM discussion in "How to Make Money in Stocks". He pointed out that one can assess the "M" in CANSLIM by observing one's own portfolio. I generally came to understand that while it was important to limit losses with an 8% loss after an initial purchase, one of the worst things in the world that I could do would be to compound my losses in a lousy Market by continuing to reinvest the proceeds and subsequently repeating that 8% loss on a different investment.
Thus, I observed, if it was wise to "sit on one's proverbial hands" after a sale at a loss, I needed to have an additional "signal" to take action. To invest additional funds. Since I was using my own portfolio as an indicator to not reinvest funds; why not use my own portfolio to generate a signal to buy a new position? To basically shift money from cash into equities?
I combined this with the thought that if I needed to sell my losing stocks quickly and completely, didn't it make sense to take a little bit of the profits off the table as they occurred to prevent watching stocks move higher then declining without taking any profits? After initially selling 1/4 of my remaining positions as the stocks appreciated to 30, 60, 90, and 120% levels.....thinking that selling 1/4 after a 1/3 gain....sort of 1/4 x 4/3 = 3/3....taking off just my profits....I realized that my positions were dwindling after I had several sales. Working mathematically, I tried out some different % to sell....and came up with 1/6th of remaining positions after the same 30, 60, 90, and 120% appreciation targets. After four such sales, I felt strongly that I needed to increase the intervals...since the stocks had essentially doubled, I made the intervals 60%....and sold 1/6th at 180, 240, 300, and 360%.....then by 90% intervals x 4, etc.
However, I needed to refine my selling strategy on the downside. After an initial purchase, like O'Neil, I like to sell everything if it hits an 8% loss. Using O'Neil again, trying to avoid turning a gain into a loss, I sell at break-even if I have sold once at a 30% gain. After that, I try to sell if the stock declines to 50% of the highest appreciation-sale point. That is, if I have sold portions of a stock three times with the highest sale at a 90% appreciation point, I will give the stock a little leeway to a 45% gain before selling ALL remaining shares. On all of these sales on declines, I sell the entire position. On good-news sales, they are all 1/6 th of remaining positions.
I reserve the right to sell on some fundamental bad news. Recently I unloaded my entire position of Healthways (HWAY) after the company missed earnings and revenue targets. I do not stick my head in the sand when bad things happen; maybe I should ignore them and just rely on the stock price movement, however, I still leave myself that out.
Finally, I use these sales as signals to either sit on my hands or start looking for an investable company to add a new position. Assuming a neutral portfolio posture of 12 positions (or half of whatever your particular maximum is), I drop down to a minimum of 1/2 of 1/2 or 1/4 of my maximum....which in this case works out to a minimum of 6 positions. Since my strategy depends on the actions of the stocks that I actually own, I shall replace positions that are sold on bad news in the particular case that I am at the minimum number of holdings. Conversely, if I am at the maximum number of positions...which for me I have set at 25, and one of them hits an appreciation target for a "good news" signal, I will not add a new position. I will instead add to the cash position as I am already at the maximum number of holdings.
I suspect that this system will lag the market, as currently I am at 10 positions....closer to my minimum than maximum, and am waiting for a stock to hit a sale at an appreciation target before adding another position. But time will tell if this is the case or if actually my posture is appropriate to market conditions.
Now for some of Keith's questions....how far down I go on the % gainers list? I go down as far as my particular list allows....even down to the #50...I believe there are 50 positions on the list. Often, if I find more than one stock in my review, I write up as many as I feel...or have time...to review.
Good question on the good-news sale. If I sell a portion on good news and start looking for a new stock, I limit myself to the top % gainers list THAT DAY. If I see an old name that I like....sort of one of my 'words' from my vocabulary so to speak....then I might purchase that stock if it still met my criteria. If there weren't any attractive stocks I might wait until the next day. However, my own attitude is to buy another stock as soon as possible. I joke about that "nickel burning a hole in my pocket." But whether it is the best strategy, it is the strategy that I have employed.
I haven't tracked my % gainers over losers. I think it will be pretty good. In fact, if anyone is interested, all of the entries are there for review. I do review them a week at a time....but it would be interesting to go back to 2003 and review those stocks as well.....
I hope that my answers provide you with the understanding about my approach that you both were looking for. When I say that I am an amateur, I really am serious! My biggest strategy is to focus on winners and part with poorly performing stocks as soon as possible. I consider this a sort of "natural selection" of stocks with my strongest stocks staying in my portfolio and the rest being dropped by the wayside.
Let me know if either of you or anyone else has other comments or questions. If you do, leave them on the blog or email me at bobsadviceforstocks@lycos.com.
Have a great week trading!
Bob