"Trading Transparency" Healthways (HWAY)
Hello Friends! Thanks so much for stopping by and visiting my blog, Stock Picks Bob's Advice! As always, please remember that I am an amateur investor, so please remember to consult with your professional investment advisors prior to making any investment decisions based on information on this website.
Earlier today I decided to "pull the plug" on my Healthways stock which appears to be having some fundamental, perhaps short-term, earnings questions. I sold my remaining 107 shares of HWAY at $40.64/share. These shares had been purchased 6/18/04, with a cost basis of $23.53/share, so I had a realized gain of $17.11 or 72.7% on these shares. I have actually sold portions of my original investment in HWAY four times previously, at 30, 60, 90 and 120% gain levels, so this has been a good investment for me.
Of concern was the news story released on October 3, 2006, just a week ago, where HWAY lowered 4th quarter and full-year outlook. They guided to $.36 to $.38/share for the upcoming quarter, below analysts' views of $.53 to $.56/share. Apparently some Medicare health support pilots, as the news states, generated 'less revenue than expected'.
If we examine the "Point & Figure" chart on Healthways, we can see how the stock really broke down in September, 2006.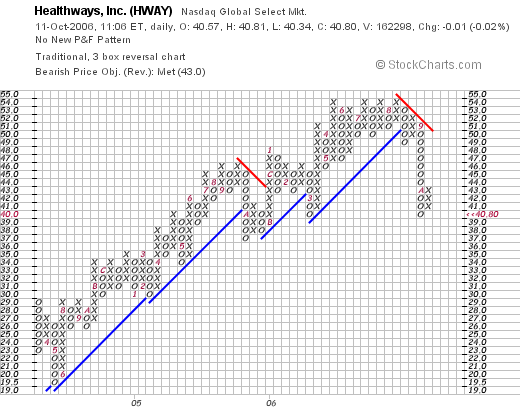 In any case, with "bad news", I did not think it wise to let the stock pull back to my own trailing stop. Time will tell if this is the right decision, but overall, the stock has been good to me and the portfolio has appreciated along with this investment.
Thanks so much for stopping by and visiting! Please be sure to drop me a line at bobsadviceforstocks@lycos.com if you have any questions or comments.
Bob